Prologue:
Far over the Misty Mountains Cold, in dungeons deep and caverns old, dwarves of old made strongholds strong and deep in the Grey Mountains and housed large hordes of golden treasure deep within their halls of stone. Where golden treasure lies, bad things follow. Fire Drakes from the Withered Heath came down upon them and laid waste to their warriors and took whatever they pleased from the strongholds. Soon these lands lay barren, and dragons laid down upon beds of golden treasure and feasted upon the remains of unfortunate dwarves who once lived in those halls of stone.
The Letter
 Hello, Grizwold, old friend! In order to avoid confusion, I am your colleague Professor Grimm, and that raven that carried this letter is one of the ravens of Ravenhill of the Lonely Mountain Erebor! You may be surprised and may have ever presumed me dead; however, I can assure you this is not written from beyond the grave. I am very much alive and well, if not a bit battered and bruised from my adventures. Ah! Of course, my adventures! In the past few months I have been travelling with a few esteemed dwarves from the city of Erebor in the east of Rhovanion on a quest to reclaim a long-lost stronghold that was besieged by dragons and orcs many eons ago! You may be wondering at this point why on earth I would choose to go on such a mad adventure, but I can assure you it was mostly professionally, and involved my experience in exchange for a share of the treasure. Anyway, I have enclosed here some of my notes from my journey in the Grey Mountains and in the valley so-named the Withered Heath. I hope you can ascertain some sort of information from these and present it to the university for study.
-Your colleague
Professor Grimm
Journal
Mersday 22 Halimath, S.R. 1401
I have tasked at recording everything that occurs and all discoveries made during this expedition through the Withered Heath and the trek into the Grey Mountains. I am not exactly keen about going into dragon-infested territory, but if it is for the greater good and for science, well, then I am obliged to go, well, In the name of Science!
Highday 23 Halimath, S.R. 1401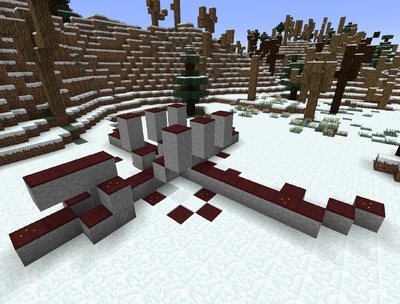 Today we have come across a remarkable discovery: a 
dragon carcass
was lying right in our path towards the northern spire of the Grey Mountains! It appeared to be long dead as no flesh appeared to be on its bones. Its
scales
seemed to lay on top of the bones and, when we picked them up, broke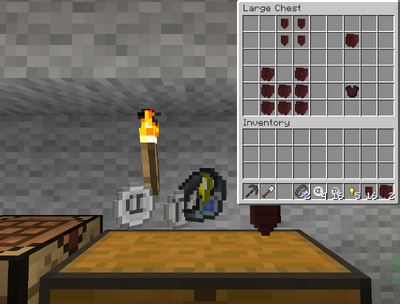 into one to four separate scales. From rumors back home I have heard that dragon scales sewn together  could be used to make
dragon scale armor
stronger than steel and could reflect any projectile (lest you have a hole in the armor, of course). There were also some scale plates that had a few coins and other treasures stuck in them, most likely from it lying on top of a pile of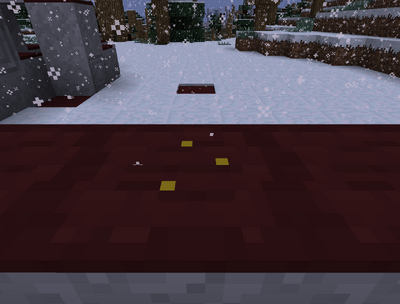 golden treasure. At this note my dwarven friends got very excited and began pondering whether or not this dragon was the one that guarded the stronghold in the mountains. Becoming a little bit more curious, they began break apart the scales to collect the treasures hidden within. We found coins of different values and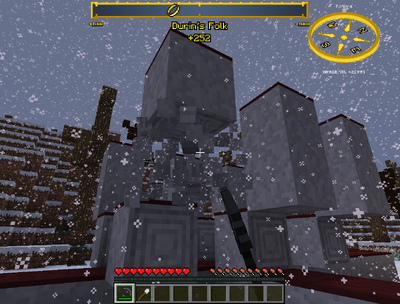 sizes, golden nuggets, and dwarven rings encrusted with valuable jewels. We then turned our attention towards the
dragon's bones
which looked thick and strong. And they were. It took a dwarven pickaxe to break them, and they seemed to be as strong as obsidian, and potentially blast-resistant. They almost looked like pillars, and if we had enough bones, we probably could have built an indestructible shelter for the aproaching night. However, our tents were enough, and soon our dreams would be of dragon-hordes and mountains of shiny gold...
Sterday 31 Halimath, S.R. 1401
After a week of walking through the relentless desolation we have begun to come across the
ruins
of ancient dwarven colonies. Large stone pillars, imperfect and ruined, lying in the snow, long bleached from the cold and the absence of torchlight. However, we still have a bit of a ways to go before we reach the mountains, and then, the stronghold. The dwarves have become a bit anxious, for we have begun to see
distant fires
while in our tents at night, and the growl of dragons seems far-off, but not far enough.
Trewsday 3 WinterFilth, S.R. 1401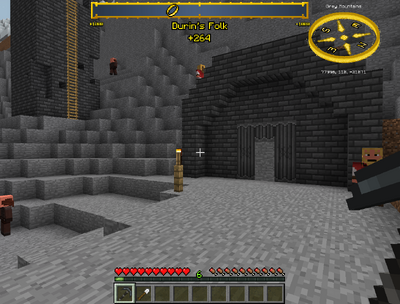 It appears that our journey has paid off! We are now at the very gate of the ancient stronghold after many a days walk. Luckily for us, it doesn't appear that anything was expecting us, for we were able to sneak right up to the front door without any commotion. However, we had some difficulty actually getting through the
door
. It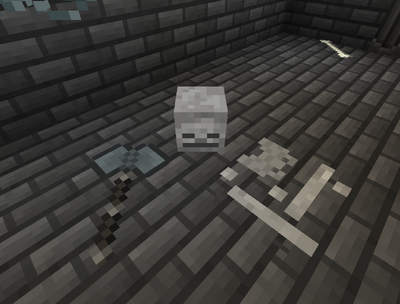 appeared to have some sort of enchantment placed over it, and could only be opened by answering this riddle:
"Speak friend and enter."
Each of us had a go at trying a different password, but nothing worked, until I guessed
"Melon,"
 which is elvish for friend. The stony doors swung open, and we were horrified by what was inside. The
remains of the stronghold's former occupants
lay scattered on the floor, with their tools in life lying by their sides. Bofur, the company's leader, advised us to each take a weapon for defense against whatever dark things may reside in these neglected halls. I picked up a dusty old axe and in doing so accidentally disturbed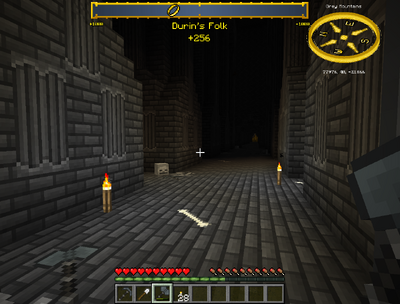 the bones of the poor old chap you lay next to it. A few dwarf bones was all that came from the pile of dusty remains, and nothing else. We then proceeded to go down the hallway until we came across a narrow stairway that lead into the heart of the stronghold. The braver of use went first and after seeing that no-one had befallen some terrible fate, I began to descend. What we found at the bottem of those stairs is almost difficult to describe. More bones, tools, and weapons lay scattered on the ground, and many large, stone pillars like we had seen a few days ago rose up into the air, almost without any foreseeable end. However, I could see a light at the end of the hall, and so we began to proceed towards it, hoping to find treasure.
Date Unknown, S.R. 1401
That light had been farther away then we thought. The halls continued on and on and on, and seemed to grow as we walked. However, the light seems closer, and these halls cannot continue to the ends of Arda!
Date Unknown, S.R. 1401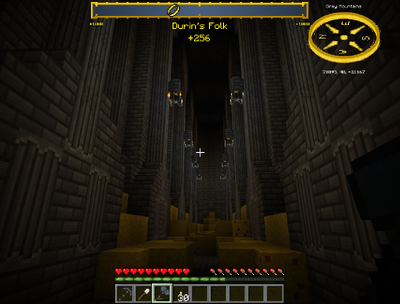 At last, we have finally reached the end of these horrible halls! And not too soon, for our hopes had begun to fade, and we have begun to run low on cram. The treasure-room was filled to the brim with 
gold coins
and 
treasure heaps
, and mysteriously had chandeliers illuminating the room. As soon as I had gotten my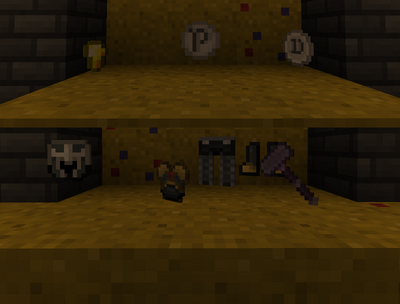 hands on some of the gold, Bofur had warned me to not touch a single coin until it had all been surveyed, and then I could have my share as promised. It seemed that even thinking about me having the gold without their say in what I took peeved the dwarves, so I decided that I would leave then to choose what I could and could not have. However, they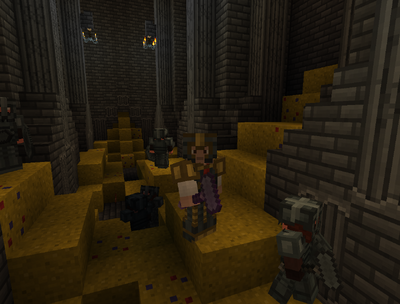 began to let me peek at some of the contents of the treasure-hall for my journals. Upon searching the coins one could find golden nuggets and coins of different sizes, and upon searching through the more valuable heaps one might find armor of ancient warriors and kings and weapons of magical power hidden beneath the gold. Just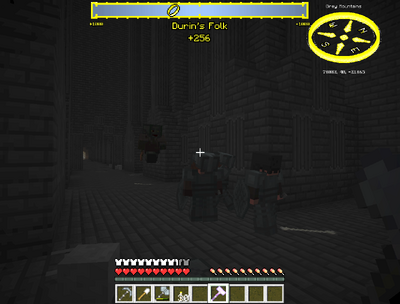 as we had begun to relax the tolling of drums could be heard in the caverns. Quickly we threw on some armor (I chose some with gold trim) and headed down the hall to see what could be coming our way. Gundabad Orcs raced down the hall towards us, with a pale 
hobgoblin
leading them. With our weapons we quickly laid waste to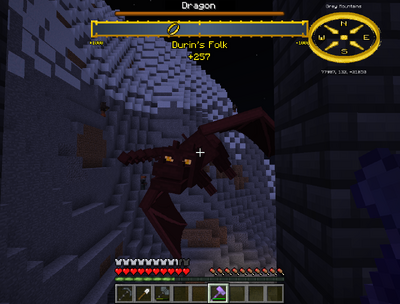 them, and we would have gone straight back to the gold if it weren't for the mighty roar of a
dragon
behind us. We ran like the wind and made our way back to the entrance when the dragon broke through the stone behind us. He blew fire into our faces, and the mountain shook as he flew. It was a long and horrible battle, but soon the dragon laid slain upon the snowy ground. Of our original ten only six had survived, including Bofur, our leader. From his carcass we collected scales and small treasures, and after we cleaned up the mess from the battle and laid to rest our dear friends who met their end in that battle my payment was given. They decided to be more generous with the treasure than we had originally agreed fro it was I who had laid the final blow on the dragon. They gifted me two stacks of silver coins and the armor and weapons I had used to bring down the beast. We said our good-byes, and they promised that when the stronghold had been rebuilt to its former glory and the halls once more filled with dwarf-smiths they would invite me back to their halls of stone. If they could give a figure for how much I had helped them and all of Durin's Folk, Bofur said "Two-hundred and fifty." An strange figure, but well all the same.
-Next time I will be going over the possibility of cities, strongholds, and major structures and their uses. Farewell!
Resourcepack used in this suggestion: Withered Heath (Custom)