Good day!
I would like to talk about the Orc factions featured in the mod; and about how to make the evil life a bit more appealing.
Orc Huts
Most Orcs in the mod inhabit clusters of small tents: while these are sufficient for snagae and other grunts of Orc society, some semi-permanent Orc huts/tents could stand to be added. Inside there could be a few Orc Beds, a barrel or two, and maybe an armour stand or weapon rack. For the Gundabad and Isengard Factions, the Chieftains could move into a more permanent hut, since these factions do not have towers for their recruitment officers like Mordor, Angmar, or Dol Guldur. This would also open up the Gundabad and Isengard Camps for Orc Merchants to spawn.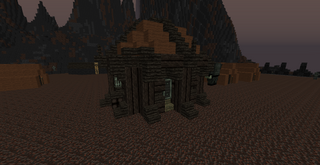 Orc Forges Another topic worth adressing on the theme of structures are the "Forge Tents" found in Orc camps. Being a tent made out of bricks, these do not make a whole lot of sense, and a dedicated smithery structure, similar to the Elven, Gondor, and Dwarven smithies would probably be more appropriate. The Orc Merchants (Gundabad Excluded: A stone smithery wouldn't make sense for this faction) would now spawn in these smithies.
Mob Adjustments
Now for the changes of the Orcs themselves. To achieve the representation of the harsh society of Orcs, several, minor, changes to the AI of the Orcs could be made. For instance, Orcs could automatically target passive mobs such as Farm Animals (This would mostly apply to Gundabad, as they come into contact with these animals more frequently). Also, Orcs could approach and steal any items left on the ground by the player, or the deaths of other mobs, to simulate looting. Uruks, and Orcs hired by the player would be exempt from these behaviours. 
Minor Weapon Tweaks
Orcs have been known to be maliciously crafty with their weapons; and a few simple steps could be taken to represent this in the mod. For one, arrows could be poisoned by combining arrows and poison on any Orcish crafting table. Perhaps this could also be applied to spears. Standard Orcs scavenging axes, picks, and daggers makes sense, but it is a bit questionable (and disappointing) when your brand new hired Uruk wields a dagger as a primary weapon. As such, for Uruk units, daggers should be reserved for back-up weapons after spears have been thrown.
I hope you enjoyed, and thanks for your time. Feedback is welcome!