This has been irking me for a long time, and now I will talk about it to get this off of my chest: these near harad "fortresses". No offence to the person who made this, but this structure would be the last thing I would call a fortress. To get inside of it, and kill the warlord is a piece of cake. No walls, no gates, nothing but a few warriors. I can only imagine the how near harad players feel about the insecurities of their fortresses, needing to add more defences to the fortresses to keep the warlord safe.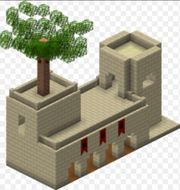 I suggest an outer wall to be added to the current structure, with watchtowers to be added to the corners, and a gate in the center of the front wall, making a courtyard in front of the current entrance. And seriously? Why is there a tree on a watchtower!? I say that tree in one of the towers should be moved into the courtyard. The courtyard should also have stables and a barracks.
That is all I have. Unfortunately, I cannot build what I am saying because I am in a hotel. So feel free to build your interpretation of my description. Thanks for reading, and feel free to give a kudos if you like this suggestion.
EDIT:
here is a concept build by Assassin of harad!