This is a suggestion is partially based on LordArkofME's rhun suggestion, so if you haven't seen it yet, check it out. In this I will be going over my interpretation of the land of Harhudor
Introduction
Mae Govannen! I'm back with a bit of a revision of my suggestion on Harhudor. I'd like to reiterate that I'm not great at texturing or speaking Sindarin so if you have something you would like to add to that or anything else, I'd love to hear it. My goal in doing this was to make Harhudor more diverse than when I last talked about it. Instead of a single faction across all of Harhudor, I have created an additional faction to oppose the Free Easterlings. To create even more diversity, I also divided the free Easterlings into several unique tribes. Additionally, I have created a new map of Harhudor and I can say it's significantly less hideous. Finally, I have included some stats for the armor, which are probably subject to change. I'd love to include texture of my own, except that I don't really know how to make them. Looking forward to your feedback.
Free Easterlings
Inter-faction relations
Allies

Neutral

Enemies

???
Avari
Red Dwarves

Rossoth
Khand
Mordor
Wainriders
In the northern lands of harhudor lies the Free Easterlings. For centuries they labored away supplying Easterlings with food and weaponry and serving for the dark lord of Mordor. Resistance seemed futile, or it did until travelers from the west entered these strange lands. They were told tales of white cities, shining armor, and men brave enough to stand before the armies of Mordor. Soon, one tribe revolted, repelling the enemy from their lands, and then another. One by one, the tribes of harhudor began to reclaim their land. Now their eyes are set on the south, where their brethren are still enslaved, and to the west, were the armies of the Easterlings are gathering.
The Free Easterlings are extremely proud of their culture. They were vibrant robes, dresses, and turbans. The food is renowned throughout nearly all of Rhun. Harhudor was once the center of trade in Rhun before the Free Easterlings Rebellion. Because the people have spent most of their lives in slavery, they have no formal army. Most of the men have themselves gone out to defend their land, wielding nothing but farming tools.
-Free Easterling Villager
-Free Easterling Clansman
Mix of Gwaerim, Talathrim, and fur armor
-Free Easterling Farmer
The first tribe of the Free Easterlings are the Gwaerim. Their land in the south of the mountains of the wind is a cold plateau, vegetated with coniferous trees and occasionally vast meadows filled with exotic flowers. One rare flower is said to be found in these meadows holds a mysterious power and is deemed very sacred to the Gwaerim. They are a pious people, dedicated to practicing magic and following their leaders. They consider Sauron an enemy to beauty and life, who must be destroyed. The Gwaerim are based of real world Himalayan cultures.
-Gwaerim Chieftains
Gwaerim Armor
-Gwaerim warriors
Gwaerim Armor
-Gwaerim Chakram Throwers
Gwaerim Armor
-Gwaerim Cultists
Gwaerim Armor
The next tribe is the Talathrim. They reside in the eastern portion of the plains of harhudor. They are traditional hunters and are often seen riding horses. The plains are large and villages are sparse. The western plains are widely debated lands, sprawled with both enemies, Talathrim, and bandits. Its once had grand roads for trade but are now rarely used due to the fighting. They are based on Eastern Indian cultures.
-Talathrim Chieftains
Talathrim Armor
-Talathrim Cavalry
Talathrim Armor
-Talathrim Archer Cavalry
Talathrim Armor
Rossoth
Inter-faction relations
Allies

Neutral

Enemies

Mordor
Near Harad
Khand
Wainriders
Avari
Red Dwarves

Free Easterlings
 ???
Not all those in Harhudor would betray Sauron. The Rossoth are as loyal as ever to Sauron, and are ready to conquer them once more. Numenorean colonists and worshipers of Sauron arrived on the coasts of Harhudor long ago, teaching them the arts of weapon crafting, shipbuilding, and slavery. With their mighty ships they traded with many of the Haradrim tribes, both purchasing and selling slaves.  With war ever so close, the Rossoth must reconquer the entirety of Harhudor if they ever hope to allow the dark lord to be successful in his conquest against the tyrannous west.
The wetlands of Harhudor and its rainforests are host to the Rossoth, the only tribe loyal to Sauron. He gave them the gift of War and Sailing, and they were ever grateful. They learned to reside in the lands once controlled by the old Numenorean colonists, who are now long gone. Slavery is in their blood as much as war is. It is time to march to Sauron's aid and crush the resistance once and for all.
-Rossoth villager
-Rossoth Clansmen
Fur armor
-Rossoth Warrior
Rossoth Armor
-Rossoth Archer
Rossoth Armor
-Rossoth Chieftains
Elite Rossoth Armor
-Rossoth Guards
Elite Rossoth Armor
-Rossoth Slaver
-Harhudorian Slave
Biomes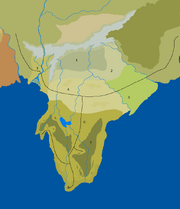 1-Harhudorian Plateau
*standard, forested, and meadow variants
*Free Easterling Villages, Gwaerim Monasteries, Gwaerim Camps
* Gwaerim Units
2-Northern Harhudor
*standard, hilly, and forested variants
*Gwaerim Units, Free Easterling Units
3-Ethir Orocarni
*standard, orchard, forested, and steppe variants
4-Harhudorian Plains
*standard, hilly, forested, and steppe variants
*Destroyed villages
*Bandits, Rossoth units, Free Easterling Units, Talathrim Units
5-Realm of the Talathrim
*standard, forested, hilly, and steppe variants
*Free Easterling Villages, Talathrim stables
*Talathrim Units, Free Easterling Units
6-Harhudorian Wetlands
*marsh, standard, forested, hilly variants
*Rossoth Villages, Rossoth camps, Slave Camps
*Rossoth Units
7-Harhudorian Rainforests
*forested and clearing variants
8-Coastal Plains
*standard and forested variants
*Rossoth villages, Numenorean Fortifications
*Rossoth Units
Items
Food
Naan Bread, Curry, Black Pepper, Chili Peppers, Rice, Cinnamon, Cinnamon liquor, Plateau Flower
Armor Sets
Gwaerim:15 Armor
Talathrim:12 Armor
Rossoth:13 Armor
Elite Rossoth:15 Armor
Numenorean:15 Armor
Harhudorian Turban/Robes: 0 Armor
Weapons
Pitchforks: 6 damage, 200% reach, 50% speed
Free Easterling Talwar: 7.5 damage, 100% reach, 100% speed
Free Easterling Dagger: 5.5 damage, 75% reach, 150% speed
Free Easterling Bow: 16 ticks, 6-11 damage, 120% range
Iron Chakram: Function similarly to plates but deal higher damage
Rossoth Sword: 7.5 damage, 100% reach, 100% speed
Rossoth Dagger: 5.5 damage, 75% reach, 150% speed
Rossoth Pike: 6 damage, 200% reach, 50% speed
Rossoth Spear: 5.5 damage melee, 12-14 damage thrown
Rossoth Hammer: 9.5 damage, 100% reach, 75% speed
Rossoth Bow: 25 ticks, 7-13 damage, 150% range
Achievments
[The Land of Spice] Enter Harhudor
[Free Easterling Crafter] Craft something from a Free Easterling Crafting Table
[The Cradle of Civilization?] Enter the Ethir Orocarni
[Secret Cults and Magic Traditions] Enter the Rhossladen
[Dissension and Disarray] Enter Talath Harhudor
[Slavers and Warriors] Enter Nindor
[Free Easterling Friend] Get 10 Free Easterling Alignment
[Free Easterling Champion] Get 100 Free Easterling Alignment
[Free Easterling Hero] Get 1000 Free Easterling Alignment
[Liberator] Free a Harhudorian Slave
[Rossoth Friend] Get 10 Rossoth alignment
[Rossoth Champion] Get 100 Rossoth alignment
[Rossoth Hero] Get 1000 Rossoth alignment
[Imprisoner] Capture a Free Easterling
Other Rhun Suggestions
[Of the Uncharted Lands of Rhun ]