"He came to rest in the fern a few feet away, face downward, green arrow-feathers sticking from his neck below a golden collar. His scarlet robes were tattered, his corslet of overlapping brazen plates was rent and hewn, his black plaits of hair braided with gold were drenched with blood. His brown hand still clutched the hilt of a broken sword"
"Even as the Nazgûl had swerved aside from the onset of the White Rider, there came flying a deadly dart, and Faramir, as he held at bay a mounted champion of Harad, had fallen to the earth."
"Southward beyond the road lay the main force of the Haradrim, and there their horsemen were gathered about the standard of their chieftain. And he looked out, and in the growing light he saw the banner of the king, and that it was far ahead of the battle with few men about it. Then he was filled with a red wrath and shouted aloud, and displaying his standard, black serpent upon scarlet, he came against the white horse and the green with great press of men; and the drawing of the scimitars of the Southrons was like a glitter of stars."
Mae govannen, mellon-nin! This suggestion was inspired by, though is by no means based on, the Serpents of Near Harad suggestion by one Kroniid. This would give the Southrons the elite unit they have so long needed, without making them OP or displacing the Mumakil. So without further ado, let me introduce the Champions of Near Harad.
The Unit:
Champions of Near Harad would spawn in Near Harad, Harondor, and Near Harad invasions. They can be hired from the Southron Chieftains for a large fee, and come in mounted and dismounted form, and as banner-bearers.
Champions wield scimitars and spears-not polearms, maces, or pikes. They use these to deadly effect in combat. Overall, they should be about the same strength as the Golden Easterlings.
The Armor:
Champions wear a unique armor, called Southron Heavy Armor. This armor is made of overlapping bronze plates, red cloth, and an iron helmet. The crafting recipes use bronze, however with some special touches.
- The Helmet has the top three ingots of iron, and the bottom two of bronze.
- The Chestplate has the top three ingots made of Gilded Iron.
- The Leggings have the top three ingots made of Gilded Iron.
- The Boots have the top two ingots made of Gilded Iron.
This armor provides iron level protection, and has the same durability as Rohirric armor. I have made textures for the armor as well.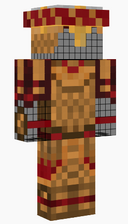 Thank you for reading this suggestion! As always, comments, Kudos, and constructive criticism is most welcome!

Ithilion, Discussions Moderator(Auta i lome) 01:26, April 3, 2017 (UTC)