Bandits. Those annoying people with daggers that run after you and try to steal your stuff. Currently, they are just BAD people, and there is nothing you can do about it. That is not bad, but I have a suggestion that adds a little more depth to them.
In brief, bandits would become their own special faction, with a special alignment system, and would be join-able through great lengths.
Note: Some of my inspiration has come from reading some other suggestions on bandits, although I believe mine is still original. I also had some inspiration from Quest for Glory I: So You Want to Be a Hero. (If you haven't played it, you should. It is a great game!)
The Bandit Faction
Bandits would become a faction, although they would be very different from all other factions. First of all, they would be enemies with all factions (except possibly Umbar, when it is added), and allies with none. They would have no faction specific equipment, except possibly throwing daggers. For now, all Bandits would be allies, even though in real life they would probably all be competing, or in "gangs" for lack of a better term. Alignment would be replaced with "Reputation", which will be described in-depth later.
New Items
The Bandits would not have any items of their own, but here are a few items to spice things up a bit.
Coin Stacks
These would be crafted with three coins (of any size) in a vertical row. Coin stacks would be placed like plates, and would look like three coin items (of whatever type) stacked. You could then stack up to 64 of the same coins on top of it, like food on plates. The coin stack items can be uncrafted into three coins of the same type.

Throwing Daggers
Something that bugged me (although only a little) about daggers, is that you can't throw them. (This may be worth a separate suggestion, but I think it works well with this suggestion.) So, throwing daggers would be added, or the current daggers would be changed slightly.
Throwing Daggers would be uncraftable, would have both bronze and iron variants. They would look just like daggers, except the icon would be rotated 180 degrees (to be held by the blade). They would be found about as commonly as daggers in loot chests, and would be dropped by Bandits.
If you were to change regular daggers, they would replace the right-click block function with the throwing mechanic (described below). Faction daggers would not be throw-able.
Throwing Daggers would only do the default 1 (

) damage when used to melee attack. When right clicked, they would be thrown. They would be thrown instantly, go a little farther and straighter than throwing axes, would stick in walls like arrows, and would do a little less damage than throwing axes.
Bandit Masks
The Bandit Mask would be a special item, but it will be described in more detail later in the suggestion. In brief, it is a helmet item with special abilities.
NPCs
Bandits
They are the main focus of the suggestion, but would stay very similar. The only changes that they would undergo would be related to behavior, and will be talked about in the "Reputation" section a little later.
Hideout Guards
The guards of Bandit Hideouts. They would look just like bandits, but would be in full, to almost full sets of mismatched bronze, iron, and leather armour. They would wield daggers, or low level swords. They would be allied with the Bandit faction, and would attack any (non-bandit) NPC on sight. They would, however, give players the benefit of the doubt, and only attack them under certain circumstances (described under the Hideout section).
As they are bandits, and probably professional ones at that, they could rarely spawn wearing faction armour or wielding a faction dagger. The faction that said equipment would be from would depend on what biome they were in. For example, if you found a Bandit Hideout in Eriador, the faction equipment that the guards might use would be High Elven, Gundabad Uruk, or possibly Blue Dwarven. I don't know if this would be possible, but it would be cool, and may be made easier with the addition of Spheres of Influence.
Chief Thieves
These are the leaders of the bandits. They would look like normal bandits, and would always be wearing a black hat, but with a black feather in it. They would be special NPCs, and would only spawn in Hideouts. When a player right clicks on them, a GUI would open up (like with Traders) that would have the options "talk" and "mission". Talk would be like usual, and Mission will be described later. Once you reach 100(?) Reputation, you can open the "masks" menu and purchase Bandit Masks from them for 200(?) coins each.
Like Guards, they would only attack players under certain circumstances, but would attack all (non-bandit) NPCs. When they do so, they would use iron throwing daggers.
Stolen Goods Dealers
Stolen Goods Dealers would look like Bandits, but would always spawn wearing a dark grey hat with a red feather. They would only spawn in Bandit Hideouts. They would be trader NPCs, who would only trade with people who have a high enough "reputation" (described later), would sell daggers and throwing daggers, and would buy (presumably stolen) faction equipment. If possible, he would only accept faction equipment that have the "Owned by <NPC>, to show that you had in fact stolen it. (I will talk about thieving later.)
Structures
The Bandits would gain, as mentioned in some other suggestions, Bandit Hideouts and Camps.
Camps
A Bandit Camp would look almost exactly like an orc camp, but all the tents would be of black wool, and, instead of the crafting-table-stand thing, it would have a campfire, kind of like a smaller version of Dunlending campfires, surrounded by logs and (possibly) chests of low-level loot, or single to triple-layer silver treasure piles.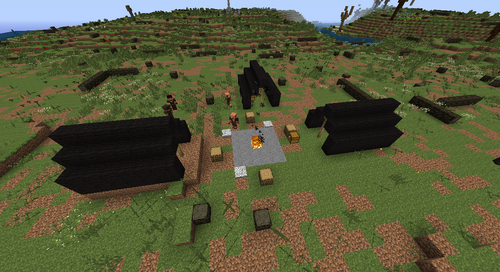 Hideouts
This was heavily influenced by this suggestion.
Bandit Hideouts would spawn in places where bandits are "common", and more rarely where bandits are "uncommon", but never where they are "rare" or "never" spawn. They would probably spawn similarly to Ithilien Ranger Hideouts.
The Hideouts would be very similar to Ithilien Hideouts. The only thing you can see from above-ground would be a trapdoor, surrounded by small bushes. As the bushes would be obvious in certain barren places, they could also be replaced with rotten logs, or, depending on the biome, not included at all.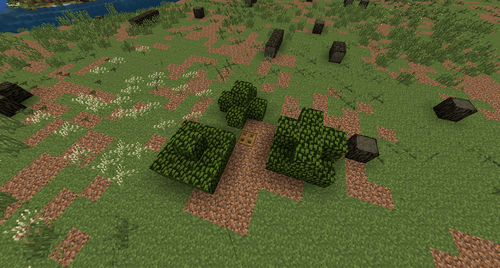 The trapdoor would lead to a ladder, which would lead to the interior. The interior would consist of a table, with some mugs and coin stacks, a few chests with decent loot, and a few scattered treasure piles. Two Hideout Guards would spawn here, as well as a Chief Thief and a Stolen Goods Dealer.
The Guards, Chief, and Dealer will all attack you if you open a chest with less than 100 Reputation, or if you try break, or steal from, coin stacks or treasure piles.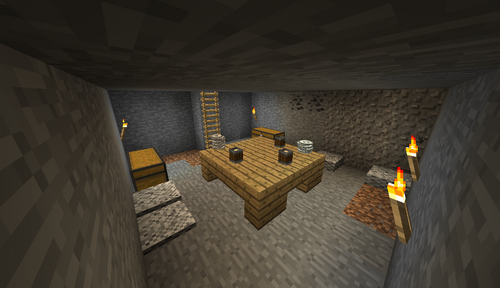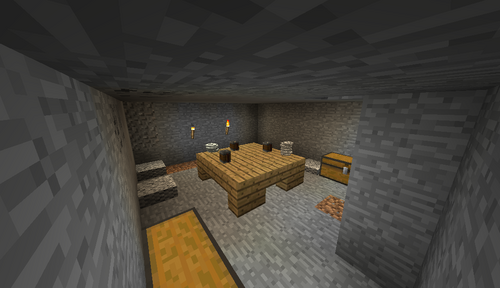 Reputation
Alignment for bandits would be very different from other factions' alignment. For the purposes of this suggestion, I will be calling it "Reputation", as it seems more fitting.
IT has been suggested that you should lose alignment with all factions as you gained Reputation. I am not going to go with that at this time, but it would definitely be worth considering.
You would gain Reputation by completing missions for Chief Thieves. These missions would be MiniQuests with slight changes. First, they could be activated on demand by asking for them (clicking the Mission button in the Chief's GUI). These MiniQuests would have no monetary reward, but instead would lead to a slight Reputation increase, and occasionally a dagger (of either type). They would generally involve getting faction equipment, killing hiring units, or collecting lots of cash to prove your worth.
You would lose Reputation if you killed Hideout Guards, Chief Thieves, Stolen Goods Dealers, or (possibly) Oddment Collectors. (That last option is totally up to the mod team if they decide to implement it, I just figured it fit!) Killing regular bandits has no effect on your Reputation.
You would also lose reputation if you steal from a hideout, or open a chest without enough alignment. You wouldn't lose tons, but enough to discourage it.
The Bandit Mask
As Minecraftmage113 has added a much better alternative to this, I have added his, but here is what I had, for reference.
The Bandit mask would be an item that could only be bought from Chief Thieves (as mentioned above). It would be a helmet style item that could be cleaned (in a cauldron) and redyed, similar to pouches or party hats. All masks, upon purchasing, are black.
The special thing about the mask is that, if you are wearing the mask, any Bandits who spawn near you would, instead of trying to steal your stuff, walk over to you and greet you. They could be talked to, like normal NPCs, and (if possible) would tell you the coordinates of/direction to any nearby Hideouts. (It wouldn't be necessary, but it would be cool, and may be possible, going on the way eyes of ender work.) Also, (if possible) you should be able to give them small amounts of cash, in exchange for reputation.
The drawback to wearing the mask is, if any friendly NPCs see you wearing the mask, they will attack you, and you may lose (a small amount of) alignment with that faction.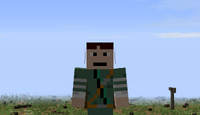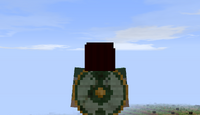 Here is what MinecraftMage113 suggested:
So we all know of those cartoon bandits in ski masks running around chased by cops. Why do they wear ski masks? To hide their identity of course! Why would it be any different for a bandit to wear a mask in medieval ages?
Names
So would you know a thief by who masked his true appearance? the joker? the riddler? something not from batman... if their appearance was masked you wouldn't know them by their true name, but by an alias. So i would suggest that while donning a mask you can use it for a new name (named as "Mask of <insert name here>") you would likely name it when you first don the mask, and once named that inserted name would replace your username above your player and in chat as well as in NPC speechbanks if you have a high enough reputation, otherwise it would use "some thief" in the speechbank, and they would be changed to things similar to "Oh, no! <thief name> has come to steal from me!" or "It is the great <thief name>! fetch the garrison!" and non-military NPCs would run.
Alignment
While wearing a mask your align is reset, although you will not be able to gain alignment with any faction but "The underground" and any NPCs from another faction would be wary of you. while you are wearing your mask nothing you do will affect your normal alignment, but if you are revealed you will lose 50 align with all factions along with the alignment you lost while a bandit, that alias will also no longer work and you will lose respect as a bandit as you have been revealed and may have revealed secrets to survive.
Hiding in plain sight
While sneaking you should make no noise, and NPCs should not "see" you unless they are facing you, this would allow one to sneak up upon his unsuspecting prey and take all their money.
Appearance
Sorry, but your masks just don't look right, I would propose a mask similar looking to a black turban (wrapped with near-black coloring and only a 1-pixel slat at eye level.) I will make a texture in about 7-8 hours when I get home. they should be dyeable, but always remain dark, and should be able to accept feathers (crew leaders only, no feathers for you lowly scum.)
Revealing
While a player is wearing a mask you can be a jerk and right click them with a 5% chance to rip off their mask and reveal them as the scum they are (you lose respect for doing this) alternatively it takes about 2-5 seconds right next to an NPC that is not part of the underground (about 3 blocks) for them to remove your mask
I am working on thinking up a player usable theft mechanic, and will add it very soon.
Also, perhaps you could get an achievement and a title called, "Desperado" when you get 100 Reputation with Bandits. You could also get an achievement and title called, "The Rogue One" when you hit 500.
There. I think it all makes sense, (as I was the one who wrote it) but if you see any problems with it, please let me know.
Suggestions and Criticism Welcome!

S'moregoth, Demise of all that is Edible My Suggestions

01:31, April 18, 2017 (UTC)
EDIT: Added Minecraftmage113's suggestion for masks. 00:01, April 19, 2017 (UTC)