What is the most important and iconic scene in the LOTR movies? That's right! The second breakfast scene (https://www.youtube.com/watch?v=XkzvHtjnNOs ). The wonderful people who work on the mod have added enough foods for first breakfast, yes, but what about second breakfast? When making a hobbit pantry recently, I found myself having to put food in frames to hang it up, and running out of new hobbit foods to display. That brings me to my suggestion: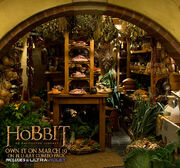 New foods: include eggs, sausages, bacon, biscuits, mushrooms, honey, as well as any other food that the Shire folk would find delicious.
- Logistics: Sausages could be made by combining any 3 raw meats in a vertical line on a hobbit crafting table (this would give 6 raw sausages). Bacon however, would be made with 2 raw pork in a horizontal line, also on the hobbit crafting table. Both foods could only be cooked with a hobbit oven. Mushrooms would not be like the vanilla ones. They would be rather small in size, but be clumped together so the block they are on is filled. They would only spawn in Hobbit Woodlands biomes. Finding one would get the Hobbit achievement "A shortcut to what?" (reference to line when the hobbits find mushrooms). Honey would be implemented along with bee hives and bees. Bees and their hives would spawn on trees, and will attack the player if the player tries to take honey from their hive by right clicking with a pot.

Food hooks: Hobbits need a place to put their delicious foods. In the Hobbit movies, it is shown that Bilbo has onions, various spices, and plenty of sausages hanging from this pantry ceiling.
- Food hooks would be able to store 2 food items per hook. You can attach them both to the bottom and the side of a block.