Welcome to the (discontinued) Immersion News Board. I am Quin, also known as QuinoaFalafel, and this thread served as a News Board for my resource pack Immersion. Immersion is a resource pack for both vanilla Minecraft and the lotr mod that aims to create higher resolution versions of all textures, focusing on blocks. You should be able to find current update posts similar to these on the Quin Studios Patreon page, and can also find Immersion news on the Quin Studios discord and twitter. To learn more about the lotr mod branch of Immersion, check out the official wiki pack page.

3/25/2020:

Hello again. This is the last post that I'll be making on this news board. As this news board gets more and more unwieldy, and the News and Announcements board is essentially dead anyway, I figured it was time to retire this page. All of the current information will remain here, but I will no longer update it. If you want to continue seeing update posts like these, I will begin posting those (for vanilla and lotr) on my Patreon page. You can also get more frequent though potentially less in-depth news in the Quin Studios discord, and I will post small, more frequent news updates on my twitter as well.

Now, on to the update news. I have just released alpha 5.0-35, and beta 1 is now 57% complete. I apologize that the gap in updates was so long, and that there hasn't been much new lotr content, but that should hopefully change soon.

The update adds the remaining vanilla blocks, as well as a few entities, such as minecarts and boats. I have also overhauled several textures, and made some minor tweaks to others. The most notable changes are the water and fire animations, which were vastly improved, and are now held to the same quality standard. Below is a screenshot of the new fire and water:
- Quin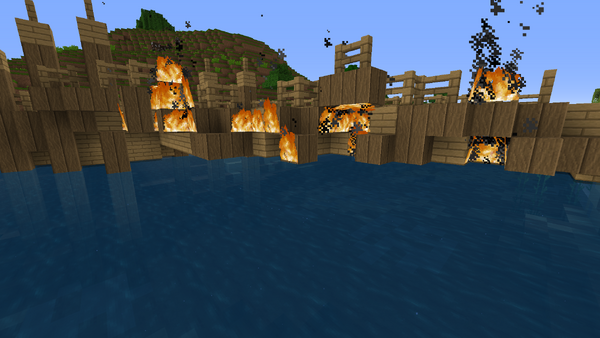 9/17/2019:
Alpha 3 is here! The new update brings several overhauls, including planks, leaves, and sandstone top, as well as a number of exciting new mod textures.


New textures include apple, cherry, pear, and plum trees, as well as all of their beams and planks, all colors of clay tiles, thatch, fine glass, and some chandeliers.

I also made wattle and daub textures, but a current bug with the lotr mod prevents the game from properly recognizing wattle and daub textures at a 32x resolution. I did include the textures in a separate (unused) folder, if you're curious, and I provided a downscaled version of my daub texture in the pack (though it's still 16x, it fits with my textures better than the default daub).

Here are some screenshots (using modified Kuda shaders) you can take a look at:
- Quin
7/31/2019:
Welcome back to another progress update! Today there isn't much to showcase, since I've been fairly busy lately, and have been working on vanilla textures instead of mod textures. But, all the same, I have released alpha 2! The only added textures that it includes are regular and chiseled quartz blocks, plus pillars, as well as the snow and snowy grass textures. Additionally, mod update 35 changed the texture id for dirt paths, so I updated that so that it will show up again. You can download the pack from the pack page linked above. In other news, more mod textures should be coming relatively soon, as that is now my primary focus, so hang in there. As always, feedback is greatly appreciated, and I hope you enjoy!
- Quin
5/31/2019:
Hello again! I know it's only been a few days since my last progress update, but I decided to release alpha versions afterall. The poll was leaning in favor of it, and I had already released a vanilla version of the pack on Planet Minecraft, so I figured it only made sense to release a mod version as well. You can find the download on the pack page. Let me know what you think!
- Quin
5/27/2019:
Welcome back to yet another progress update for Immersion! Today I decided to revisit the idea of releasing alpha versions of the pack. While my original poll leaned overwhelmingly in the direction of not releasing alphas, I realized that I provided very little information on what potential alphas might actually consist of, and what it might look like were I to release them. And, considering that roughly a third of the voters elected in favor of the alphas, I figured I owed it to everyone to clarify, and open it up to a re-poll


So, put simply, the alphas would basically just be published versions of wherever my current progress is at the time of publication. Of course, this means that there will be some meshing of default and pack textures, and not all of the finished textures will be perfect. That being said, you can expect a certain level of quality even from the alpha state. I will not publish textures if they aren't at least mostly aesthetically pleasing.

It is worth noting that while the experience would not be perfect, there would certainly not be a shortage of textures to view. Many experiences might very well be almost completely textured, and often vanilla textures may even blend well with the pack's textures. Currently, I have completed 302 textures, consisting of all vanilla Minecraft Shire textures, with a few extra vanilla textures thrown in, plus upwards of 40 lotr mod textures.

Yet while I have completed a good many textures, and have made a sizable dent in the progress of Beta 1, I still have a long ways to go. The beta is currently 43% complete, and will need to consist of a grand total of 702 textures. The whole of Vanilla Minecraft 1.7.10 consists of merely 356 block textures, and 1.13.2 consists of 566.

So, in conclusion, released alphas, while not possessing the same quality as the betas (hence their being alphas in the first place), would not necessarily suggest an inferior experience, but rather a less cohesive one. Really, the reason for me to release them would be if you want to get a taste of Immersion as quickly as possible. Because while I aim to try to finish Beta 1 at some point this summer, the reality is that the task is still a colossal one, and whether or not I reach my goal, we still have some time to wait before the beta is complete.

So now take a look at a few more screenshots, to see what it might look like, and cast your vote in the poll. As always, I highly appreciate any feedback, and am open to suggestions as well. And, with this scroll of a text finished, I won't take up any more of your time. Thanks for reading,
- Quin
Should I release Immersion Alphas?
4/17/2019:
Welcome back (finally!) to another informational update for Immersion. I know it's been over a year, but I am still very active. Part of the reason that I took so long to post another informational update was that I ran into a roadblock regarding liquid animations (I spent dozens of painstaking hours on the lava textures, but had to throw out my work multiple times), but I have finally overcome the learning curve, and pushed past it.


The resource pack now has a total of 273 textures, and I have officially completed all of the vanilla textures that can be found or crafted in The Shire. Now, I won't delay any further, and here are some nice screenshots to feast your eyes on! As always, feedback is appreciated, and thanks for reading!
- Quin
1/21/2018:
Hello everyone! It's been quite a while since I first announced this resource pack, but the project has come pretty far. If you don't already know, this resource pack, now titled Immersion, aims to retexture all vanilla and lotr mod blocks at a 32x32 pixel resolution.
For the first public release, Beta 1, I plan to include all blocks, both vanilla and lotr mod, that can be either found or crafted in The Shire, so as to allow for the greatest level of immersion at an early stage. Each new beta will then focus on a new region of Middle-earth, and I will additionally texture all blocks of future lotr mod updates. Currently, there is no estimate for a release date, but I am approximately 12% complete with the beta, with 78 textures.
This post, from this point forward, will serve as a news board for Immersion, announcing releases, as well as changes in plans. This page will serve as the primary informational page for the resource pack, and any downloads will be provided there. If you have any suggestions, concerns, or other feedback regarding the textures, that will also be the appropriate place to contact me.
Lastly, I will get to the purpose of this informational update. Below are a few sreenshots taken with the resource pack, as well as a poll. I would appreciate it if you answer the poll, so I can gauge your interest properly. Thanks,
- QuinoaFalafel
Do you want me to release unfinished Alphas of Immersion before the first Beta?
7/19/2017:
In the past four days I have entered head first into the world of texturing. After watching a few tutorials on basics of texturing at a fairly low resolution with gimp, I decided to try making a higher definition version of the mod's Arnor brick. Since then I have made seven more textures from the mod, all at 32x32 resolution. Though I am not positive how far this road will take me, I plan for the moment to continue work regularly. Though I am not providing a download, I thought I would make this post to gauge what the community's thoughts are on my work so far, partly out of curiosity. Below is a picture of the blocks I have textured beside their 16x counterparts, as well as a few other screenshots. Thank you for reading this, and please let me know what you think.