So I have recently seen the updates page where Mevans has said he will be adding Far Harad Jungle mountains and I have a few suggestions how to implement them;
Shape
These mountains would be similar to Tepui, which are huge plateaus in the jungles of South America they have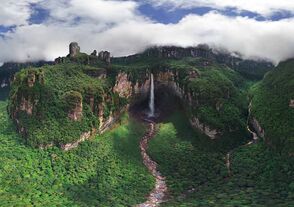 been separate for 1000000s of year and therefore have several unique species on them.  They are known to have many caves inside
Plants
The Tepuis are well known for their carnivorous plants 
Carnivorous plants would come in small, same height as a flower and does 1.5 hearts damage to animals and the player and large, the height of a double height flower.  They would not take damage from any weapons except axes.
Tropical flowers, these would be just normal flowers but would have a more colorful texture when placed in that biome.
Animals
Similar to the plants these would be normal jungle animals just with more exotic textures.
Including scorpions, birds, crocodiles, fish, and frogs, monkeys and parrots if they are ever added. 
Structures
Taurethrim ruins should spawn here and possibly Taurethrim with more exotic skins but I am not going to go into detail as this could be highly unrealistic
Waterfalls could spawn on the side of them
Ideas, constructive criticism and kudos are appreciated.
FANDALF