Good Day!
I'd like to discuss Gondor's elite unit- currently, this niche is occupied by the Tower Guard. Far from their days of spear-spamming OPness, these soldiers are now actually quite weak for their cost and status, with 24 health and only spears as melee weapons. 
What I'd like to propose as a replacement for the Tower Guard is a unit called a "Gondor Sergeant." They would have 25 health (On par with the other Mannish "elite" units), and each fiefdom would have a variant that would wear the regional armour with a Gondor helmet. (For example, a Sergeant of Pinnath Gelin would wear Pinnath Gelin Boots, Leggings, and a Chestplate with a Gondor helmet). The "standard" Gondor Sergeant would wear the Winged Helms. Perhaps some sort of cape could be implemented as well, either specific to each fiefdom, or as a uniform item worn by all Knights.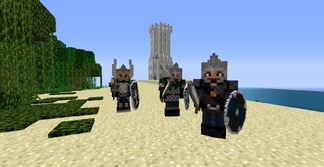 These would spawn everywhere Soldiers of Gondor (or their variants) would, but with more rarity. A few could regularly spawn in Fortresses and/or watchforts.
As for the Armament of these men, a noble longsword would do the trick! These weapons would simply be a 7-damage variant of the Gondor sword, crafted perhaps by placing an additional iron ingot in the crafting grid with a Gondorian sword. Now, you may be asking, "Why does Gondor need a 7-damage sword? Doesn't Dol Amroth already have one?" Yes, however, in the mod, and even moreso on most servers, Dol Amroth is treated as a seperate faction from Gondor: the Gondorian Longsword provides an alternative to Dol Amroth swords being used by higher-tier players in every fiefdom.