A solid while ago, I put out a series of suggestions focusing on Mordor; however, I believe that the time has come to revisit them. In this suggestion you will find all of my ideas for Mordor and the regions under its control (aside from Ithilien, which will get its own smaller suggestion.)
Mordor, in the mod, is one of the most underdeveloped factions relative to what it was in lore. The last major update it got was when it received new subfactions (by which, of course, I mean banners) and Morgul-Draught back in the fiefdoms update, and the last major addition it got was even earlier. As a result, Mordor has not aged well, and pales in comparison to nearly every other faction of comparable importance. This suggestion is intended to provide ideas to amend this.
While I see no need to divide up Mordor like Gondor and Near Harad, subfactions still should be present alongside the main faction of Mordor. Currently, we have Minas Morgul, the Black Uruks, and Nan Ungol, though none with much content; these would all remain, with improvement, and would have their own invasions, as would Mordor Wargs. No new subfactions would be added.
This suggestion is *very* long, and before you begin I suggest you find a nice chair to sit and read in. Please do not balk at the length of this suggestion - there are many ideas in here, and they range from the would-be-nice (like many new structures) to the glaringly missing (like roads that were mapped out by Tolkien that are absent in the mod.) Enjoy.
Biomes
Mordor is currently composed of ten biomes, which do a decent job overall of conveying a sense of the lands they represent. However, many of the existing biomes could use some changes, and some other biomes could probably be added as well.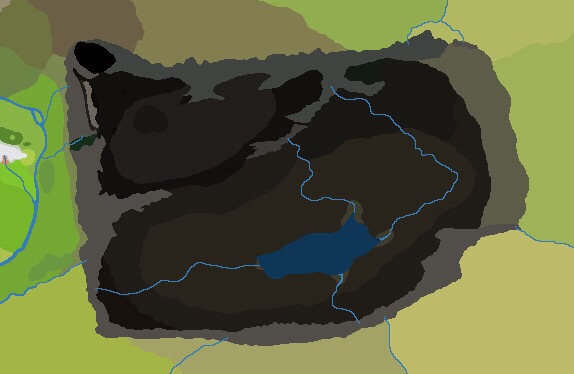 Currently, all the mountains in and around Mordor are represented by the Mountains of Mordor biome, which takes the surface composition of the average Mordor biome and makes massive mountains out of it. But most people here would remember that Mordor had, in fact, two separate and rather different ranges of mountains, and due to this and more localized factors I suggest the Mordor Mountains be ultimately split into four biomes. The northern strip of the Mordor Mountains would become the Ash Mountains: a range of incredibly tall, near-impassable mountains with grey skies, mist, and countless pockets of ash, a new sand-like block that would be found here and in a few other places. The spur of the Ash Mountains that splits Mordor in half, however, would become the Mordor Spur, a more passable version of the Ash Mountains with lower peaks, skies more akin to the rest of Mordor, and less ash. Towards the west, the strip of Mordor Mountains that represents the Morgai would also get their own biome, which would have lower and much more craggy peaks, along with more vegetation. The rest of the Mordor Mountains would remain the same (aside from spawning - but that comes later), but would be renamed to the Mountains of Shadow.
Udûn has a few key differences from the normal Mordor biome: it is lower, flatter, and has far more structures than normal (and has a different sky color.) This is pretty accurate: Udûn was a wide, flat, low-lying desolate plain that has essentially been turned into one massive mustering camp. However, the low ground level creates a problem: lakes, rivers, and lava ravines are *very* common here, and they really have no reason to be that way. Considering that Udûn was likely the result of volcanic activity and translates to "Hell", it would be justifiable to fix the first two issues by treating Udûn like the Great Desert, and remove natural water sources from it entirely. The lava problem would be harder to fix, but if the frequency of ravines in Udûn can be decreased, it probably should be.
Gorgoroth, on the other hand, is merely higher than the surrounding land and almost perfectly flat, with a redder sky and no shelter from the limitless numbers of Mordor units that spawn here. This isn't really accurate, however: Gorgoroth was a volcanic plateau and not inhabited. Gorgoroth would be split into two biomes: the Plateau of Gorgoroth, and Inner Gorgoroth. The Plateau of Gorgoroth would be similar to current Gorgoroth, but with a decrease in the frequency of NPCs and structures, an increase in boulders, and the addition of a Mordor version of the volcanic crater found in the Far Harad Volcano biome (which would be rare here). The Plateau would become more of a guarded wasteland, covered in castoff from Mount Doom and dotted with a few forges of Sauron. Inner Gorgoroth, on the other hand, would be hell. This would generate in a fairly small circular radius around Mount Doom (maybe up to three-quarters of the way to Barad-dûr), and would be nigh-deserted. It would pretty much be a sea of boulders (including unique boulders with twisted shapes), with the space between being filled with volcanic craters. Inner Gorgoroth would represent the core of the power of Sauron on earth, and as a result anyone with less than +500 Mordor alignment would receive slowness, hunger, and weakness effects simply for daring to set foot here, which would also apply to all non-Mordor NPCs. In both biomes, water would be completely absent (as in the Great Desert) except in cisterns that would generate every so often along the roads (for detail more than anything), and ash would be even more common than it would be in the Ash Mountains.
All of the Mordor biome south of the mountain spurs (around Núrn and whatnot) would be replaced by a new "Lithlad" biome. Lithlad would be much less populated than the rest of Mordor - structure and NPC spawns would be decreased for everything, and in some cases eliminated. The terrain would be primarily composed of Mordor Rock, Dirt, and Ash in equal measure, and would have a greater abundance of charred trees, as well as a charred forest sub-biome. A similar charred forest biome (but with occasional instances of fifty-meter-high spikes of black rock, which would vaguely represent Fell-Beast eyries) would replace the Vale of the Fell Beasts, and would be virtually uninhabited for now. Another biome, called Northern Lithlad, would replace part of the northeast Mordor biome, and some of the northeasternmost part of Núrn. Here, Mordor Wargs would exclusively be able to spawn unridden, and Warg Pits would be common.
Between the Morgai and the Mountains of Shadow, the current strip of Mordor would be replaced with a new biome: the Morgai Vale. This would be similar to Mordor, but more fertile. Mordor dirt, boulders, and all types of Mordor vegetation (except charred trees) would be common here, and water springs would generate occasionally here as well.
A final new biome, which I neglected to think of in my old Mordor suggestion series, I shall now add here: Mordor Heartland. This would represent those stretches of Mordor that were effectively converted into massive camps, the great population centers of greater Gorgoroth. Biome-wise, they would be similar to the normal Mordor biome, but they would be slightly flatter (for the purpose of structure spawning), and would be mostly without water, boulders, or dead trees. In effect, they'd be completely cleared, and would have an extremely high rate of structure generation and NPC spawning, a deathtrap for any good player and a haven for any evil player. Pockets of this biome about the size of Imloth Melui would generate along the roads in Mordor where they enter the plateau of Gorgoroth, and it would also generate in a long strip along the eastern edge of the Morgai, stretching between the two huge camps marked on the map in ROTK. A modified version (Gorgoroth Heartland) would be present at Barad-dûr, the same except modified to better fit the Gorgoroth environment and with an increase only in spawns, not structures.
Some other biomes only really need small changes. Morgul Vale is perfectly fine, though the roads in it should be Gulduril Gondor brick (or just Gondor brick.) The only change I would make to Núrn would be the addition of a plantation variant, similar to current orchards but slave-worked and with rows of wheat (which, if you steal it and have less than +250 Mordor align, would cause nearby Mordor NPCs to attack you). The Mordor biome, as it currently is, serves as a buffer zone between the devoted sub-biomes of Mordor, and it serves that purpose quite well. Biome-wise, no changes to it are really necessary, and the same applies to Nan Ungol and the Eastern Desolation (aside from spawning), which some may have noticed weren't mentioned above.
I should also mention that the roads in Mordor are inaccurate to the lore. The ones in place are fine, but a few key roads are absent - including one that an entire chapter of the books was set on! This, naturally, is a problem. The roads missing linked Durthang to Carach Angren in a loop around the mountains (easily done, as I understand it), linked Carach Angren to Sauron's Road through the Mordor Heartland (a new waypoint at the crossroads might be necessary), and went through the Morgai Vale between Cirith Ungol and Durthang (Cirith Ungol also connected to the Morgul-Road, but that would also require another waypoint I believe.)
Outside of Mordor, I see fit only to make a few brief notes. Dagorlad should generate a higher amount of boulders, and occasionally pits that would be filled with waste. Tol Brandir, that patch of the Emyn Muil that generates in Nen Hithoel, should have a naturally-generated mountain on it, very steep and pretty much unscalable. The western half of the Emyn Muil should be made a new biome, the East Wall, which would be devoid of Orcs. The stretch of Vales of Anduin that surround the lake should be replaced with a new biome - Parth Galen. Biome-wise, it would be effectively the same, but it would be a forest-type biome by default, it would generate Gondorian ruins, and it would also spawn Mordor and Dol Guldur Orcs instead of Gundabad Orcs.
Crafting
The following blocks/items would be added.
Ash - A grey, sand-like block that generates in patches in Lithlad, the Ash Mountains, and the various Gorgoroth biomes. Like sand, it would be affected by gravity; it would also give off particles, like Mordor Rock, and players would sink into it a bit, like waste.
Crafting Tables - The current Morgul Crafting table would be renamed to become the Mordor Crafting Table, and would otherwise not change. The Morgul Crafting Table would be a new crafting table, used to craft Morgul-items. It would be similar to the Gondor crafting table, but with charred wood, cracked bricks, and it would give off green particles, like the Dol Guldur table. Bricks and other non-equipment items from the Mordor Crafting table would be craftable here as well.
Chains - Crafted by mixing rope and two orc steel ingots on the Mordor/Morgul crafting table. These chains would serve the same purpose as rope, but would have a spikier appearance, and the spikes on them would stab players with negative Mordor alignment who try to climb up them.
Mordor Cobblebrick - Crafted with two Mordor Rock and two cobblestone (yields four), this would be a Mordor version of Gondor cobblebrick. It would have the same block variants (stairs, slabs, walls, etc) as regular Mordor brick, and would be quite useful to evil builders.
Gulduril Bricks - These exist, but the lag that they create truly is a problem for anyone wanting to build Minas Morgul. I have no clue how to fix this - add new textures that would appear instead of the gulduril effect when a certain config option is enabled? Make the effect part of the texture? I don't know, but it really is a problem that should be considered a bit more.
Defaced Gondor Brick - Replacing carved Gondor brick with carved Mordor brick in captured Gondor structures creates a really jarring contrast of black against white. This block would be crafted by combining carved Gondor brick with either an ink sack or charcoal dust. Vandalized Gondor brick would look like Carved Gondor Brick, but the white tree on it would have the Eye of Sauron crudely drawn over it in black. There would be versions of it for Gondor Brick and Númenorean Brick.
Morgul Gate - Crafted in the same manner as a Gondor gate on the Morgul crafting table. The Morgul gate is similar to the Gondor gate, but appears old and worn-out, with gaps hastily patched with charred wood.
Orc-Fire - In ROTK, there is a passage that states "orcs were digging [trenches]... and as the trenches were made each was filled with fire, though how it was kindled or fed, by art or devilry, none could see." This would be represented by Orc Fire, a lava-like liquid (think hot oil) that would have the same effects on players as lava while spreading like water. It would be craftable by surrounding a bucket of lava with Naurite on the Mordor crafting table, and would be usable as a fuel that causes items to smelt twice as fast. (It would last as long as lava.)
Mordor Uruk Spear - A short, broad-headed spear used by Mordor Uruks, which does the same damage as the Black Uruk spear, but with the range and recharge time of an Elven battlestaff. It would be crafted by replacing the central stick with an Orc Steel ingot in the usual Mordor Spear recipe.
Morgul Orc Armor - Crafted with Orc steel on the Morgul crafting table, with the same protection as Mordor Armor, but with greater durability. Morgul Orc armor (aside from the helmet) would bear similarities to that of Angmar, but darker and with spikes on the shoulder armor. Helmets would be more similar to Galvorn helmets, though spikier.
Morgul Knight Equipment and Armor - Crafted with Black Uruk steel on the Morgul table, the equipment set would consist only of a lance and a sword. The sword would be a Black Númenorean take on the Dol Amroth sword, and the lance would be similar to Gondor's. The armor would be Black Númenorean armor, which would look like this. Both would have stats equivalent to Black Uruk gear, and be crafted of BU steel.
Núrn Whip - Crafted in a diagonal S-pattern with one stick and three leather, whips would be used to increase productivity in slaves. It would charge like a Balrog whip, and would produce a loud crack when used. When used, a target slave will receive speed II and haste II, while nearby slaves would get speed I and haste I, all for fairly short amounts of time. Alternatively, left-clicking with a whip will deal three damage. In addition to these, whips can be used to enslave enemy civilians. For players with over 500 Mordor alignment, cornered Gondorian civilian NPCs can be repeatedly whipped until they are pressed into submission (this takes a number of tries). This will create Slaves of Núrn, hired automatically to you. Be warned, however - captured slaves will try to escape at the first chance they get for a full Minecraft week after their capture.
Spiked Núrn Whip - Made with a Núrn Whip and four orc steel. These function similarly to normal whips, but can be used as weapons that deal six damage. In addition, when charged and used on slaves, the target slave will receive three damage as well as effects.
Mordor Orc Captain Helmet - This would be crafted with a Mordor helmet, one skull, and one Orc Steel in a stack on the Mordor Crafting Table. It would have the same stats as the Mordor helmet, but with different textures, some of which would look like this. It would be worn by Mordor Orc Captains.
Black Uruk Captain Helmet - Crafted on the Mordor table by placing two BU steel ingots diagonally above a BU helmet. The resultant helm would have a crown of spikes, and would be worn by Black Uruk Captains.
Morgul Orc Captain Helmet - Spiky, Morgul-y versions of the Mordor Captain Helmet, crafted the same way on a different table.
Morgul Knight Lieutenant Helmet - Helmets crafted on the Morgul table and worn by Morgul Knight Lieutenants. They would be taller than normal helms, and have two small bat-wings on the sides. It would be crafted by placing a BU steel ingot on either side of the Morgul Knight helmet.
Morgul-Knife - Morgul Blades are currently both inaccurate and underpowered for what they are: sorcerous weapons of the Nazgul. The current Morgul-Blades would become Morgul-Knives, which are crafted the same way, do 8 damage, and give the wither effect for 30 seconds; however, they only have one durability point. This is the weapon that wounded Boromir I at Osgiliath, and is wielded by Morgul-Warriors.
Morgul-Blade - Morgul-Blades would be wielded by no NPC and would be much more powerful. They would be crafted with a Morgul-Knife and eight Gulduril blocks. When used on an NPC, the NPC would die immediately regardless of health and armor, the blade would break, and a Wraith mob would spawn. Wraiths would be identical to the mobs they once were - same equipment, same health, and same armor - but would have the gulduril overlay and would serve as hired units for the player. (This would only work on Men.) When used on players, the Blades would reduce the player to half their current health regardless of armor, break, and would give them a full 30 seconds of wither.
NPCs
The following mobs would be added or modified.
Mordor Snagae - Mordor Snagae would be a new NPC, similar to Mordor Orcs but only as tall as Dwarves. They would be the closest Mordor comes to civilians, and by civilians I of course mean that they're effectively slaves. They would have 12 health and would be incredibly cheap to hire. They would wear whatever they can find - a mix of fur, leather, and Mordor Orc equipment, with no helmet. There would be two versions of the Snaga present: the Mordor Snaga, which would use a Mordor dagger (poisoned or not), and the Mordor Snaga Archer, which would use an Orc Bow. Snagae would be the cannon fodder of Mordor, and within the walls of the Black Land, they would spawn in Udûn, Mordor, Morgul Vale, Mordor Heartlands, Morgai Vale, the Plateau of Gorgoroth, and Lithlad commonly, and in the Mountains, Núrn, Nan Ungol, and the Vale of the Fell-Beasts uncommonly. For all their ubiquity in Mordor, however, snagae would be rare outside its walls, where they would only appear in invasions.
Mordor Orcs - Mordor Orcs (including the Mordor Orc, Mordor Orc Archer, and the Mordor Orc Bombardier) would retain their current role as the face of Mordor unchanged, save in spawning. With the addition of Snagae, their spawnrates would be very slightly decreased across Mordor, though they would still be common in Udûn, Mordor Heartlands, and Núrn, uncommon in the Plateau of Gorgoroth, the Morgai Vale, and Nan Ungol, and rare in the Mountains and the Vale of the Fell-Beasts. Outside of Mordor, their spawning would not be altered, as they are still the primary soldiers of Sauron.
"Mordor Uruks" - These would replace Black Uruks across most of Mordor, and would serve as the elite of Mordor's rank-and-file armies. "Mordor Uruks" wouldn't be more than a classification - they'd represent the strongest of the soldiers-orcs, and in the mod would be represented by two new units: the Mordor Champion and the Mordor Siege Archer. Both units would have 22 health, would wear Mordor armor, and would be slightly taller than normal Orcs. Champions would use Mordor Uruk spears and Black Uruk cleavers, while Siege Archers would use Black Uruk Bows. They would spawn commonly in Udûn and the Mordor Heartland, uncommonly in Núrn and Lithlad, and rarely in Gorgoroth and the Morgai Vale. They would only spawn in invasions outside of Mordor.
Black Uruks - Black Uruks would now be exceedingly rare, which is fitting considering their status as the elite soldiers of Barad-dûr. They wouldn't be altered aside from spawning and hiring, which should help to counteract their OP-ness. They would only spawn rarely henceforth, and only in Udûn and the Mordor Heartland (and one or two per Mordor invasion), and would be hireable only from their special chieftains, who we'll get to later.
Olog-hai - Olog-hai are (wrongly) considered the most OP mob in the game by many players, and while their incredible weaknesses are glaring, there should be a bit of change for the sake of accuracy. They should be *slightly* slower - though they were described as charging at high speed in the books - and should have a longer cooldown between attacks (about the cooldown time of a warhammer). To avoid drawn-out battles where Ologs end up knocking their foes back several kilometers, their knockback would be partly decreased, though the AoE would remain. On the other hand, they should also be able to tear down trees - this would eliminate a weakness that makes them all but useless in many environments, in exchange for nerfing them elsewhere. They should also have changes in spawning - they would now spawn at current rates only in the Ash Mountains, and would spawn less commonly in Udûn, Mordor Heartland, and Mordor, and rarely in the Mountains of Shadow.
Mordor Wargs - Mordor Wargs themselves would be unchanged as mobs, but their spawning would be altered significantly. As I mentioned in my earlier general suggestion on Orcs, I suggest taming and hiring, as well as the mob classification of Warg-Riders, should be altered; I am not going to re-suggest those changes here. Warg-Riders would become much rarer, and would spawn only in Lithlad - northeast Lithlad, not Outer Lithlad - commonly, in Udûn and Mordor Heartlands uncommonly, and in Mordor and the Plateau of Gorgoroth rarely (they would not spawn outside of Mordor save as part of invasions, at the same rate as Black Uruks.) Wild Mordor Wargs would only spawn in Warg Pits outside of Lithlad, and would not spawn in invasions. They would be uncommon in Lithlad, but they *would* spawn there. (Also, why are Warg Bombardiers still a thing?)
Mordor Trackers - Special units from among the Snagae of the Morgai. Mordor Trackers would be like Snagae, but with large noses, and special abilities as a result. They would have 16 health, wear full fur armor, and would switch between Mordor Daggers and Orc Bows depending on target range. They would have the ability to see through Ranger camouflage, and would have the same sight range as Wargs due to their noses. Trackers would spawn uncommonly in the Morgai, the Morgai Vale, the Mordor Heartlands, and Udûn, and would also appear at night in Ithilien to sniff out those nasty Tarks. One or two would spawn per Mordor invasion.
Banner-Bearers - The current banner-bearers are mostly fine, but Morgul Banner Bearers would become Morgul Orcs, Nan Ungol Banner Bearers would ride spiders, and Black Uruk Banner Bearers would be Black Uruks.
Mordor Orc Traders - Mordor Orc Traders, with the addition of two new trader units, would have an altered selection of wares, and would become focused more towards selling odds and ends (Orc Draught, materials, bombs, the occasional dagger) instead of primarily equipment.
Mordor Orc Miners - Orc Traders that would spawn in the mining tunnels around Mordor Mining Pits. They would be slightly larger Snagae, would be armorless, and would hold a Mordor pickaxe and a coin. They would sell ores and raw materials, and would purchase pickaxes, torches, and food from you.
Mordor Orc Blacksmiths - Orc Traders that would spawn in Mordor Smithies. They would use the same model and skin set as Mordor Champions, and would have the same health. They would hold blacksmith hammers and a coin, and would sell you equipment and armor in exchange for raw materials.
Mordor Orc Captains - Mordor Orc Commanders would be renamed to Mordor Orc Captains, which is the canon rank for Orcs of their status. They would be made the same size as Champions, and would wear Mordor Orc Captain Helmets. They would no longer allow you to hire wild Wargs, non-Mordor Banner Bearers, Black Uruks, or Olog-hai, though they would be able to allow you to hire all other Mordor Orc-related units.
Black Uruk Captains - Extremely rare traders that would spawn in Black Uruk Towers. They would have the same model as Black Uruks and would wear Black Uruk Armor with a Black Uruk captain helmet and skull staff. They would allow you to hire Black Uruks, Black Uruk Archers, and Black Uruk Banner-Bearers.
Olog-Hai Tamers - Orc Traders that would spawn in Olog Dens. These Orcs will allow you to hire Olog-hai, and would have the same stats and gear as Mordor Orc Captains, albeit with a Black Uruk helmet to differentiate the two.
Morgul Orc - The Orcs of Minas Morgul are similar to Mordor Orcs, with the same health and equipment, but with Morgul Orc Armor. They would spawn commonly in Morgul Vale and uncommonly at night in Ithilien. There would be a normal Morgul Orc NPC and a Morgul Orc Archer NPC, though there would be no bombardiers or Warg Riders.
Morgul Warrior - Similar to the old Angmar Warriors, these Orcs would be larger Morgul Orcs, with 22 health. They would wear Morgul armor with a Morgul Orc helmet, and would use Morgul-Knives in battle. Each Warrior has one knife, and once it has been spent they would switch to Black Uruk cleavers. They would be incredibly expensive and rare, and would be found only in Morgul Vale. Hired Warriors can be re-equipped with knives in the same manner as bombardiers, and non-hired knifeless warriors would have a chance to give players a quest to get them a new one. (And yes, they do have a basis in canon! See Boromir I and the Battle of Osgiliath.)
Morgul Knight - Another expensive elite unit, Morgul Knights would be the Black Númenoreans of Minas Morgul, the elite cavalry of the Nazgûl. They would essentially be anti-Swan Knights; they would have 30 health, and use Morgul Knight armor and weapons. They could be mounted or unmounted; the horses for mounted knights would use Morgul Horse Armor. They would rarely spawn in Morgul Vale, and would have their own invasions.
Morgul Trader - Versions of the Mordor Trader that spawn in camps in Morgul Vale. They're the same as their Mordor equivalent, but their trades would be more like the original Mordor Trader, and geared toward selling equipment.
Morgul Orc Captain - Minas Morgul versions of the Mordor Orc Captain. They would spawn in Morgul Vale structures, and would be identical to their Mordor counterparts save in available units and armor. They would wear Morgul Orc armor with the Morgul Orc Captain helmet, and would allow you to hire Morgul Orcs, Morgul Warriors, Mordor Snagae, and Minas Morgul Banner-Bearers.
Morgul Knight Lieutenant - The leaders of the Morgul Knights. They would be found in Morgul Stables, and would be the same as Morgul Knights except they would have Morgul Knight Lieutenant Helmets, and would have Morgul-knives instead of swords or lances. They would allow you to hire mounted and unmounted Morgul Knights.
Núrn Slave - Núrn slaves would now be capable of revolting. There would be a 1 in 60 chance that a slave outside a 20-block range from a Núrn Slaver would revolt, and attempt to run away. They would avoid any Mordor NPCs, and if they last for five minutes without getting beaten below half-health by pursuing slavers, they would become Núrn Bandits.
Núrn Bandit - Escaped Núrn slaves that have come to realize the bitter truth: there is no escape from the Land of Shadow. They would act as normal bandits, but only to Mordor-aligned players, and would rarely spawn and attempt to rob any that they happen upon. They use mixes of leather and fur armor, and use Mordor daggers. Good players that encounter Núrn Bandits - probably those that appear as a result of slave revolts - would be able to hire them with quests.
Núrn Slavedriver - 22-health Mordor NPCs, which would be like Mordor Champions but with whips. They would spawn uncommonly across Núrn (very commonly in the Núrn plantation variant); in addition, they can be hired from Núrn Slaver-Captains, and one spawns in each Núrn farm. They would whip their slaves every-so-often.
Núrn Quartermaster - Orc Traders that would spawn in Núrn Castles. They would be like Mordor Orc Traders, but would have a whip instead of a dagger, and would trade food items for materials and equipment.
Núrn Slaver - Núrn Slavers would be the same (aside from selling Slavedrivers as well), but would now wear Mordor Captain helmets and use spiked whips.
Mordor Warrior - These Men have the same stats as Men of Rhúdel, Gondorian renegades, or Southrons, but wear Mordor armor (minus the helmet) and use Mordor equipment. They spawn uncommonly in Lithlad, and cannot be hired (though they can easily be created from normal Rhúdel soldiers). These were likely Men kidnapped at an early age in raids or through tribute, and have been raised in worship of the Great Eye.
Mordor Gnat - Similar to midges, Mordor Gnats would be clouds of gnats, which would have small red dots on their backs to represent the Great Eye. They would spawn in the Morgai Vale and Núrn, and while they would do no real damage, they would be loud and annoying, and would swarm around players with negative Mordor alignment.
Mordor Viper - Small-ish mobs that spawn rarely in the Eastern Desolation. Snakes by no means would be exclusive to here: other types should spawn across Harad, but those will be addressed in future suggestions. Mordor Vipers would be black with glowing red eyes, and would have the Eye of Sauron textured on their heads, like Mordor Gnats. Vipers have ten health. They attack any players they see, and deal 4 based damage with an effect per bite. As opposed to the poison effect most snakebites would give, however, Mordor Vipers would deal a wither effect for eight seconds.
Structures
The following structures would generate in Mordor.
Mordor Orc Camp - Camps of all sorts need MAJOR improvement, especially those of Mordor, which are the closest Mordor will come to villages. Mordor now would have three sizes of camp: minor camls, which would be the current ones and would generate where Mordor camps currently generate; major camps, which would be four minor camps with additional structures that would generate in Udûn, Mordor Heartland, normal Mordor, and Lithlad; and town camps, which would only generate in Udûn and Mordor Heartland and would be four major camps with extra structures. Minor camps would remain the same, but with trader stalls and a small fire instead of a crafting table. Major camps would have up to 16 tents (up to four of which are forge tents), a fire-pit, a trader stall, four farms, and a mess tent. Town camps would have up to 64 tents or huts (up to 16 of which can be forge tents), sixteen farms, two trader stalls, a bonfire, a mess tent, and a command tent. Town camps will generate with a normal Mordor Tower, a Warg Pit, Stables, or a Mining Pit, and those with huts would be more orderly, with streets of sorts and less random generation of structures.

Tent - Normal tents should at least have 1-2 orc beds in them. Forge Tents should now contain the Mordor Crafting table as well as the Orc Forge, as it makes more sense.
Hut - Simple round stone huts, used by Orcs. They have identical contents to an Orc tent, and would replace Orc tents in one in five Town Camps.
Trader Stall - Instead of being free-roaming, Mordor Orc Traders would spawn in these. These would be little charred wood shacks, with a loot chest, a barrel of orc draught, an armor stand, and a sword rack. Traders can also rarely be found randomly wandering Udûn.
Fire-pit - There would be a different size fire depending on the size of the camp. Minor camps would have one-block fires, essentially the current crafting table housing but with fire where the CT would be. Major tents would have 3x3 campfires, complete with cut logs for benches, a chest, and a logpile. Town camps would have bonfires, which would be 5x5 and otherwise the same as the 3x3.
Mess-tent - Large tents supported by four full wood beams, and containing a table with seats and food/drink for orcs. There would be barrels, furnaces, and chests along the walls.
Command Tent - Large tents that, in Town-camps, house a Mordor Orc Captain. Aside from the captain, these tents contain a bed, loot chests, armor stands, weapon racks, skulls, a cauldron, crafting tables, barrels, and a table of command in the center.

Mordor Tower - Mordor Towers need some serious redesigning. The exterior could use some sophistication, but that's fairly straightforward, so I will focus on the interior. Instead of being empty, Mordor towers would now have an entry level with armor stands and weapon racks, a barracks level with orc beds, a storage level with bombs, barrels, and chests, a captain's room with a command table, bed, and some consumables, and of course the roof. (Taller towers would just have more barracks levels.) Spawning for the towers would be the same, and they would generate in the Ash Mountains, Mountains of Shadow, Mordor Spur, Morgai, Udûn, Mordor Heartland, Mordor, and Lithlad. There would also be a new variant of the tower - the Black Uruk Tower, which would be the same except it would have a Black Uruk Captain and Black Uruk banners. These would replace one in ten Mordor Towers in Udûn and the Mordor Heartlands, and would be the only place you could find Black Uruk Captains.
Mordor Warg Pit - Warg Pits would feature major changes, the most prominent being the replacement of the current ladder-and-fence-gate system with a ramp (made of stairs) and a real gate that Wargs can actually go through. In addition, there'd be a lot more charred wood (especially beams) involved in the structure as support beams and picket spikes along the inside rim of the structure. Skulls would be mounted on these beams, and the chest in the pit would be replaced with two to make up for the redesign. Perhaps most importantly, spawning would also be severely altered. They would be found only in Lithlad.
Mordor Stables - Though few in number, Mordor does have horsemen. Similar in structure to Easterling Stables but with a charred wood build scheme, Mordor stables are rest stops for the couriers and messengers of the Dark Tower. Mordor Warriors would spawn here as a guard force, possibly alongside a messenger unit in the future. Evil traveling through the Black Land could pick up mounts here. They would rarely generate in Udûn or Mordor Heartland, as well as in town-camps.
Olog-hai Dens - Cave-like structures that would spawn only in the Ash Mountains. They'd look almost like natural pits in the valleys between the mountains, with 4-8 Olog-hai naturally spawning, 2-4 stone chests full of loot, and a few piles of treasure, like Troll Hoards. Unlike Troll Hoards, however, Olog Dens would also have a Mordor Banner and an Olog-hai Tamer. They'd be fairly hard to find, making Ologs harder to get.
Mordor Mining Pit - Large open-air pits dug haphazardly into the ground to strip ores from beneath Mordor. These structures would go down sixty blocks, accessed by a rickety charred wood staircase and guarded by a cheap stockade at the top. At the bottom is a sort of hub cavern, like the hubs in Dwarven Mines, with chests and orc forges, and three mineshaft entrances. These mineshafts would more or less function like dwarven mines, but more uneven, dark, and haphazard. Mordor Orc Miners would spawn occasionally down here. They would be found primarily in the Mordor Spur, and would rarely appear in Udûn, the Plateau of Gorgoroth, and the Mordor Heartlands as well.
Morgul Camp - Variants of the Mordor Camp, but for Minas Morgul. These camps would only come in the minor and major sizes, with all the accompanying structures, and would structurally be the same, except they would spawn Morgul Orcs, and their trader stalls would have Morgul Orc Traders. They would be exclusive to Morgul Vale.
Morgul Altar - Similar to the Dol Guldur Altar, these structures would be made of Mordor and Gulduril Mordor Brick (the only structure to contain the latter). They would contain a Morgul Crafting Table, and other than that would have no purpose aside from looking spooky. They would be exclusive to Morgul Vale.
Morgul Tower - Vaguely reminiscent of the Mordor Tower, these towers would be found in Morgul Vale, and would be Gondorian ruins occupied by the Orcs of Minas Morgul. These towers would be built Gondorian-style, with Gondor and Númenorean bricks, but have been modified by the Orcs with steel bars, Orc Gates, and a crown of Mordor Brick spikes at the top. Internally, they would be like Gondorian versions of Mordor Towers, the purposes of each floor having been altered long ago. They would contain Morgul Orcs and a Morgul Orc Captain. These would be plentiful sources of Minas Morgul Banners.
Morgul Mansion - Large, ruined estates in the lands of the Morgul Vale. These ornate mansions are Gondorian in origin, made with Gondor and Númenorean bricks. They have long since been abandoned however, and it shows: Most of the interior has been ransacked, many of the bricks are mossy or cracked, and carved Gondor brick is defaced. The mansion would have several parts: exterior gardens in the front and back, both overgrown and full of Morgul-flowers; a ground floor with a foyer, kitchen, dining room, library, and stairwell; an upper level with a stairwell and four bedrooms; and an attic, with odds and ends scattered about. There would be plenty of loot to be found in here. 1 in 5 Morgul Mansions would have been reconfigured to serve as barracks, and a result have had most of the interior cleared in favor of orc beds.
Morgul Stables - Similar in design and function to Dol Amroth stables, Morgul Stables are build out of a mix of Númenorean and Mordor brick. The interior layout is the same: a long corridor with six stable stalls and a large back room, this time with a Morgul Knight Lieutenant. The structure, however, would have a different aesthetic, one much more distinctly evil, if still Númenorean. Morgul Knights would spawn here, and these would uncommonly be found across Morgul Vale.
Mordor Orc-Hold - Medium-sized structures that would generate along hills in the Morgai Vale, the Mordor Heartland, and the Mordor Spur. Orc-holds would consist of a low outer wall around a small courtyard, all made of Mordor Brick and Cobblebrick. The walls would have one gate (plus gatehouse). Inside, there would be clusters of Orc Huts, centered around a small cave with a command room (with a Captain) and an underground dungeon. The hold would be patrolled by Mordor Orcs, Snagae, and Trackers.
Mordor Smithy - Mordor Brick structures that can be found in the Plateau of Gorgoroth, Mordor, Mordor Heartlands, and Udun. These would be round and medium-sized structures, with smokestacks on top. Inside, there would be a number of forges, chests, crafting tables, anvils, and cauldrons, as well as armor stands and weapon racks. In the back of the structure would be a large and somewhat complex lava forge. A Mordor Blacksmith would spawn here.
Cistern - Minor structures that would generate along the roads in Gorgoroth. They would be large wells, about eight blocks deep, with water inside. They would appear infrequently at regular intervals along the roads.
Núrn Slaver Tower - Slaver Towers would be altered slightly. The basic structure and spawning would remain the same, but the structure would be upgraded - currently, they still are built with charred logs instead of the not-so-new beams.
Núrn Farm - These would now have Mordor Slave-Drivers spawn in them as well.
Núrn Castle - Uncommon structures that serve as a Núrn replacement for Mordor Towers. Castles would be similar to Gondor Fortresses, but slightly larger and more complex. Castles would have an outer wall with four watchtowers and a gatehouse, stalls for Mordor Orc Traders and Núrn Quartermasters inside, and a main keep with a Mordor Orc Commander. Núrn Castle Keeps would contain loot chests, crafting tables, banners, barrels, beds, tables of command, and just about everything you would expect in a fortress. The primary material of the build would be Mordor brick.
Núrn Town - Rare structures that would be found only in Núrn. These would be smaller than your average mod town, but they'd still be quite large. A square wall of Mordor Brick and charred wood would surround the town, with watchtowers in each corner. There would be a gate at the center of each wall, and from each four roads lead to a courtyard in the center of the town, where a Núrn Castle lies. A Slaver Tower would spawn in each corner of the town, bordered by three farms each. Along the roads would generate Slave Barracks, long, low, cramped wooden shacks with far too many beds and only one chest.
Nan Ungol Spider Pit - Spider Pits would undergo the same revamping as Warg Pits, except with a ring of wooden stairs facing inward on the rim to prevent the spiders from scaling the walls.
Achievements
These are sorted roughly, for the sake of sanity.
Biomes
Ered Lithui - Enter the Ash Mountains
Ephel Dúath - Enter the Mountains of Shadow
The Inner Fence - Enter the Morgai
The Hordes of Sauron - Enter Udûn
The Dead City - Enter the Morgul Vale
Plateau of Terror - Enter the Plateau of Gorgoroth
Doom's Wrath - Enter Inner Gorgoroth
The Ash Plain - Enter Lithlad
Eyries Beneath the Moon - Enter the Vale of the Fell Beasts
A Watchful Desert - Enter the Eastern Desolation
Kill
Orcs of the Vale - Kill a Morgul Orc.
The Bane of Men - Kill a Morgul Warrior.
Cursed Cavalry - Kill a Morgul Knight.
Pests of Shadow - Kill Mordor Gnats.
The Dark Hunters - Kill a Mordor Tracker.
The Bandits of Mordor - Kill a Núrn Bandit.
There Is No Escape - Kill a fleeing slave before it escapes.
Cruel Taskmasters - Kill a Núrn Slave-Driver.
Beholden to the Eye - Kill a Mordor Warrior.
Serpents of the Black Land - Kill a Mordor Viper.
Other
Sickly Steel - Equip a full set of Morgul Orc Armor.
Riders of the Dead City - Equip a full set of Morgul Knight Armor.
Slave-Master - Whip 20+ Gondorians into submission.
Whip Warrior - Kill an enemy with a Spiked Whip.
Corporal Punishment - Use a whip.
Workers in the Dark - Trade with a Mordor Orc Miner.
The Guard of the Dark Tower - Hire a unit from a Black Uruk Chieftain.
Captain of the Dead City - Hire units from a Morgul Orc Captain.
The Nazgûl's Knights - Hire units from a Morgul Knight Lieutenant.
Shadowy Smithwork - Trade with a Mordor Orc Blacksmith.
Titles
The following titles would be made available.
[Udûn] - Get +100 Mordor alignment.
[Durthang] - Get +100 Mordor alignment.
[Carach Angren] - Get +100 Mordor alignment.
[Morgul Orc] - Get +100 Mordor alignment.
[Morgul Warrior] - Get +100 Mordor alignment.
[Morgul Knight] - Get +100 Mordor alignment.
[Lithlad] - Get +100 Mordor alignment.
[Wraithmaster] - Create a Wraith with a Morgul-Blade.
Invasions
Just to clear things up, I've made a total list of Mordor invasions, what they would contain, and where they would happen.
Mordor - These would be common in Dagorlad and Ithilien, uncommon in the Brown Lands, Harondor, Wilderland, and Gondor, and rare in Dale, the Dead Marshes, Dorwinion, the Emyn Muil, and Nindalf. They would be 40% Snagae of various types, 24% Orcs, 8% Champions or Siege Archers, 4% Black Uruks, 4% Trackers, 8% Warg Riders, and 4% Ologs, roughly.
Mordor Wargs - These would no longer occur.
Minas Morgul - These would be uncommon in Ithilien, and rare in Gondor. They would be 44% Snagae, 40% Morgul Orcs, 4% Warriors, 8% Knights, and 4% Black Uruks.
Morgul Knights - These would only occur through Horns of Command, and would just contain Morgul Knights.
Black Uruks - These would only occur through Horns of Command from now on, and would just contain Black Uruks.
Nan Ungol - These would only occur, very rarely, in Harondor.
Closing
Congratulations! You made it to the end! Thank you for taking the time to read this monstrosity. This was primarily my work, but was thoroughly scoured by High King Ithilion, our resident loremaster, who suggested many things in here and edited this suggestion. The map of Mordor featured at the beginning was made by Dylanhugh.
I'm not quite done yet. A separate suggestion, concerning Ithilien, is coming soon.
Gen. Grievous1138 (LOTR Mod Wiki Admin) comlink 22:58, December 23, 2018 (UTC)