The Emyn Arnen - The Hills Beside the Water; the Royal Hills. There is one very simple and very easily fixable issue with them that I have noticed time and again throughout my research: The geography of the hills. What do I mean? Well, the mod's Emyn Arnen is the first picture, the 2nd is that of the book, and the 3rd is a more detailed version of the book's map.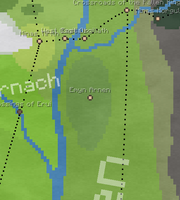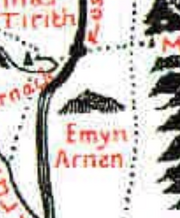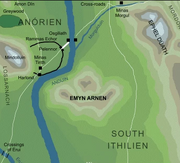 There are two easily identifiable differences between the book map and the mod map.
1.) The mod's Emyn Arnen is far too large
2.) The mod's Emyn Arnen is practically a vertical oval, whereas in the two other maps shown, it is far more of a horizontal oval and in the third map, it is a few different parts of hill.
What do I Suggest: Very simple, just alter the map accordingly. I can't imagine this takes all that long. Another idea is to have Arnen foothills between the different parts of the Arnen, although this is certainly optional.
Arnen Ruins: It is said that old nobles of Gondor used to live in the Emyn Arnen before fleeing from the growing threat of Mordor. I suggest adding ruined mansions as a structure that would spawn rarely in the Emyn Arnen. These mansions would range between nearly intact (aside from moss) and almost completely annihilated.
So yeah, that's that. Sorry if the formatting is crap, I'll fix it if it is.
As always, Constructive Criticism is welcome!
Signing Off Now - Arcen