Hello! :D
This has long been a pet peave of mine. Orcs are disproportianally represented in the mod. There are simply too few! Now I know it is not possible to realistically make more orcs due to the limitations of MC, servers, etc suffering from too much lag. But I finally think I found a workable solution to our lack of orcs.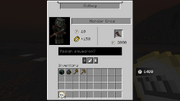 As you can see from this picture, an orc at the optimal alignment costs 10 coins. My simple suggestion is to increase the number of orcs you can buy for 10 coins.
(Edit) 2 Orcs for 10 coins sounds good to me. As noted by ArcenGamer, if orcs are made cheap but keep their current strength levels, he will have a seizure and the game will break. xD So here is a possible solution: Reduce the health of regular orcs (they are always described as small and weak), from 20 health-10 hearts, to 15 health-7 1/2 hearts.
There we go. Simple and to the point I hope.