Greetings! My name is WhaleHumus, and in this post I was wanting to show off a build that I had recently completed. What I built was a fortified version of a Gundabad camp, that looks more like a small fortress than a camp. What your about to see was all done in creative and in the Lone-Lands biome.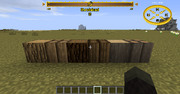 The wood used in my build are all found in the Lone-Lands biome.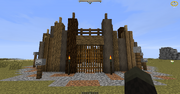 The camp is surrounded by a wooden wall, with wooden pillars outside of the first wall. A bronze gate acts as the entrance and exit to the build. The ground surrounding the build is composed of gravel, dirt and stone and supports wooden fences which hold the skulls of unfortunate victims captured by the orcs.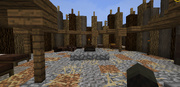 The interior of the build contains 4 beds, a Gundabad Faction crafting table, 2 chests, a bear skin rug and a set of warg fur armor.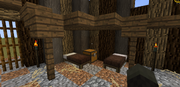 One of the sleeping quarters with a chest.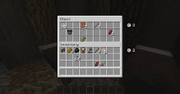 ​​​​​

One of the chests containing an orc's possesions.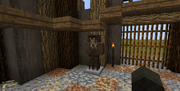 A set of warg fur armor.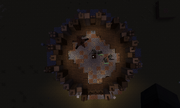 And lastly an aerial view of the camp.
I hope you enjoyed my build!