OK, hear me out on this one, this is a complex topic...
There are a lot of light sources in the Mod: torches (in all colours and shapes), glowing bricks of different provenances (Dwarven, Gulduril, Edhelmir), chandeliers and of course fires that feed on different fuels. Oh, and then there are ores, which you can harvest with a "silk touch" tool and place elsewhere as well.
What I'm missing, however, is a more "generic" light source, that can be used for multiple purposes.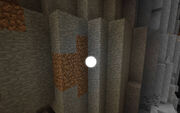 This is where the "light orb" comes in.
The way I envisage it, it should be simply crafted by placing 5 glowstone in a cross, or rather in an "orb shape", i.e. leaving the corners of the crafting grid free.
On its own, it is a simple block that resembles an otherwise shapeless orb which emits light. It can be placed like a candle (i.e. at the wall or the floor), but also at the ceiling like chandeliers.

To be more flexible, it should be possible to dye the orb so it emits light in a different colour. E.g. a red orb should not only look red but also emit red coloured light.
Of course, all the dyes should work, including the "mix" colours.
But wait, there is more...

To allow for more complex light installations, light orbs that are placed next to each other should connect; This should happen similarly to how fences, walls or stairs connect to each other, albeit much more simple – they just for a new, larger "blob" of light.
What is it good for? Well, firstly, they can be placed as light sources that have a less "medieval-y" appearance than the common wall-torches without having a clear faction-specific look to them.
But the piece de resistance is the possibilities that this opens up. Let's say if someone would want to create a tree that lights up the dark (who would want to, I wonder?), that could be done now...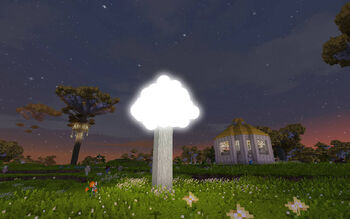 And it is for this added flexibility that I believe this might be a great gameplay addition, especially for us builders in the game.