TIRED OF CONSTANT GUERILLA WARFARE? LONGING FOR A NEW STYLE OF WARFARE? SEEK NO MORE!
I have a handy dandy suggestion for the mod! All of you I am sure are familiar with World War 1 trenches? If not, here is a brief description.
Trench warfare is a type of land warfare using occupied fighting lines, largely comprising military trenches in which troops are well-protected from the enemy's small arms fire and are substantially sheltered from artillery.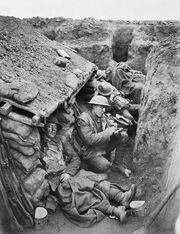 Throughout the years of the mod, most battles consist of ambushes, guerrilla warfare, and of course, the only organized type of warfare in the game. Sieges. That leads me back to the main point ladies and gentleman. If we were to be able to dig trenches in Middle Earth. We would be able to have a proper fight without having to chase down enemies one by one in a forest. That way factions can have organized field battles without making a mosh pit.
Although Tolkien didn't include trenches in his works, I believe that this would be a great neutral feature to add. As it doesn't directly interfere with canon.
Happy Conquest everyone.