Hey there! I am a big fan of the Hobbit-Lifestyle overall and I've been trying to most if not all the hobbit pipes in the game for my little Inn I'm working on. But its been a pain in the butt to first find a farm that growspipeweed (Okay, that was just a small search) and to gather the pipes together, I've been seraching for Hobbit-Inns and Houses with Pipes for hours now and I can't seem to find any that sell or have pipes. I only found the basic white smoke pipe once so far and thats how I came up with the idea of making pipes craftable, because it would make (hobbit-) life so much easier.
I came up with a really basic crafting concept for the hobbit crafting table, just three planks and a log for the basic pipe with white smoke.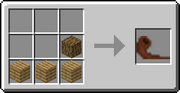 And to get the other colours, put the pipe in a hobbit crafting table and put a piece of dye of the desired colour next to it. You could make it that if you out all colours around it, it'll give you the magic smoke but I'd be fine with having to find that one because its so special.
Best regards and thank you for stopping by to read my little idea.