Snufflers
So I was re reading lord of the rings as you do, and I noticed "Snufflers" being talked about which are described as a race of black skinned and a smaller breed than that of their orc snaga counterparts which are most probably those of the mordor orcs we have right now.
I think it would be awesome to have another race of Orcs added that are these snufflers. They would funtion as trackers as they are in Tolkiens legendarium. Could possibly track the player in some way when parties headhunting the player are introduced. Or if you are evil and have a bounty on someone you may have to use these units to help you track them.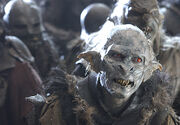 (A snuffler due to its larger nose and wide nostril trait as well as pointy ears.) And yes I know this is one of Saruman's snaga in the movie but just pretend this ork has wider nostrils, and carry's Saurons banner on his sheild.

Breeland Mercenary's
These could possibly work as trackers with the same mechanics as Orc Snufflers but for those with positive alignment for the men of Bree. Not only that but these mechanics could be introduced for the men of Ithilien and the Dunedain rangers.

Half Orcs
I'm sure this has been talked about before but, we should definitely have half orcs that when bree is introduced hang around in taverns for evil aligned players to get infromation from such as enemy players bases and even be up for hire. You will have to have certain alignment with Isengard to get these guys. Working with a system kind of like the sheild maidens of Rohan. You could also buy these from Isengard orc captains.