Disclaimer
I know quests are planned. Please don't spam ReEd DuH PlaNNd FEchurS.
QUESTS
The NPCs like Rohirric Marshals of Hobbit Shirriffs that are used to hire NPCs would get a button labelled "Quest" in their GUI. Clicking on it would open a display similar to that of Mini-Quests, but for bigger, more dangerous tasks. The Red Book would also have a quests tab showing the progress an information of your quests.
If the player has accepted a quest, they will be unable to fast-travel.
Types of Quests
Conquest Quest - The player will be told something like "Orcs are here invading" or something and there will be an image of a map area displayed. A few grid squares will be coloured red like conquest squares in a conquest map. The quest will be to go there and attain a certain level of conquest in those squares. This quest will only be given if the player has pledged to the faction of the quest-giving NPC.

Headhunt Quest - The player will be told to hunt down an NPC. The general area of the NPC will be given (for example the quest-giver could say that the NPC to hunt has been causing trouble in the Shire or in Wilderland or something). There will also be a time-limit of 4-8 days based on the distance to travel. If the quest is accepted, the player will see an icon of the NPC's face similarly the player icons, on the map. This icon will slowly move around, either towards or away from nearby waypoints (it could be specified if they are going towards a waypoint for example towards Edoras). The icon might be unable to travel through certain areas like the Misty Mountains. When the player gets close enough to the map location of the icon, a troop of NPCs will spawn. This will include the NPC to be hunted. If the NPC is killed by the player or their hired troops/wolves/natural causes while the player is nearby, the quest will be completed. If the player that is hunting the NPC is not detected nearby, the whole troop of NPCs will instantly disappear.

Defense Quest - The player will be asked to reach a certain waypoint, and will be informed of an enemy army travelling there. There will be a time-limit of 3-7 days depending on the distance to travel. Once the player reaches, a special invasion will spawn at the waypoint. This invasion will have significantly higher spawn-rates, as well as a higher number of NPCs. If the invasion is defeated before the time limit finishes, the quest is won. Else, the quest fails and the invasion self-destructs. The quest-giving NPC will say something indicating that the local army was barely able to handle the invasion, but that great losses were suffered, if the quest fails. In the event of a failed quest, the faction that had invaded will get 100 conquest points in the area (100 at the epicenter, diminishing radially outwards).

Escort Quest - Any NPC, though less commonly Orcish, will have a chance to offer a quest to escort them to a certain waypoint. If the quest is accepted, the NPC will follow the player similarly to a hired unit, but will not be able to be commanded to halt/summon and will not attack except in self-defence. If the NPC dies, the quest fails.
Quest Rewards
Quests should have huge rewards. 500-1000 coins seems adequate, along with 250 alignment with the faction that gave the quest. For escort quests, the coin and alignment rewards will depend on the distance travelled (1 coin for every 500 blocks travelled).
HEADHUNTS
If a player has -500 or less alignment with a faction, there should be a chance, increasing with low alignment, that the faction will start a Headhunt for that player. I do not mean the Headhunting Quests already existent. These headhunts will exist even in singleplayer. There will be a config option to disable them.
Headhunts will have a high chance of occuring regardless of alignment if a player has undertaken a conquest quest in an area in the influence sphere of an enemy faction or if the player accepts a defence quest to defend against an enemy faction.
A message will first be displayed in chat when a headhunt starts:
"<NPC_NAME> has started hunting <PLAYER_NAME>!"
From this point until the headhunt ends, the player will be unable to fast-travel.
Then an icon of the NPC's head will appear on the map. This icon will start moving towards the player. It will be unable to pass through certain biomes like the Misty Mountains except by roads, unless the player or headhunt icon is in the biome. When the icon reaches the player's location, unless in banner protected land, a message will be displayed in chat:
"<NPC_NAME> spotted <PLAYER_NAME>!"
The NPC along with a small army of NPCs (20-30 NPCs) from their faction will spawn nearby. This army will head towards the player. Orcs from this army will not flee from the player. There will be a 50% chance that all the units of this army will be mounted. This will not occur for factions/subfactions where the main units are never mounted (for example Isengard and Black Uruks). Troll-like NPCs will not spawn. Rohan and Rhudel headhunts will always have only mounted units. Isengard will have a 10% chance to launch a Uruk Berserker headhunt instead of normal headhunts (normal Isengard headhunts will only have Uruks). These NPCs will have a much higher follow-range (100 blocks?).
The leader NPC will be a seperate kind of NPC and will have 50 health, and will be suited in the strongest faction armour and weapons. Orcish leaders will have a separate 50% chance of wearing full Morgul Armour. For Orcish factions, the leader will also be a kind of Uruk (but will still be able to ride a Warg, they can probably find at least one Warg strong enough to carry them). The leader will also wield a melee weapon of their choice from their faction, preferring weapons with 150% or higher reach if mounted. They will never use daggers. Their weapon will also have a 25% chance of having a bane modifier of an enemy race. Their weapon will also have a 50% chance of having the mighty or legendary modifier.
If the player kills the NPC leader, the headhunt ends, though the player still has to deal with the army. The player will also gain 50 conquest in the area.
If the player is killed, the headhunt ends. The NPCs will then be able to despawn like normal NPCs.
The NPCs will disappear if the player is not detected nearby.
SPECIAL LOOT
Leaders of headhunts or NPCs that the player is told to hunt will drop between 100 and 300 coins, and a random smith's scroll. They will also have a 50% chance of dropping thier held weapon.
Additionally, each faction could have its own special armour/weapons similar to the Mallorn Mace or Gondolinian armour/sword, but not quite as powerful, that could be dropped by their NPC leaders.
EXAMPLE
At Henneth Annûn, an NPC named Captain of the Rangers of Ithilien could appear. Upon interaction, a message would appear:
"The armies of the Enemy grow stronger! If we could recapture Ithilien, perhaps we could delay the advent of his attack on Gondor, You would be forever honoured in Gondor if you could Obtain 97 Conquest Points in this area!"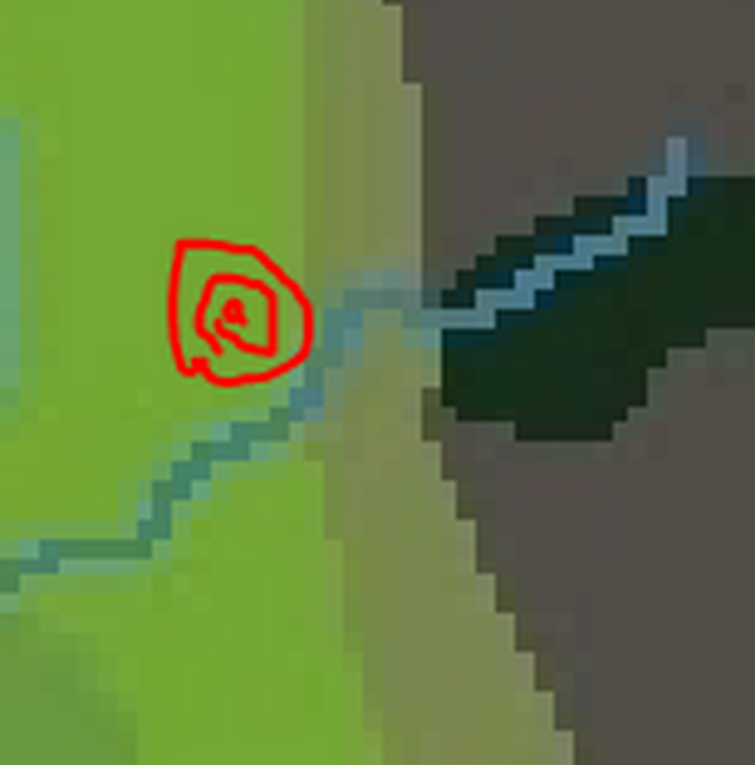 The crappy circles would be replaced by a red area like areas with conquests in the conquest map.
If you obtained the conquest points, a toast would appear saying "Quest Completed - Henneth Annûn. If you went to the NPC and interacted with him again, he would give you a large sum of coins and your alignment would increase and he'd say something like "oh yeas nic gondor honours u now get outa here".
In Hobbiton, you meet a blue dwarf called Shorty McShortface. He says to you when you interact with him:
"I've sold my jewels and smithcraft far and wide, and now my feet turn towards home. But traveling is no easy task, and more than once I have come upon Orcs on my journeys! I wish to return home safe, and I would gladly pay you handsomely if you could accompany me to Thorin's Halls!
Accompany Shorty McShortface to Thorin's Halls"
You accept the quest. Shorty McShortface now follows you around and apparently doesn't notice if you lead him to Mordor instead of the Blue Mountains. Still, you decide to take him to his destination.
While travelling through Eriador, a message displays in chat:
Orchead has started hunting QuestGuy!
You proceed to go faster. In the map you see an Orc's head moving towards you from the Far Downs.
While in the Blue Mountain Foothills, a message displays in chat:
Orchead has spotted QuestGuy!
Suddenly you see a pack of about 25 Warg-Riding Gundabad Orcs. There is also a Warg-Riding Gundabad Uruk Leader wearing Morgul Armour. You somehow manage to kill them all. The Leader drops his helmet. You take this as a prize.
You finally reach Thorin's Halls, and Shorty McShortface gives you a sum of money, thanks you, and then proceeds to act like he doesn't know you.
Comments will be appreciated, and I would like ideas for more kinds of quests, along with possible loot/weapons/armour to be obtained from killing Leader NPCs.