I haven't really seen any good suggestions for Rhun in a while, so I've been thinking:
Besides the Wainriders or the other planned Rhunic factions such as the Red Dwarves, I am thinking about beyond the red mountains and in Harhudor.
These have no lore basis, but they would make sense. (I think.) There may be too many factions, and some things seem like fluff, but here goes.
Avari: You know.
Wainriders. Same.
Orocarni Dwarves. I think there should be 4 subfactions due to the dwarven clans.
Nuriag: Rebels stationed in the Mountains of the Wind. Roam the lands of Rhun and the Wainrider plains, like rangers but with good melee units.
Mahadabar: A advanced civilization that lives in western Harhudor. They dislike Mordor due to to their alliance with their mortal enemy: Mossovy.
Mossovy: A evil society in east Harhudor that clashes with Mahadabar. Will use magic.
Ioveskirion (Io-ves-skirion): Trader-civilization in south Harhudor, grown rich from trade with the Gulf of Harad. They adhere to a principle of neutrality, but in case of war they are ready to support Mahadabar.
Vsego: Evil nomads on the slopes east of the Red Mountains. Rather primitive.
Proshleye: Cold-men in the uttermost north-eastern regions of the world. Secretive and mysterious, they are enemies of the Vsego due to the War of the Broken Pine, where many of them were slaughtered.
Harnathrim: Plain dwellers north of Jinzhun. They are removed from most affairs, but will support the Avari and Jinzhun in war.
Jinzhun: The men of the Uttermost East, they are rich due to their trade with the Taiobyu empire. They are good the way the Taureithrim are good. Samurai!
Taiobyu: Modern-day Japan. Saliors of the eastern coasts, they are allied with Mossovy, out of necessity for slaves rather than out of partnership. Ninjas!
Tharnathrim: Evil hill dwellers south of Jinzhun. Very culturally sophisticated.
Map: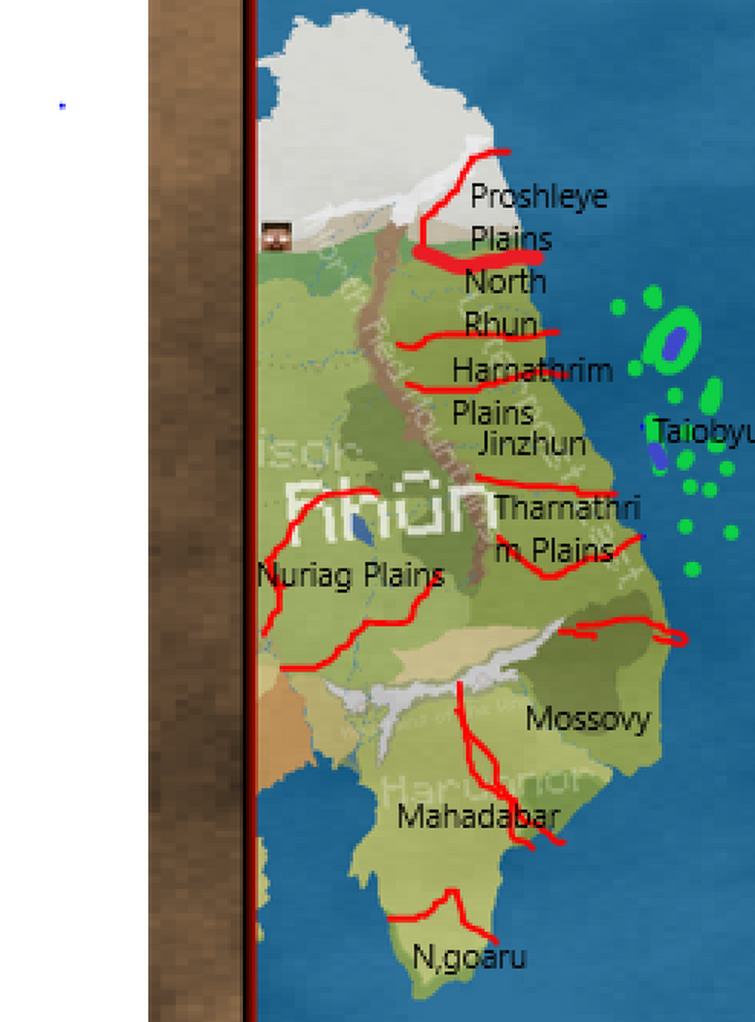 Done! Any thoughts?
(N,goaru is the land of the Ioveskirion.)