I know I'm not the only person to discuss this, but I wanted to dive deeper into the potential inclusion of vanilla village raids, particularly the unique opportunities provided by combining them with the mod's mechanics.
Prelude: What about Invasions?
As I'm sure we're all aware, the Lord of the Rings mod has included a "raid system" long before vanilla did, in the form of "invasions." In cases such as horses and rabbits, overlaps have often been settled in the favor of vanilla. Am I to suggest that invasions be left behind in favor of vanilla raids? Not necessarily.
I believe the two mechanics serve similar, but ultimately different roles. In fact, including both could add realism and variety to the various factions of Middle-earth:
Invasions:
Invasions have more room for interpretation, lore-wise. (Do the attackers lack the discipline to launch a more organized attack, or do they lack the resources?)

Players can initiate invasions.

Invasions are centered around conquest mechanics.

Invasions can happen anywhere, rather than just around structures.

Factions such as Gundabad, Dunland, the Woodland Realm, and (the Riders of) Rohan could utilize invasions.
Raids:
Vanilla raids can only take place at villages. This gives the impression of a more coordinated attack, such as the Siege of Minas Tirith. (War crimes would be inevitable.)

Being centered around a single settlement, completion would be unlikely to grant much of a conquest bonus. Instead, the vanilla "hero of the village" effect would be granted (likely along with a reputation bonus.)

Factions such as Isengard, Mordor, and (possibly) the Morwaith would be able to utilize vanilla-style raids.
In short, Invasions are all-encompassing skirmishes, while Raids are coordinated attacks on settlements. (Considering that, perhaps the names would be better swapped, but that could cause unnecessary confusion. I'll leave it as is for this discussion.)
Settlement Layout and Raid Mechanics
Inspired by the relevant scenes of the Two Towers film, let's use Uruk-hai invasions of Rohirric villages as an example of a Middle-earth raid. A unique attribute of the mod's settlements is the various levels of fortifications. Vanilla villages vary in size, but barring Iron Golems, their defenses hardly change. In contrast, Middle-earth settlements vary greatly in size and defenses.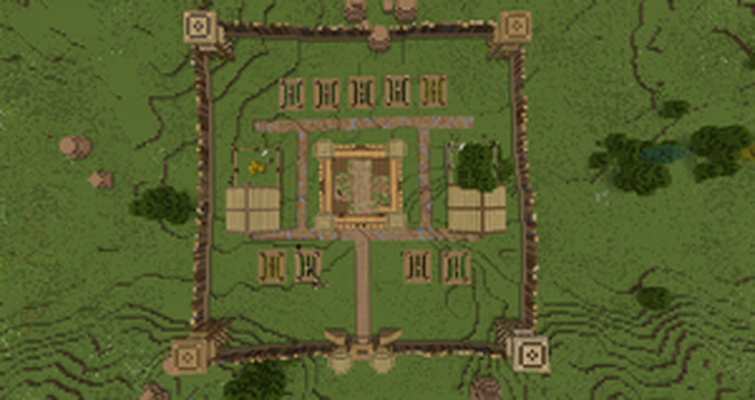 A small village lacks walls or a strong military, and would be an easy target for enemies (if they are willing to harm civilians.) Larger, more militaristic settlements would have higher defenses, but may be targeted by more destructive forces.
In vanilla, raids begin by entering a village while the player has the "bad omen" effect. (This is acquired by killing an Illager captain.) If this mechanic were kept in Middle-earth, I suppose the equivalent would be killing a commander. But let's get back on-topic.)
The number of waves (and number of enemies in each wave) are determined by the difficulty:
3 waves on Easy

5 waves on Medium

7 waves on Hard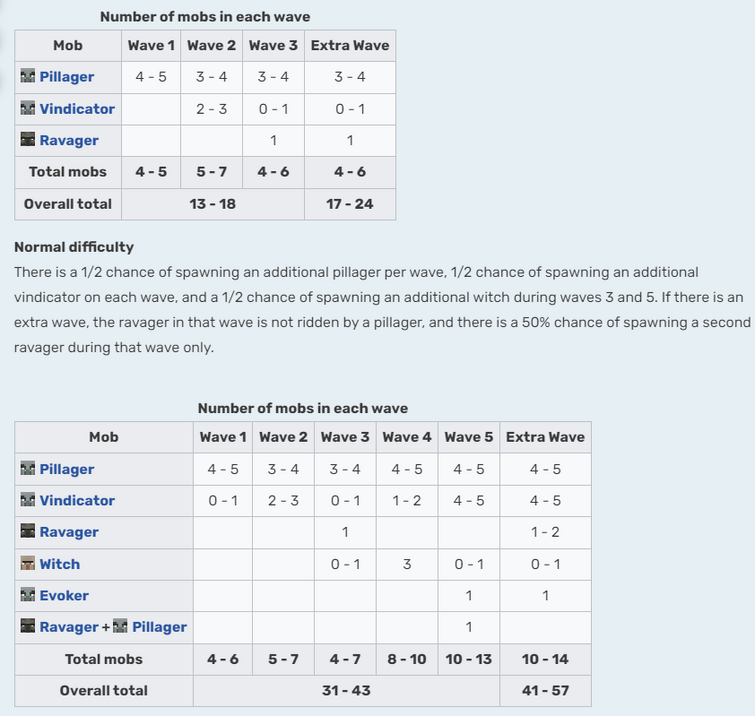 The type of enemy can also depend on difficulty, as seen above. (In Middle-earth, for example, Uruk-hai Berserkers and Olog-hai would probably not be in easy raids against Rohan and Gondor, respectively. Or only in the final wave, perhaps?) In addition, it would make sense if the attacking army's composition depended on the type of settlement. (Bombadiers wouldn't be needed without a wall, for example.) Fortified settlements = stronger enemies.
Side note: In vanilla, a raid can be failed if every villager is killed (meaning the village no longer registers as one). Seeing as the mod allows important NPCs to respawn, would failure conditions have to adjusted? Or would raids put traders in danger? That's not something I think I could answer, so I'll move on.
Reputation and NPCs
In Middle-earth, the differing raid difficulties would provide an interesting element of risk/reward. Completing a raid on a higher difficulty would inherently provide more reputation points, but the process would be far more deadly, both to the player and the settlement.
Successfully completing raids in vanilla grants the "Hero of the Village" effect which, for as long as it is active, causes the local villagers to reduce their prices (and occasionally throw you gifts.) It seems the villagers want to show their gratitude, and possibly convince you to stick around.
In this mod, I could see quite a few additions to this buff (and the storytelling surrounding it), such as:
Reduced hiring costs

Quests providing more coins and/or reputation

Unique flavor text (NPC and quest dialogue referencing your heroism)

A conquest bonus for the settlement's faction, temporarily keeping it safe from further raids
Conclusion
I could probably go on. But to wrap this up, I'd just like to stress how much I love and admire what this mod has accomplished. After all these years, y'all continue to blow my mind. I'm not a Tolkien scholar (though I wish I were), and I don't know if any of my thoughts will be unique or helpful, but I gave it my best effort.
Hope everyone has a nice weekend! :)