The Duckfolk of the East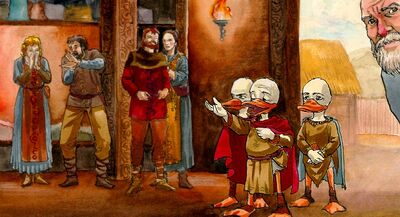 Far past the Red Mountains one would find the reclusive realm of the Ducks, the Quackdom. A folk that couldn't care less about Sauron or the struggles of the Free Peoples.
--- NPCs ---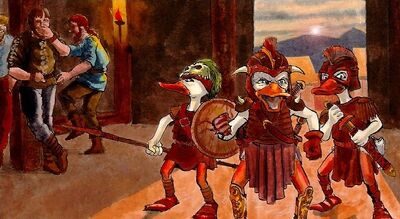 The Ducks are like Hobbits, but instead they communicate with *quacks*. Even though they are peaceful and most of the time just simple farmers, the Ducks can attac too.
Duck Chieftain - These are the lords of the Ducks. If you prove yourself a friend of the Quackdom, the Chieftain will let you hire some warrior Ducks.
Duck Warrior/Bowman - Armed with bronze arms and armor and a shrew wit, these are the professional soldiers of the Quackdom; they patrol and protect their lands against raiders from the nearby countries.
Duck Militia - When war comes to the Quackdom, the Duck commoners arm themselves to protect their villages.
Duck Farmer - Let's you hire Duck Farmpalmates.
Duck Farmpalmate - They work in the fields while the Duck Farmers overseer their work.
Duck Trader/Travelling Trader/Lumberjack... - You know what these do.
Duck Druid - Priests of the old Duck religion, they can be find in Duck Circles.
Duck Berserkers - Holy warriors of the old faith, who paint their bodies with red and green paint. Can be hired by talking to a Duck Druid.
--- Equipment ---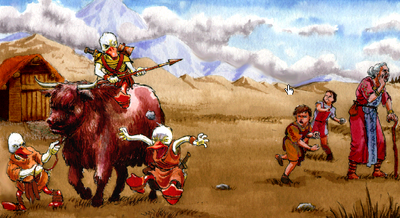 The Duckfolk aren't renowned for the knowledge of metallurgy, and most of the time they prefer to rely on bronze arms and armor, but it isn't strange to see their richer warriors and lords trading with the Orocarni blacksmiths.
--- Structures ---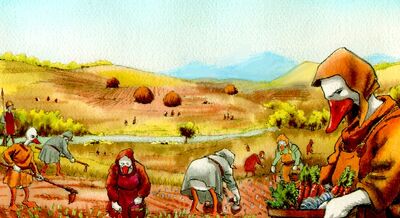 The Ducks don't have cities, they prefer to live in small villages and communities, which are usually ruled by a lord, or by a council, if the village had its means of production seized by the local Duckfolk.
Duck Hillfort - Ducks like to build their wooden forts atop duck-made dirt hills. Here the Duck Chieftain lives with his family and retainers.
Duck Village - Has small houses and a market. In the center of the village one may find the Duck Hillfort.
Duck Circle - Hidden deep inside the forests of the Quackdom lie the Duck Cycles, a clearing where the Ducks practice their old nature religion, with rituals and everything.
Duck Farm - One or two houses surrounded by a sea of wheat.
--- Relations ---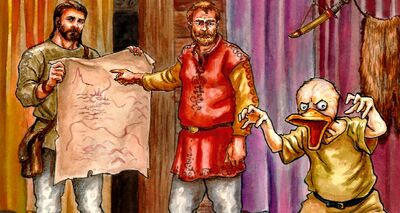 They would be neutral to most factions but the Orcish ones and Rhúdel, which keep raiding their farms and villages.
--- Achievements ---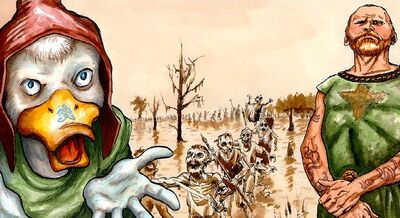 Quack - Talk to a Duck.
The Quackdom - Enter the lands of the Duckfolk.
They are not for eating - Kill a Duck.
Friend/Protector/Champion of the Duckfolk - Increase your alignment to 10/100/1000 with the Quackdom.
Last Swim of the Ducks - Hire a Duck from the Duck Chieftain.
Warriors of the Old Faith - Hire a Duck Berserker.
Duck Tales - Talk with a Duck Druid.