To start off, I am quite new to this mod, so if I get some things wrong, please let me know.
Blacksmithing would be a hard and tideous process, however when you first get it right you would be rewarded with a mighty weapon.
Okay, so you might be wondering. "Why would I need to forge my own weapons? I can just buy, or loot them or just simply craft them like normal" or "Would this remove the ability to craft ordinary weapons or tools?" to both of these I have answers, first of all. Blacksmithing would give the player a higher rate off perks being added to the weapons (such as lucky or handy being added when you craft a tool) and they would be better than ordinary crafting, ultimately having the best weapons created by blacksmithing. Secondly, this would not remove the ordinary weapons crafting method, however they would be inferiour to blacksmithing.
Now that we have that out of the way, here is how you can start your own blacksmithing adventure! First you need 2 different new blocks. (Which I created models and GUI's for because I have a lot of spare time) Just another disclaimer, I made these as the mordor/orc version of the blocks, just as a concept.
Metal Heating Station, you will need this to heat up your metals so you can use them in your forge.
Heated Version:

You would also need a forging anvil, to forge your weapons.

These items play a BIG role in your blacksmithing adventures. Okay, now so you have these items from scavenging orc camps and such. Now, how do you use them?

When you open the Heating Station you will be met with this GUI.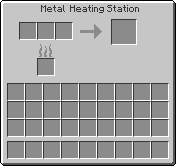 You will put the metals in the upper slots and the fuel in the slot below and you will get a heated version of your metal.
When you heat your metal it will get a red tint to indicate that it is very hot. So, when you have heated it appropriatly you will put it into the anvil, so you walk over to it and open it, you will be greeted with this GUI.
The way you use this anvil, is by basically crafting an ordinary sword with sticks/bones and your heated metal, it will then craft it to the second slot which then you would need to hammer it, by clicking the icon. You can also add your scrolls to infuse your weapon with magical abilities, this could also end up being weaker or more powerful depending on how good the end product is. You could put any material inside the 3 slots, to infuse it with any abilities. Here is a small list of abilities you can add to your sword or tools, more could of course be expanded to this list.

Edhelmir - Would make your sword appear shining blue if orcs are nearby (just like the elven swords) Requirements: 100+ rep with any elven race.

Flame of Udûn - Makes your sword flaming and will light foes on fire.
Mithril Nugget - Adds 35 durability per nugget added.
Bottle of Poison - Makes your weapon poisonous. (Stronger than any poison you would get with a crafted weapon)

Gulduril - Makes your weapon deal more damage (2 hearts) to any Elvish, Man or "good" faction.
Gold Ring - Makes your weapon have a higher chance (10%) of ending up with any good perks (hardy or sharp)

As well as all scrolls may be used.

Now, let's say you have heated your metals, you've gotten your special magical items too infuse your weapons with. You need to make it. So, you basically put the items correctly like a sword in the crafting grid, and you will need to hammer it. It does this automatically so it doesn't get too complex. After this you will need to get a cauldron, and fill it with water. You then right click your finally forged sword for it to harden. You click it, then you can choose when to take it out. If you take it out too fast the durability can weaken with up to 500-. If you do it too late the same thing will happen. You must take it out in the perfect time, which will be anything between 2 - 4 seconds. You will hear an indicator sound when it is done, a (pling) if possible. Now if you did do it all correct, your sword will have it's magical abilites, and better stats than a normal crafted sword (anything from 10% - 55% better!)

You can also create morgul blades and such, any kind of weapon, tool or armor you can create and infuse. I have mainly focused weapons in this thread, as people can also use their fantasy to think what fun stuff one could make with this.

Thanks for reading my idea!