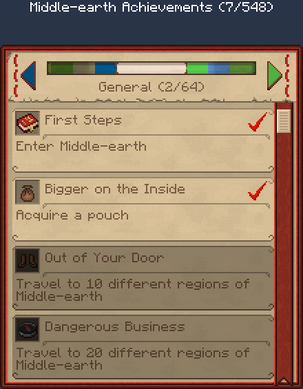 There are a great many things to see and do in Middle-earth on your adventures. Along with all the new features of the Mod comes a new, more organized, and more stable achievement system to better record your many accomplishments.
Upon first entering Middle-earth you will be shown an on-screen prompt to press a key (default 'L') which will bring up the Middle-earth menu. Use the arrow buttons to the right and left to scroll through the various menus, until you get to the achievement list.
On the achievement screen, achievements which have been earned are lit up with red check marks beside them, while the achievements that have not yet been earned are darkened. If achievements can't be unlocked because of your current alignment, they will be removed from the list.
The arrows at the top of the screen are used to navigate between categories, the scroll bar there allows faster scrolling. The scroll bar to the right moves through the selected category's achievements. Above the GUI, you'll find the grand total over all categories, and how much of it, you already completed.

Similar to vanilla Minecraft, there are two ways to know when you've earned an achievement. The first is a pop-up notification on the upper right corner of the screen. The second is a notification in the chat box, which can be seen by other players as well.
Special Features
Edit
The new achievement system differs from the vanilla system in a number of ways.
Storage: Achievements are stored per-world, and they never reset. Say goodbye to the annoyances of ruining your legitimate survival worlds by earning the achievements on a creative world, and of seeing the 'Taking Inventory' prompt over and over again!
Influence of alignment: With alignment being such a key feature in the Mod, a lot of the Middle-earth achievements depend on it. Some achievements can be earned by only good players, some only by evil players, and some are available to both sides - although they may be easier to obtain for a certain alignment. At first all achievements will be shown, but once you raise or lower your alignment you will only be able to see the achievements appropriate to that side.
Categories: Due to the amount of new achievements, the vanilla 'branching' display system has been thrown out in favour of a new more easily navigable category-based system. There are several categories including a 'General' category as well as a category for each major region of Middle-earth (some minor biomes are combined into one large region, such as 'Rhovanion'). Each achievement belongs to a single category.
Progress display: The achievement screen also displays progress counts once you have reached either +1 or -1 alignment. At the top of the screen, your progress for all achievements in all categories is shown. Each category also has an individual progress count. These progress counts only take into account achievements your player is able to earn, not achievements from the opposite alignment side.
Need an incentive to start collecting achievements? Then it might interest you to know that some shields can only be unlocked if the player earns a certain minimum amount of achievements. A bronze adventurer's shield requires 25 completed achievements, a silver adventurer's shield requires 50 achievements, a gold adventurer's shield requires 100 achievements, and the rare mithril shield requires 200 achievements. The total amount of achievements is 503 (including 11 Utumno achievements, as of Public Beta 33), which sadly does not have a reward.
In addition, the earning of achievements also unlocks a greater number of custom waypoints available to the player.
List of Achievements
Edit
The following is a list of all possible achievements and how to achieve them. They are organized by region, just like they are in the Mod.
Important: As mentioned above, the number of achievements shown on the screen varies with the alignment gained. So before removing entries from the following list, make sure that they have been removed from the Mod. Use the command, /alignment set all 0 to check this. And even with alignment 0, the "slayer" achievements will be suppressed.
General (Total: 59)
Edit
Note: Utumno achievements will only be unlocked and viewable when the player enters Utumno.