"
Primeroles and anemones were awake in the filbert-brakes; and asphodel and many lily-flowers nodded their half-opened heads in the grass.
"

–The Two Towers, Of Herbs and Stewed Rabbit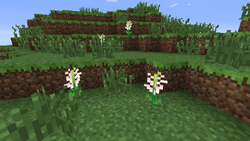 Asphodel is a type of flower from the real world which, according to J. R. R. Tolkien, grew in the fair land of Ithilien. It can be crafted into white dye.
This flower can be crafted into white dye using a vanilla crafting table, similar to other flowers. The recipe is shown below.
The Tolkien Gateway has an article on:
Asphodel •

Athelas •

Black Iris •

Bluebell •

Chrysanthemum


Dwarfwort •

Elanor •

Flame of Harad •

Harad Daisy •

Hibiscus


Lavender •

Marigold •

Morgul-flowers •

Niphredil •

Sand Gem


Shire Heather •

Simbelmynë •

Southbell •

Thistle •

Yellow Iris

Elfsong •

Fangorn's Beard •

Huorn Leaf •

Moonflower


Riverweed •

Sunfruit •

Tears of Yavanna
Community content is available under
CC-BY-SA
unless otherwise noted.