The Battlestaff is a type of polearm. It is used by the Elves, and there is one type for each Elven equipment set, save that of Dorwinion.
It resembles a shaft with 2 blades on either side. There are 4 types of battlestaves, one for each elven faction. Damage-wise, these staves deal the same amount of damage (8HP to be precise). But while swords only have 100% range the Elven battlestaves have 150%, which is the same as a spear, although unlike a spear, the weapon cannot be thrown. Be aware, however, that this weapon is slower than a sword by 68%.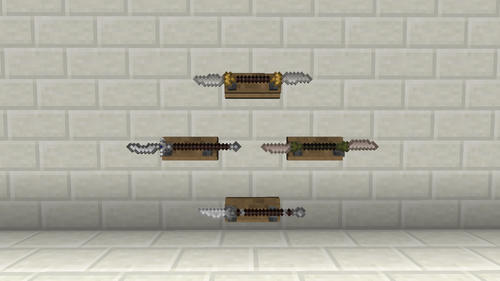 Battlestaves are crafted using the same materials as a sword. However, the pattern is a diagonal, with Elven steel ingots on either end, and a stick in between. Note that a Galadhrim battlestaff requires Mallorn sticks in place of normal sticks.
Battlestaff Crafting Recipes
There are 3 other staves included in the mod, that are of a very different kind, but you might be searching for those:
Melee:

Axes •

Battleaxes •

Daggers •

Hammers


Maces •

Mattocks •

Orc Skull Staffs •

Rolling Pins •

Swords
Polearms:

Battlestaves •

Halberds •

Lances •

Longspears


Pikes •

Spears •

Tridents •

Warscythes
Ranged:

Blowguns •

Bows •

Crossbows •

Slings
Throwing:

Conkers •

Fire-pots •

Plates •

Spears •

Termites •

Throwing Axes
Miscellaneous:

Balrog Whips •

Khamûl's Fire •

Mace of Sauron


Orc Bombs •

Staff of Gandalf the White
Community content is available under
CC-BY-SA
unless otherwise noted.