Fire Emblem Warriors: Three Hopes - The Loop
Play Sound
Berry pies are a type of pastry added in Public Beta 22 and are made using the any type of berries. Unsurprisingly, they can be found in Hobbit hole pantries.
Crafting
[
]
To make a berry pie, you have to use the regular crafting table. The recipe requires 3 each of wheat, milk, and berries of any kind. The berries need not match.
Obtaining
[
]
Berry pies can be found (aside from crafting) in various generated structures such as Hobbit holes and Dalish bakeries. There is a chance that one or two berry pies may spawn on a shelf in a Hobbit hole's pantry.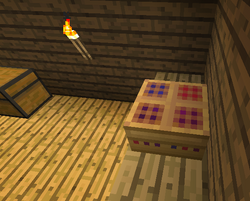 Usage
[
]
Like all cakes in Minecraft, berry pies need to be placed in order to be eaten. The player can then eat one sixth of the pie by right-clicking it; each slice that is eaten restores 2 (

) hunger points. That makes in total 12 (


) for the whole cake.
Food of Middle-earth
Breads:

Banana Bread •
Bread •
Corn Bread


Cram •

Lembas •

Maggoty Bread •

Olive Bread
Cakes:

Banana Cake •

Cake (The Lie) •

Lemon Cake
Pastry:

Apple Crumble •

Berry Pie •

Cherry Pie •
Dalish Pastry


Hobbit Pancake •

Marchpane •

Mushroom Pie •

Pumpkin Pie
Fruits:

Almond •

Apple •
Banana •
Berries •
Cherry •
Date •

Grapes

Lemon •

Lime •
Mango •
Melon •

Olives •
Orange •
Pear •
Plum •

Pomegranate
Meats:

Beef/Steak •

Camel Meat •

Chicken •

Gammon •

Kebab •
Lion Meat


Man-flesh •

Mutton •

Porkchop •

Rabbit Meat •

Rhino Meat

Rotten Flesh •

Suspicious Meat •
Venison •

Zebra Meat
Nuts:

Mallorn Nut •
Roast Chestnut
Soups:

Leek Soup •
Melon Soup •
Mushroom Stew •

Rabbit Stew •

Torog Stew
Vegetables:
Carrot •

Corn •
Leek •
Lettuce •

Morgul-shroom


Mushroom •

Potato •

Turnip •
Wheat •
Yam
Other:

Egg •

Fish •

Maple Syrup •

Raisins •
Salt •

Sugar Lump (removed)