Berry pies are a type of pastry added in Public Beta 22 and are made using the any type of berries. Unsurprisingly, they can be found in Hobbit hole pantries.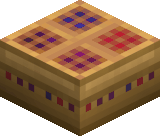 Crafting
Edit
To make a berry pie, you have to use the regular crafting table. Grind some wheat to fine flour, add three pints of milk and knead until you've got a very smooth batter. Sprinkle some mashed berries on it and bake, until it turns gold brown. The type of berries does not matter; you can also use different types in a single pie. The heat even seems to neutralize the poison of wildberries.
Obtaining
Edit
Berry pies can be found (aside from crafting) in various generated structures such as Hobbit holes and Dalish bakeries. There is a chance that one or two berry pies may spawn on a shelf in a Hobbit hole's pantry.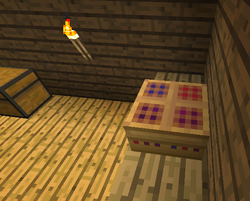 Like all cakes in Minecraft, berry pies need to be placed in order to be eaten. The player can then eat one sixth of the pie by right-clicking it; each slice that is eaten restores 2 (

) hunger points. That makes in total 12 (


) for the whole cake.
Food of Middle-earth
Breads:

Banana Bread •

Bread •

Corn Bread


Cram •

Lembas •

Maggoty Bread •

Olive Bread
Cakes:

Banana Cake •

Cake (The Lie) •

Lemon Cake
Pastry:

Apple Crumble •
Berry Pie •

Cherry Pie •

Dalish Pastry •

Marchpane •
Pumpkin Pie
Fruits:

Almond •

Apple •

Banana •

Berries •

Cherry •

Date •

Grapes


Lemon •

Lime •

Mango •

Melon •

Olives •

Orange •

Pear •

Plum •

Pomegranate
Meats:

Beef/Steak •

Camel Meat •

Chicken •

Gammon •

Kebab •

Lion Meat


Man-flesh •

Mutton •
Porkchop •
Rabbit Meat •

Rhino Meat


Rotten Flesh •

Suspicious Meat •

Venison •

Zebra Meat
Nuts:

Mallorn Nut •

Roast Chestnut
Soups:

Leek Soup •

Melon Soup •

Mushroom Stew •

Rabbit Stew •

Torog Stew
Vegetables:

Carrot •

Corn •
Leek •
Lettuce •

Morgul-shroom


Mushroom •

Potato •

Turnip •

Wheat •

Yam
Other: Block of Kebab •

Egg •

Fish •

Hobbit Pancake •

Maple Syrup •

Raisins •

Salt •

Sugar Lump (removed)