Bird cages are decorative items/blocks used to capture birds. They work similarly to Butterfly Jars, except they are used to trap birds rather than Butterflies. There are five variants of bird cage: Gold, Silver, Iron, Bronze, and Wood, each made with the respective material's bars.
To catch a bird, you simply right-click on it with an empty birdcage, provided you are close enough; this can be challenging, as most birds tend to fly away rather quickly when you get close to them. To release a bird from a full cage, click on nothing (up in the air) and the bird will return to freedom.
Note that two of the bird species of Middle-Earth, namely the swan and the flamingo, can't be captured this way, as they are simply too large.
Obtaining
Edit
A single bird cage with a Craban inside can be found in Dunlending Hill Forts. They do not spawn naturally in any other structure.
Bird Cage Recipes
Item
Recipe
Source material
Gold

Gold
Silver

Silver
Iron

Iron
Bronze

Bronze
Wood

Wood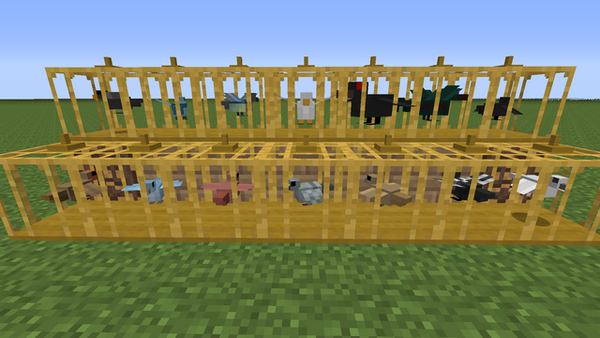 Community content is available under
CC-BY-SA
unless otherwise noted.