Blocks of kebab are, as the name would imply, literal giant blocks of meat. Why these enigmatic objects were added to the mod is unknown to all but Mevans, and most consider the block to be part of his unknowable will.
Blocks of kebab are created by putting nine pieces of kebab in every slot on a vanilla crafting table.
Kebab blocks have a surprising amount of uses. They can be used as an expensive but renewable building block, for decorative purposes, or as a way to easily store massive amounts of food for true fans of kebab.
Decoration
Edit
For one example of decorative building with kebab, they can be used to make your own troll campfire with real meat being spit-roasted over it. Simply take grapevine posts (since they're non-flammable,) and two walls, and you have an easy spit for your hearth block campfire. (See below.) You can also use this block for showing off your kebab collection with a kebab storehouse, (complete with decorative rails for holding down this giant blob of meat,) or for real foodies, a giant shish kebab. In addition, their unique color makes kebab blocks a potentially useful resource for creating pixel art.
Perhaps the greatest use for blocks of kebab is their ability to store massive amounts of food. Kebab blocks hold the record for the most hunger efficient method of food storage out of all items in the mod or vanilla Minecraft, beating out even lembas bread.
Since each piece of kebab restores 8 hunger, (or 4 drumsticks,) and each block is made of 9 pieces of kebab, a single block stores 72 hunger points within it, eclipsing the 20 hunger points per piece of lembas. Since blocks of kebab have a stacking limit of 64, one inventory slot can hold up to 576 pieces of kebab, or a staggering 4,608 hunger points. Taken to the extreme, if every single space in your inventory is filled with large pouches, each containing 27 self-sealed Dalish crackers, all containing three full stacks of 64 kebab blocks, a player can hold an astounding 186,624 blocks of kebab, which is equivalent to 1,679,616 pieces of kebab, or 13,436,928 points of hunger. While collecting 1,679,616 pieces of kebab, 927 unsealed Dalish crackers, and 36 large pouches would be a tedious job, it's still not as tedious as spending several hours creating an in-depth Wikia article for what's essentially just a giant meme.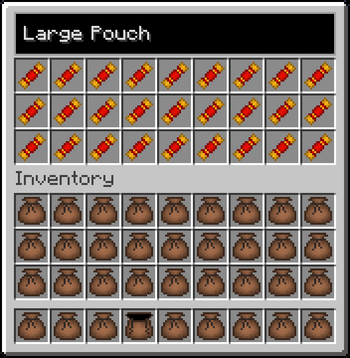 Food of Middle-earth
Breads:

Banana Bread •

Bread •

Corn Bread


Cram •

Lembas •

Maggoty Bread •

Olive Bread
Cakes:

Banana Cake •

Cake (The Lie) •

Lemon Cake
Pastry:

Apple Crumble •
Berry Pie •

Cherry Pie •

Dalish Pastry •

Marchpane •
Pumpkin Pie
Fruits:

Almond •

Apple •

Banana •

Berries •

Cherry •

Date •

Grapes


Lemon •

Lime •

Mango •

Melon •

Olives •

Orange •

Pear •

Plum •

Pomegranate
Meats:

Beef/Steak •

Camel Meat •

Chicken •

Gammon •

Kebab •

Lion Meat


Man-flesh •

Mutton •
Porkchop •
Rabbit Meat •

Rhino Meat


Rotten Flesh •

Suspicious Meat •

Venison •

Zebra Meat
Nuts:

Mallorn Nut •

Roast Chestnut
Soups:

Leek Soup •

Melon Soup •

Mushroom Stew •

Rabbit Stew •

Torog Stew
Vegetables:

Carrot •

Corn •
Leek •
Lettuce •

Morgul-shroom


Mushroom •

Potato •

Turnip •

Wheat •

Yam
Other: Block of Kebab •

Egg •

Fish •

Hobbit Pancake •

Maple Syrup •

Raisins •

Salt •

Sugar Lump (removed)