Mangos! What a lovely fruit. They are my favourite fruit and they're in the mod too.
I think they should add more ways to utilize this lovely fruit.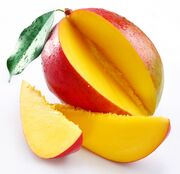 Mango traders Edit
Add a Tauredain merchant who spawns in Far Harad and rarely in Near harad. He will sell mangos for players who aren#t so far south, and other stuff too.
Mango food items Edit
Mango cake, mango bread, and mango liqueur. All quite obvious recipes crafted on the normal crafting table (Not Tauredain!)
These could also be found in tauredain houses, chests, as loot, and trades, ect.
Bigger mango trees Edit
Add a chance for mango saplings to grow into big trees like the big oaks, or rarely even baobab.
Edit: Suggested by Jimmy Dude 21 perhaps it would be better for the big trees to grow like jungles instead of oaks.
Mango land! Edit
They should also add a very rare sub biome of Far Harad, where all the trees are mangos. Tauredain spawn there who are constantly eating a mango and drinking mango liqueur.
Crafting uses for mango Edit
Besides the food/drink, you could craft Mango Fibers out of mangos. These items will have many uses:
You can make a mango block out of the mango fibes. This would be like a thatch or dried reed block, and also have stairs, slabs and a bar thing like the reed bars block.
There would also be a bed made of mangos and a new basket type (like the reed baskets revealed for beat 29)
There could also be armor and weapons made of mango fibers. This would be like a Far Harad version of leather armour (weak and easily obtainable) and would be worn by Tauredain Blowgunners instead of the bronze stuff. The weapons would be things like whips and nets, and maybe a sword.
You could use mango fibers to hang people (if that is ever implemented, like I saw on another suggestion thread)
And finally the mango fibers could be used as furnace fuel and forge/oven fuel.
More achievements Edit
Achievements for crafting mango cake, bread, and brewing liqueur, making the blocks, finding the mango land biom, and trading with the traveling Tauredain merchant.
That's all! Edit
Thanks for reading my suggestion, if you like it please give it a kudos and I hope to see it endorsed!
Replaced the image of a Papaya with that of a Mango ~WarPig1237 (Message Wall)