"
Where is the spring and the harvest and the tall corn growing?
"

–Aragorn
Corn is a crop added in Public Beta 26. Corn stalks can be planted on farmland or near water. Corn cobs will grow over time and can be harvested from the stalks.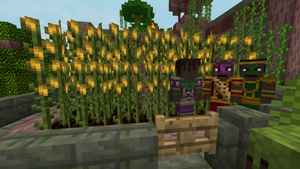 Obtaining
Edit
Corn fields can be found in Taurethrim villages and Gondorian settlements. Corncobs can be bought from the Taurethrim farmer. Corn can also be found rarely along the edge of water sources in the Far Harad jungle (edge). Corn stalks can also be bought from Hobbit farmers.
To farm corn, you first need to obtain at least one stalk (not the cob) from a Taurethrim village farm. This has to be planted either directly near water (like sugar cane), or on well-tilled dirt- or jungle mud blocks (like seeds).
After planting, you need to wait for some time. Bonemeal will not work on it (Public Beta 27.2). When grown to double height, the stalks start growing cobs and can be harvested for more stalks and corn. To harvest only the cobs, right click the stalk, like a berry bush. The stalks grow up to three blocks high, with the two upper stalks growing cobs.
When the stalk is at least two blocks high, you can break it to obtain more stalks. These can now be planted as described above. That way you can multiply your corn.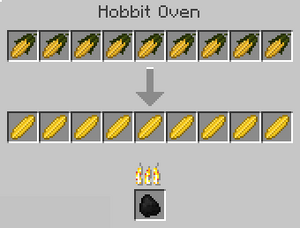 The main reason for growing corn is to provide food. The cobs can be eaten raw for 2 (

). Since Public Beta 27, corn can also be cooked in a furnace or a Hobbit oven. Forges of any kind will not work on food. The cooking process doubles the nutrition content of corn cobs, which then fill up 4 (

) hunger points each.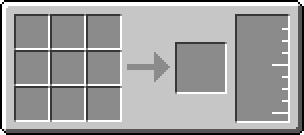 The second use is to brew a very fine corn liquor for your friends. Make sure to use raw corn cobs instead of the cooked variety.
The third use is to craft corn bread by placing three corn cobs in a row on a vanilla crafting table, instead of wheat like regular bread. Corn bread restores 5 (

) hunger points, the same amount as ordinary bread.
The fourth use is to craft three sheets of paper, by placing three corn stalks in a horizontal row on the vanilla crafting table, just like the vanilla recipe for sugar cane.
Corn stalks can also be used as furnace fuel. If you have a corn farm that generates a lot of unwanted stalks, you can use them in furnaces, forges, and other things, to save on that precious coal.
The Tolkien Gateway has an article on:
Food of Middle-earth
Breads:

Banana Bread •

Bread •

Corn Bread


Cram •

Lembas •

Maggoty Bread •

Olive Bread
Cakes:

Banana Cake •

Cake (The Lie) •

Lemon Cake
Pastry:

Apple Crumble •
Berry Pie •

Cherry Pie •

Dalish Pastry


Hobbit Pancake •

Marchpane •

Mushroom Pie •
Pumpkin Pie
Fruits:

Almond •

Apple •

Banana •

Berries •

Cherry •

Date •

Grapes


Lemon •

Lime •

Mango •

Melon •

Olives •

Orange •

Pear •

Plum •

Pomegranate
Meats:

Beef/Steak •

Camel Meat •

Chicken •

Gammon •

Kebab •

Lion Meat


Man-flesh •

Mutton •
Porkchop •
Rabbit Meat •

Rhino Meat


Rotten Flesh •

Suspicious Meat •

Venison •

Zebra Meat
Nuts:

Mallorn Nut •

Roast Chestnut
Soups:

Leek Soup •

Melon Soup •

Mushroom Stew •

Rabbit Stew •

Torog Stew
Vegetables:

Carrot •

Corn •
Leek •
Lettuce •

Morgul-shroom


Mushroom •

Potato •

Turnip •

Wheat •

Yam
Other:

Egg •

Fish •

Maple Syrup •

Raisins •

Salt •

Sugar Lump (removed)


Apple •

Athelas •

Banana •

Bone •

Cactus •

Carrot


Cherry •

Corn •

Date •

Dirt •

Dwarfwort •

Elanor •

Grapes


Lemon •

Lime •

Mallorn Nut •

Maple Syrup •

Melon •

Niphredil


Milk •

Mithril Nugget •

Morgul-shroom •

Morgul-flowers •

Pear


Plum •

Pomegranate •

Potato •

Rhino Horn •

Rotten Flesh


Sugar •

Sugar Cane •

Termite •

Wheat
Community content is available under
CC-BY-SA
unless otherwise noted.