Corn liquor is a quite strong drink added in Public Beta 27. It's alcoholicity ranges from 2.50% to 30.00%.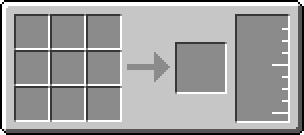 In order to brew corn liqueur, you will need a barrel. It is brewed similarly to ale, but with corn rather than wheat. Put three water buckets in the bottom three slots of the barrel, and fill the rest of the slots with raw corn cobs. Press the button to begin brewing, and stop the brewing by pressing the button again when your corn liqueur has reached the desired strength.
Obtaining
Edit
Corn liqueur can be brewed (see above), or bought from Southron drink traders, who curiously only sell light through strong drink.
Corn liqueur will fill up a certain number of hunger bars when drunk. Depending on your tolerance level, you may experience the symptoms of drunkedness. It is a strong drink, up to 30% alcohol content, so without a decent tolerance, you will not be able to drink it and stay sober.
| Potency | Alcoholicity | Hunger Restored | Saturation |
| --- | --- | --- | --- |
| Weak | 2.50% | | .6 |
| Light | 5.00% | | .9 |
| Moderate | 10.00% | | 1.8 |
| Strong | 20.00% | | 3 |
| Potent | 30.00% | | 4.5 |
Non-alcoholic:

Apple Juice •
Berry Juices •

Chocolate •

Grape Juice


Lemonade •

Mango Juice •

Milk •

Orange Juice •

Pomegranate Juice •

Water
Alcoholic:

Ale •
Arak •

Banana Beer •

Cactus Liqueur •

Carrot Wine •
Cherry Liqueur


Cider •

Corn Liquor •

Dwarven Ale •

Lemon Liqueur •

Lime Liqueur •

Maple Beer

Mead •

Melon Liqueur •

Perry •
Plum Kvass •

Pomegranate Wine •

Red Wine


Rum •

Soured Milk •

Termite Tequila •

Vodka •

White Wine
Magical:

Athelas Brew •

Dwarven Tonic •

Jungle Remedy •

Miruvor


Morgul-draught •

Orc Draught •

Poison •
Taurethrim Cocoa •

Torog Draught


Ent-draughts: Elfsong • Fangorn's Beard • Huorn Leaf
Moonflower • Riverweed • Sunfruit • Tears of Yavanna