Dol Amroth bricks are the main building blocks used by the Dol Amroth sub-faction of Gondor, home of the Swan Knights. Currently, the only structure in which they spawn naturally is the Dol Amroth stable.
The bricks are a pure white colour throughout the block, but the bricks are smaller than Gondor bricks, similar to Rohan brick.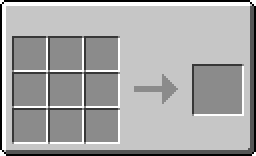 Dol Amroth bricks are crafted in batches of four by putting four Gondor rocks in a square shape on a Dol Amroth crafting table.
Unlike most bricks, Dol Amroth bricks do not have a mossy or cracked variant. However, they can be used to craft Dol Amroth bricks stairs, slabs, and walls using the normal recipes on a Dol Amroth crafting table.
In the renewed version, both cracked and mossy variants do exist.

The Men of Gondor

NPCs: Gondorian • Levyman • Soldier (Archer, Banner Bearer, Tower Guard)
Traders: Captain • Market Traders
Items: Armour (Horse) • Bow • Equipment
Blocks: Beacon • Brick (Cobble) • Casket • Crafting Table
Structures: Beacon Tower • Fortress • Obelisk • Ruined Tower • Ruins • Settlements • Turret • Watchfort
The Soldiers of the Blackroot Vale

NPCs: Soldier (Bowman)
Traders: Bowlord
Items: Armour • Bow
Blocks: Blackroot

The Knights of Dol Amroth

Man-at-arms (Archer) • Swan Knight (Banner Bearer)
Traders: Captain
Items: Armour (Horse) • Equipment • Swan Feather
Blocks: Brick • Crafting Table
Structures: Stable

The Rangers of Ithilien

NPCs: Ranger of Ithilien
Traders: Captain
Items: Armour
Structures: Hideout

The Hillmen of Lamedon

NPCs: Warrior (Archer, Hillman)
Traders: Captain
Items: Armour • Gambeson

The Folk of Lebennin


The Mountaineers of Lossarnach

The Mariners of Pelargir

The Warriors of Pinnath Gelin

Community content is available under
CC-BY-SA
unless otherwise noted.