Dwarven brick is a block made out of regular stone by the Dwarves. It is dark grey in appearance. In the renewed version only, there are also mossy and snowy variants.
As well as being craftable, these bricks and their derived blocks can be found in many Dwarven structures including houses, towers, and mines. This also extends to the strongholds and houses of the Blue Mountains.
Dwarven bricks are made with four stone blocks on either the Dwarven crafting table or the Blue Mountains crafting table. Similar to this, you can also craft pillars using three stone blocks in a vertical row.
These bricks can then be crafted into Dwarven brick walls, stairs, and slabs using the vanilla-style recipes on either of the two crafting tables for Dwarves.
If you put four Dwarven bricks in a square on either of the two crafting tables, you will be able to craft one carved Dwarven brick, which only gives one single block.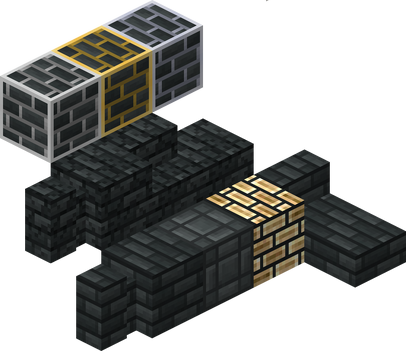 To make the cracked variant, first craft regular bricks (see above). Then smelt them in a furnace or any type of forge. The cracked slabs, stairs, and walls can now be made on the Dwarven crafting table or the Blue Mountains crafting table, using the normal Minecraft recipes.
In the same way, you can crack a Dwarven pillar and afterwards craft it into cracked Dwarven pillar slabs.
You can also add silver, gold or mithril trimming to your Dwarven brick to show off your extreme wealth. This can be done in a manner similar to making a compass. Place a Dwarven brick in the centre and four nuggets of choice where would be the iron.
Before Public Beta 26, it was four Dwarven bricks around an ingot of choice in the centre.
Crafting mithril-trimmed Dwarven bricks earns you the achievement "Ludicrously Wealthy".
"
We should make lights, such lamps as once shone in Khazad-dûm; and when we wished we would drive away the night that has lain there since the hills were made; and when we desired rest, we would let the night return.
"

–Gimli in The Two Towers, The Road to Isengard
Glowing Dwarven bricks are bricks, used by the Dwarves for to add some light to their halls.
Apart from crafting, glowing Dwarven bricks can be found in towers, strongholds and mines.
Glowing Dwarven bricks are produced with one Dwarven brick and four Glowstone dust, on either the Dwarven crafting table or the Blue Mountains crafting table.
Obsidian Dwarven bricks are bricks used by the Dwarves as a decorational block in their halls.
This block is crafted on a Dwarven crafting table or a Blue Mountains crafting table using four obsidian shards. Afterwards, they be made into stairs, slabs, and walls like other bricks.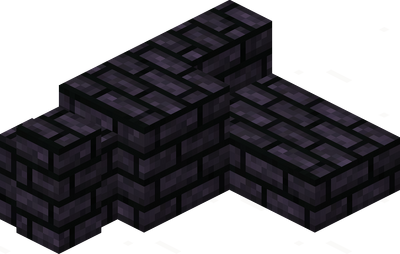 Community content is available under
CC-BY-SA
unless otherwise noted.