World of Warcraft: Dragonflight - The Loop
Play Sound
This page describes a feature from vanilla Minecraft.

To view the corresponding page on the Minecraft Wiki, click here.

Dyes add a touch of colour to your world. They can be used to dye clothing, like regular leather armour or Harad Robes, and to colour your pouches for easier recognition. For more diversity in a building, add stained clay, tiling, glass or carpets!
Obtaining
[
]
All vanilla dyes can also be found in Middle-earth, even cocoa beans, green dye and lapis-lazuli, which however require a long and dangerous travel to Near Harad and beyond.
In addition to the regular ways of obtaining dyes, a lot of materials from Middle-earth can also be crafted into dyes. This includes many of the flowers and clover and even a tree, and alternate materials for black and brown dye.
List of colours and materials
[
]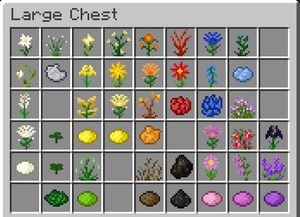 Note that combining two dyes in a crafting table will yield two parts of the new dye. Two-block high flowers also give two dye. The Dragonblood logs will yield four dye.
Undyeing
[
]
As of Public Beta 28 / Renewed Snapshot 5.4, a number of dyeable items can be undyed using a cauldron. See the page on undyeing for more information on this .
Dyeing without dyes
[
]
Sounds weird, but it works! Since Public Beta 31 / Renewed Snapshot 5.4 you can obtain a faction-coloured pouch by just putting a dyed or undyed pouch on the desired crafting table withount any dye. The resulting colours are predefined by the Mod for the specific faction and can not be changed. - Now, don't say you don't get anything for free!
Dyeing with gems
[
]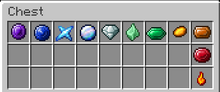 Legacy update 36.6 introduces the possibility to give equipment items coloured names by combining them with a gem in an anvil. The gems include those found in ore veins, as well as edhelvir, durnor and gulduril.
Trivia
[
]
There are 12,326,391 possible combinations to dye leather armour, Harad robes and kaftans, because more than one dye can be applied.