The Fur bed is a type of bed made with fur. It is otherwise like a normal bed and is very useful for when the player can't find any wool. It can spawn in the houses and hill forts of Dunland alongside straw beds.
Note: player respawning is changed by the mod. Follow the link for more details.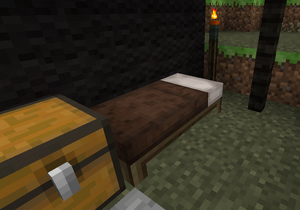 The bed can be crafted on a normal crafting table with three fur and three wooden planks of any kind.
This bed was originally added as the 'Warg Fur Bed' in Public Beta 27 but was later renamed when Warg Fur was renamed to simply Fur in Public Beta 31.
Community content is available under
CC-BY-SA
unless otherwise noted.