Galadhrim beds are the beds of the Lothlórien Elves. They are found in both regular and grand Elven treehouses. They can be crafted with Mallorn wood planks and Hithlain.
Note, that player respawning is changed by the mod. Follow the link for more details.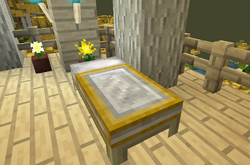 Since Public Beta 27.1, the bed is no longer crafted with wool, but using three Hithlain and three Mallorn planks on a Galadhrim crafting table.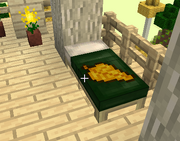 The bed was added to the mod in Public Beta 5 as Elven bed. In Public Beta 13, its name was changed to Galadhrim bed. Finally, in Public Beta 27.1, the recipe was changed to use Hithlain instead of wool, and the look was changed as shown above.
Community content is available under
CC-BY-SA
unless otherwise noted.