Half-troll Rhino Armour is the mount armour worn by the Half-trolls Warriors' rhino mounts. It is the rhino equivalent of Horse armour or Warg armour, and can only be placed on rhinos.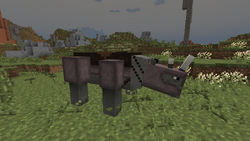 Crafting
[
]
The armour is crafted using six pieces of gemsbok hide and one piece of string on a Half-troll crafting table.
Obtaining
[
]
Since Half-trolls are currently the only faction to ride rhinos, this is the only type of rhino armour available. You can hire Rhino Riders from Half-troll Warlords, and their mounts wear this armour.
Protection
[
]
When equipped on a rhino, the Half-troll Rhino Armour gives that rhino about +2 damage protection on every hit.
Good:

Arnorian •
Blackroot Vale •

Blue Dwarven • (

Trimmed) •

Dalish •

Dol Amroth

Dorwinion (

Elven) •

Dwarven (
Trimmed) •

Galadhrim •

Galvorn

Gondolinian •

Gondorian •
Ithilien Ranger •

Lamedon •

Lindon •

Lossarnach

Pelargir •
Pinnath Gelin •
Ranger •
Rivendell •

Rohirric (

Marshal)


Taurethrim (

Gold) •
Wood-elven (

Scout)
Evil:

Angmar •

Black Númenórean •
Black Uruk •

Coast Southron •
Corsair


Dol Guldur •
Dunlending •

Gulfen •

Gundabad Uruk •
Half-troll •

Harnennor


Mordor •
Morwaith (

Chieftain) •

Morgul •

Nomad


Rhûnic (

Golden) •

Umbaric •

Uruk •

Utumno
Not Faction Specific:

Ancient •
Bone •

Bronze •

Fur •
Gemsbok Hide • Gold • Iron • Leather •

Mithril
Clothing Items:
Galadhrim Cloak •

Gambeson •

Harad Robes •
Kaftan •

Leather Hat •

Party Hat
Mount Armour: