The Harad Daisy is a type of purple flower found in most Harad biomes.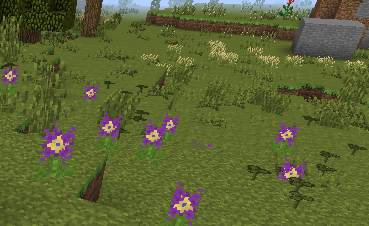 Obtaining
They can be found fairly commonly in most biomes in Harad, and can also be bought from Near Harad plant traders for two coins.
Uses
Besides for decoration, this flower can be crafted in a regular crafting table into purple dye, alike to other flowers. The recipe is shown below.
Asphodel •

Athelas •

Black Iris •

Bluebell •

Chrysanthemum


Dwarfwort •

Elanor •

Flame of Harad •

Harad Daisy •

Hibiscus


Lavender •

Marigold •

Morgul-flowers •

Niphredil •

Sand Gem


Shire Heather •

Simbelmynë •

Southbell •

Thistle •

Yellow Iris

Elfsong •

Fangorn's Beard •

Huorn Leaf •

Moonflower


Riverweed •

Sunfruit •

Tears of Yavanna