THIS ARTICLE OR SECTION IS UNDER CONSTRUCTION!

still needs a lot of info

Note: In Harnedor there are also found mercenary camps and desert camps. Both are small camps and described on extra pages (please follow the links).
Harnedor settlements are decent sized villages and fortifications in Harnedor in the south or ruined villages in Harondor in the north. They consist of wooden houses in various sizes (or ruins of those), or fortresses and tents.
Near Harad players will definitely want to visit those camps, as there's lots of loot to be found in them, and they offer plenty of questing opportunities.
Types of settlements
Fortifications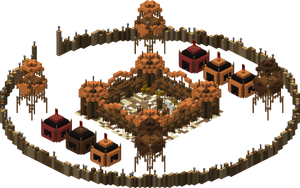 Fortificatiobs are round structures with a fortress in the center.
Village
Ruined Village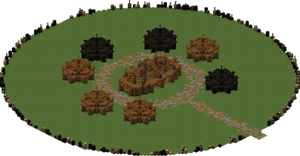 Finding settlements
As with all the Mod's settlements, Harnedor settlements need some flat land to spawn. That means that the first rule of thumb when searching for settlements is to look for an area of flat land. Then, keep on looking, as settlements don't spawn very frequently. Note, that they do no longer spawn in scrubland (since Update 34.3). They're well worth finding, however, owing to their plentiful loot and questing opportunities.
Structures
The following structures can be found in Harnedor settlements:
Harnedor Watchtower
The Harnedor watchtower can be found in the regions of Harondor and Harnedor in northern Near Harad. They spawn as part of a settlement, as well as seperately.
They are wooden towers with a wool roof, tattered wool sides and a rope leading to the top. They were built by the Harnedhrim to maintain their control over the land. Each usually contains four warriors.
On the top, hidden under a fence post, a reed basket can be found, containg some weapons.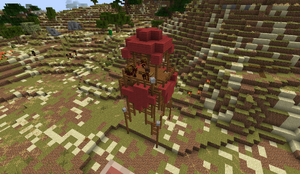 The Southrons of Near Harad
Slave
Merchant
Black Númenórean Armour • Bow • Equipment • Robes
Basket • Brick • Chest • Crafting Table
Ancient Fortress • Obelisk • Pyramid

The Corsairs of Umbar

Umbarians (Archer, Banner Bearer, Corsair, Soldier) • Gondorian Renegade
Bartender • Bazaar Traders • Captain (Umbar) • Farmer • Slaver
Armour (Umbaric, Horse) • Equipment (Umbaric)
Brick • Crafting Table
Camp • Hideout • Settlement


The Southrons of the Coasts
Southrons (Archer, Banner Bearer, Champion, Warrior)
Bartender • Bazaar Traders • Farmer • Warlord
Armour (Horse, Champion) • Equipment
Crafting Table
Settlement


The Harnedhrim of Harnennor
Harnedhrim (Archer, Banner Bearer, Farmhand, Warrior)
Bartender • Bazaar Traders • Farmer • Warlord
Armour
Crafting Table
Camp • Settlement • Watchtower


The Nomads of the Great Desert
Nomads (Archer, Banner Bearer, Guard)
Bazaar Traders • Chieftain • Merchant
Armour
Crafting Table
Settlement


The Gulfings of Khopazul

Gulfing (Archer, Banner Bearer, Warrior)
Bartender • Bazaar Traders • Farmer • Warlord
Armour • Equipment
Crafting Table
Settlement


The Southrons of Near Harad
Slave
Merchant
Black Númenórean Armour • Bow • Equipment • Robes
Basket • Brick • Chest • Crafting Table
Ancient Fortress • Obelisk • Pyramid

The Corsairs of Umbar

Umbarians (Archer, Banner Bearer, Corsair, Soldier) • Gondorian Renegade
Bartender • Bazaar Traders • Captain (Umbar) • Farmer • Slaver
Armour (Umbaric, Horse) • Equipment (Umbaric)
Brick • Crafting Table
Camp • Hideout • Settlement


The Southrons of the Coasts
Southrons (Archer, Banner Bearer, Champion, Warrior)
Bartender • Bazaar Traders • Farmer • Warlord
Armour (Horse, Champion) • Equipment
Crafting Table
Settlement


The Harnedhrim of Harnennor
Harnedhrim (Archer, Banner Bearer, Farmhand, Warrior)
Bartender • Bazaar Traders • Farmer • Warlord
Armour
Crafting Table
Camp • Settlement • Watchtower


The Nomads of the Great Desert
Nomads (Archer, Banner Bearer, Guard)
Bazaar Traders • Chieftain • Merchant
Armour
Crafting Table
Settlement


The Gulfings of Khopazul

Gulfing (Archer, Banner Bearer, Warrior)
Bartender • Bazaar Traders • Farmer • Warlord
Armour • Equipment
Crafting Table
Settlement