The High Elven bed is one of the many beds added by the mod. It works in exactly the same way as a normal vanilla bed, but its texture is different. It can only be found in High Elven halls.
Note, that player respawning is changed by the mod. Follow the link for more details.
Appearance
Edit
The bed has a dark blue colour and a big white star in the middle of the quilt, surrounded by other smaller ones.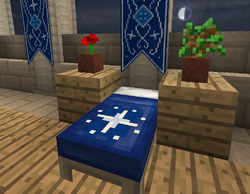 It is crafted like a vanilla bed on a Lindon crafting table or Rivendell crafting table.
Community content is available under
CC-BY-SA
unless otherwise noted.