Fire Emblem Warriors: Three Hopes - The Loop
Play Sound
"
So they passed into the northern marches of that land that Men once called Ithilien, a fair country of climbing woods and swift-falling streams.
"

–The Two Towers, The Window on the West
Ithilien, (Sindarin for Land of the Moon) is a biome of Middle-earth. It was, until Minas Ithil's fall, the easternmost province of Gondor, and was also once a fair land before it became infested with the filth of Mordor.
Ithilien is located in southeast Middle-Earth, in the strip of land west of the river Anduin, between Gondor and the Mordor Mountains (Ephel Duath). The area resembles a Vanilla Minecraft forest, containing dense vegetation and trees. The lebethron tree and asphodel flower are exclusive to this biome.
Upon entering Ithilien, the player gains the achievement "Land of the Moon."
Sub-biomes
[
]
Ithilien Hills
[
]
The Ithilien Hills are a mountainous sub-biome with only Standard, Forest and Light Forest variants. As the name implies, the area features less trees and has landscape dominated by rolling hills. It's consequently harder to travel through. The hills represent the Emyn Arnen, south of Osgiliath.
Ithilien Wasteland
[
]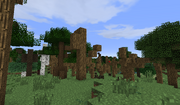 Near the border of Mordor is the Ithilien Wasteland sub-biome, which most prominently shows the evil inflicted to this land. Almost all trees there are bare trunks. While no forces of Gondor are patrolling these lands, foul creatures are in control. There is no game of any significance left to hunt here (the only possible would be Rabbit). This sub-biome comes in three variants: Forest Light, Scrubland and Dead Oak Forest.
In Ithilien biome the following biome variants can occur:
Standard - Normal Ithilien biome, with few tree growth but low occurrence.
Flowers - The fields and the undergrowth of tree clusters teem with Asphodel and other flowers here.
Forest - Forest covered lands. These are abundantly present.
Light Forest - Lightly forested lands. This is a predominant variant.
Hills - A hilly landscape with a higher average elevation.
Forested Hills - A landscape with forest covered hills.
Dense Oak Forest - Dense forests with many large oak trees. Also huge oaks, measuring 3 m in diameter and reaching up to 30 m, are common here. Patches of podzol cover the forest floor.
Dead Oak Forest - Lands covered in forests whose glory is passing away. The forest density is comparable to the light forest variant, but there are many stems of dead, leafless trees. This variant is very helpful for acquiring large quantities of wood, as the dead trees provide a lot of easy accessible lumber.
Oak Shrublands - Forest covered lands with a lower tree density than regular forests, but with a very thick undergrowth of shrubs. This is also a predominant variant.
Dense Lebethron Forest - A densely forested variant dominated by large and huge Lebethron Trees. The forest floor is partially covered with Podzol.
Scrubland - Scrublands are typically areas with very poor, sandy and/or rocky soil. This results in very little tree growth and the vegetation is dominated by low growing scrubs (stunted trees / shrubs) and bushes. These are also abundantly present.
Birch Forest - A forest dominated with Birch trees.
Beech Forest - A forest dominated with Beech trees.
Olive Orchard - An orchard containing Olive trees.
Plum Orchard - An orchard containing Plum trees.
The relatively open biome variants Standard, Light Forest, Oak Shrubland and Scrubland, offer the best opportunity to spot Ithilien Ranger Hideouts.
Structures
[
]
Occasionally, one will find ruined Gondor structures left over from when Ithilien was a prosperous and beautiful region of Gondor.
Mobs
[
]
Rangers of Ithilien spawn in this biome, valiantly defending the land from the evil creatures of Mordor that now control it. During the night, many Mordor Orcs and Mordor Wargs spawn here and will attack any Free Folk and usually overpower the few Rangers of Ithilien, so Ithilien is not a safe place for Free Peoples at night. In the Ithilien Wasteland sub-biome, Orcs are also present during the day and no Ithilien rangers spawn.
In addition to NPCs, farm animals, including horses, will spawn in this biome.
Conquest
[
]
Ithilien can be conquered by Gondor, Rohan, Mordor, Rhúdel, Near Harad, Morwaith, Half-trolls and Isengard. The conquest rate is 1.0.
Mining
[
]
Ithilien features the standard ore distribution, but unlike other biomes it also features Gondor Rock below the surface. This rock is essential for the crafting of Gondorian building materials, and can be found in a thin layer beneath the dirt surface of the biome, in patches underground, and in boulders on the surface.
Vegetation
[
]
Despite it being situated near the corrupted realm of Mordor, much of Ithilien remains a beautiful woodland with lush vegetation. Oak and Lebethron trees are aplenty, with the latter being found exclusively here. Other trees include birch, cedar, chestnut, and various Fruit Trees, that are also kept in orchards. Almond trees are most abundantly present in this biome.
In addition to asphodel, which spawn solely in this biome, the forest is populated with a more than average variety of flowers. Athelas also has a rare chance of spawning here. Grass growth rates are higher than normal.
In the Ithilien Wasteland, about half of the trees are dead, but a few have survived the flames of Mordor.
Gallery
[
]
The One Wiki to Rule Them All has an article on:
The Tolkien Gateway has an article on:

The Men of Gondor

NPCs: Gondorian • Levyman • Soldier (Archer, Banner Bearer, Tower Guard)
Traders: Captain • Market Traders
Items: Armour (Horse) • Bow • Equipment
Blocks: Beacon • Brick (Cobble) • Casket • Crafting Table
Structures: Beacon Tower • Fortress • Obelisk • Ruined Tower • Ruins • Settlements • Turret • Watchfort
The Soldiers of the Blackroot Vale

NPCs: Soldier (Bowman)
Traders: Bowlord
Items: Armour • Bow
Blocks: Blackroot

The Knights of Dol Amroth

Man-at-arms (Archer) • Swan Knight (Banner Bearer)
Traders: Captain
Items: Armour (Horse) • Equipment • Swan Feather
Blocks: Brick • Crafting Table
Structures: Stable

The Rangers of Ithilien

NPCs: Ranger of Ithilien
Traders: Captain
Items: Armour
Structures: Hideout

The Hillmen of Lamedon

NPCs: Warrior (Archer, Hillman)
Traders: Captain
Items: Armour • Gambeson

The Folk of Lebennin


The Mountaineers of Lossarnach

The Mariners of Pelargir

The Warriors of Pinnath Gelin

List by Alphabet
A-C:

Adornland • Anduin Hills (Gladden Fields, Vales of Anduin) • Angmar (Mountains) • Barrow-downs
Blue Mountains (Foothills) • Bree-land (Chetwood) • Brown Lands • Coldfells

D-E:

Dagorlad • Dale • Dead Marshes • Dor-en-Ernil (Hills) • Dorwinion (Emyn Winion)
Drúwaith Iaur • Dunland • East Bight • Emyn Muil • Enedwaith • Erebor • Eregion
Eriador (Downs, Eryn Vorn, Minhiriath, Swanfleet) • Ettenmoors

F:

Fangorn (Clearing) • Fangorn Wasteland • Far Harad Bushland (Hills) • Far Harad Cloud Forest
Far Harad Grasslands (Arid, Arid Hills, Corsair Coasts, Forest) • Far Harad Jungle (Edge, Lake, Mountains, Taurethrim Clearing) • Far Harad Mangrove • Far Harad Swampland
Far Harad Volcano • Field of Celebrant • Forodwaith (Coastline, Mountains, Glacier)

G-K:

Gondor (Andrast, Blackroot Vale, Lamedon (Hills), Lebennin (Mouths of Anduin), Lossarnach (Imloth Melui), Mouths of Entwash, Pelargir, Pelennor Fields, Pinnath Gelin, White Mountains (Foothills))
Grey Mountains (Foothills) • Gulf of Harad (Gulf Forest) • Half-deserts • Harad Mountains • Harnennor
Harondor • Iron Hills • Ithilien (Hills, Wasteland) • Kanuka Forest

L-M:

Lake • Last Desert • Lindon (Coastline, Woodlands, Tower Hills) • Lone-lands (Angle, Weather Hills)
Lostladen • Lothlórien (Eaves) • Midgewater • Mirkwood (Dol Guldur, Mountains)
Misty Mountains (Foothills) • Mordor (Eastern Desolation, Gorgoroth, Mordor Mountains, Morgulduin, Morgul Vale, Nan Ungol, Nurn (Marshes, Sea of Nurnen), Udûn) • Mountains of the Wind (Foothills)

N-S:

Nan Curunír • Nindalf • Northern Mirkwood • Northlands (Northern Forests) • Old Forest
Perdorogwaith • Red Mountains (Foothills) • Rhúdel (Eryn Garan, Eryn Rhúnaer, Hills, Steppe
Tol Rhúnaer) • Rhûn (Forest) • Rivendell (Hills) • River • Rohan (Woodlands, The Wold, Uruk Highlands)
Southron Coasts (Harad Desert Riverbank, Near Harad Oasis, Southron Forests)

T-W:

Taur-i-Thorogrim • The Great Desert (Hills, Red Desert) • The Sea (Beach, Island, Meneltarma) • The Shire (Marshes, Moors, Woodlands, White Downs) • Tolfalas • Trollshaws
Umbar (Forest, Hills) • Utumno • Wilderland (Northern, Long Marshes) Woodland Realm (Hills)
List by Region
Eriador:

Angmar (Mountains) • Barrow-downs • Blue Mountains (Foothills) • Bree-land (Chetwood)
Coldfells • Dunland • Enedwaith • Eregion • Eriador (Downs, Eryn Vorn, Minhiriath, Swanfleet)
Ettenmoors • Lindon (Coastline, Woodlands, Tower Hills) • Lone-lands (Angle, Weather Hills)
Midgewater • Nan Curunír • Old Forest • Rivendell (Hills)
The Shire (Marshes, Moors, Woodlands, White Downs) • Trollshaws

---

Rhovanion:

Anduin Hills (Gladden Fields, Vales of Anduin) • Brown Lands • Dagorlad • Dale
Dead Marshes • East Bight • Emyn Muil • Erebor • Field of Celebrant • Fangorn (Clearing)
Fangorn Wasteland • Grey Mountains (Foothills) • Iron Hills • Lothlórien (Eaves)
Mirkwood (Dol Guldur, Mountains) • Misty Mountains (Foothills) • Nindalf • Northern Mirkwood
Wilderland (Northern, Long Marshes) • Woodland Realm (Hills)

---

The South:

Adornland • Dor-en-Ernil (Hills) • Drúwaith Iaur • Gondor (Andrast, Blackroot Vale, Lamedon (Hills), Lebennin (Mouths of Anduin), Lossarnach (Imloth Melui), Mouths of Entwash, Pelargir, Pelennor Fields, Pinnath Gelin, White Mountains (Foothills)) • Harondor • Ithilien (Hills, Wasteland)
Mordor (Eastern Desolation, Gorgoroth, Mordor Mountains, Morgulduin, Morgul Vale, Nan Ungol, Nurn (Marshes, Sea of Nurnen), Udûn) • Rohan (Woodlands, The Wold, Uruk Highlands) • Tolfalas

---

Harad:

Far Harad Bushland (Hills) • Far Harad Cloud Forest • Far Harad Grasslands (Arid, Arid Hills, Corsair Coasts, Forest) • Far Harad Jungle (Edge, Lake, Mountains, Taurethrim Clearing)
Far Harad Mangrove • Far Harad Swampland • Far Harad Volcano • Gulf of Harad (Gulf Forest)
Half-deserts • Harad Mountains • Harnennor • Kanuka Forest • Lostladen • Perdorogwaith
Southron Coasts (Harad Desert Riverbank, Near Harad Oasis, Southron Forests)
Taur-i-Thorogrim • The Great Desert (Hills, Red Desert) • Umbar (Forest, Hills)

---

Rhûn:

Dorwinion (Emyn Winion) • Last Desert • Mountains of the Wind (Foothills) • Red Mountains (Foothills) • Rhúdel (Eryn Garan, Eryn Rhúnaer, Hills, Steppe, Tol Rhúnaer) • Rhûn (Forest)

---

Forod:

Forodwaith (Coastline, Mountains, Glacier) • Northlands (Northern Forests) • Utumno

---

Belegaer:

The Sea (Beach, Island, Meneltarma)