The Kanuka Forest is a biome in the region of Far Harad. It is lightly forested region, dominated by Kanuka trees.
This biome is located south of the mangrove swamps at the east coast of the continent. The forest is currently void of any civilization. It contains mud paths that go through the forest, these may be evidence of former civilization/planned factions.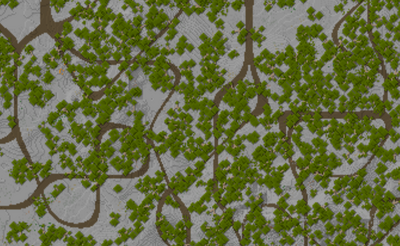 The forest is located on a relatively flat surface, except for the hill variant. A few lakes can be found occasionally. The Kanuka trees seem not to tolerate other tree types in their vicinity, so the whole biome is covered with only one kind.
A strange pattern of jungle mud paths coveres the place (check map to the left). This may help you to get around in the denser parts of the forest, but be aware, that the paths are not straight lines, so it's easy to lose ones directions following them. There is no indication about who made those paths and what purpose they serve.
Structures
Edit
Currently, no structures spawn here.
Variants
Edit
Hills - A hillier variant of the biome.
Flowers - A variant with much more flowers than usual.
Forest light - Despite of its name, this forest is denser than the normal variant.
Animals are the same as those in most other Far Harad biomes. These include the following:
There are currently no NPCs that spawn in the forest.
Vegetation
Edit
The only trees that grow here, are the Kanuka trees. They are exclusive to this biome. In addition, ferns and grasses are a common sight. Some Harad flowers can also be found, especially in the flower variant.
Community content is available under
CC-BY-SA
unless otherwise noted.