Fire Emblem Warriors: Three Hopes - The Loop
Play Sound
The Kanuka Forest is a biome in the region of Far Harad, located south of the Mangroves and north of the Bushland, close to the coast. It is lightly forested region dominated by Kanuka trees. The biome is devoid of civilization, and no known inhabitants are planned. The biome is relatively flat, outside of hill variants, and no other tree types can be found here.
Despite the lack of any faction presence here, the Kanuka Forest is covered by winding mud paths, with no known purpose and no set generation. Who built these paths and why is unknown, as is whether they will have any future purpose in the mod.
Variants
[
]
Standard - Normal Kanuka Forest biome.
Hills - A hillier variant of the biome.
Flowers - A variant with more flowers than usual.
Light Forest - Despite its name, this forest variant is actually denser than the normal variant.
Structures
[
]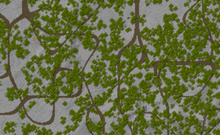 The Kanuka Forest has no naturally-generating structures, as no faction has any presence here. However, the biome is nonetheless covered by a strange pattern of jungle mud paths, which generate randomly. This may make travel in denser parts of the forest easier, but since the paths are not straight lines, they also make it very easy to get lost is you're not careful. Who made the paths and what purpose they serve in the mod is unknown.
Mobs
[
]
The same set of animals that can be found in the Far Harad Grasslands can be found here. No NPCs spawn in this biome.
Mining
[
]
As with every biome in Far Harad except Perdorogwaith, the Kanuka Forest generates gemstones at a slightly higher rate than most biomes, akin to the rates at which they can be found in most mountain foothills, together with all of the usual ores.
Vegetation
[
]
The only trees that grow here are the Kanuka trees, which are very common and exclusive to this biome. In addition, ferns and grasses are a common sight among the underbrush. Some Harad flowers also appear here, especially in the flower variant of the biome.
Gallery
[
]
List by Alphabet
A-C:

Adornland • Anduin Hills (Gladden Fields, Vales of Anduin) • Angmar (Mountains) • Barrow-downs
Blue Mountains (Foothills) • Bree-land (Chetwood) • Brown Lands • Coldfells

D-E:

Dagorlad • Dale • Dead Marshes • Dor-en-Ernil (Hills) • Dorwinion (Emyn Winion)
Drúwaith Iaur • Dunland • East Bight • Emyn Muil • Enedwaith • Erebor • Eregion
Eriador (Downs, Eryn Vorn, Minhiriath, Swanfleet) • Ettenmoors

F:

Fangorn (Clearing) • Fangorn Wasteland • Far Harad Bushland (Hills) • Far Harad Cloud Forest
Far Harad Grasslands (Arid, Arid Hills, Corsair Coasts, Forest) • Far Harad Jungle (Edge, Lake, Mountains, Taurethrim Clearing) • Far Harad Mangrove • Far Harad Swampland
Far Harad Volcano • Field of Celebrant • Forodwaith (Coastline, Mountains, Glacier)

G-K:

Gondor (Andrast, Blackroot Vale, Lamedon (Hills), Lebennin (Mouths of Anduin), Lossarnach (Imloth Melui), Mouths of Entwash, Pelargir, Pelennor Fields, Pinnath Gelin, White Mountains (Foothills))
Grey Mountains (Foothills) • Gulf of Harad (Gulf Forest) • Half-deserts • Harad Mountains • Harnennor
Harondor • Iron Hills • Ithilien (Hills, Wasteland) • Kanuka Forest

L-M:

Lake • Last Desert • Lindon (Coastline, Woodlands, Tower Hills) • Lone-lands (Angle, Weather Hills)
Lostladen • Lothlórien (Eaves) • Midgewater • Mirkwood (Dol Guldur, Mountains)
Misty Mountains (Foothills) • Mordor (Eastern Desolation, Gorgoroth, Mordor Mountains, Morgulduin, Morgul Vale, Nan Ungol, Nurn (Marshes, Sea of Nurnen), Udûn) • Mountains of the Wind (Foothills)

N-S:

Nan Curunír • Nindalf • Northern Mirkwood • Northlands (Northern Forests) • Old Forest
Perdorogwaith • Red Mountains (Foothills) • Rhúdel (Eryn Garan, Eryn Rhúnaer, Hills, Steppe
Tol Rhúnaer) • Rhûn (Forest) • Rivendell (Hills) • River • Rohan (Woodlands, The Wold, Uruk Highlands)
Southron Coasts (Harad Desert Riverbank, Near Harad Oasis, Southron Forests)

T-W:

Taur-i-Thorogrim • The Great Desert (Hills, Red Desert) • The Sea (Beach, Island, Meneltarma) • The Shire (Marshes, Moors, Woodlands, White Downs) • Tolfalas • Trollshaws
Umbar (Forest, Hills) • Utumno • Wilderland (Northern, Long Marshes) Woodland Realm (Hills)
List by Region
Eriador:

Angmar (Mountains) • Barrow-downs • Blue Mountains (Foothills) • Bree-land (Chetwood)
Coldfells • Dunland • Enedwaith • Eregion • Eriador (Downs, Eryn Vorn, Minhiriath, Swanfleet)
Ettenmoors • Lindon (Coastline, Woodlands, Tower Hills) • Lone-lands (Angle, Weather Hills)
Midgewater • Nan Curunír • Old Forest • Rivendell (Hills)
The Shire (Marshes, Moors, Woodlands, White Downs) • Trollshaws

---

Rhovanion:

Anduin Hills (Gladden Fields, Vales of Anduin) • Brown Lands • Dagorlad • Dale
Dead Marshes • East Bight • Emyn Muil • Erebor • Field of Celebrant • Fangorn (Clearing)
Fangorn Wasteland • Grey Mountains (Foothills) • Iron Hills • Lothlórien (Eaves)
Mirkwood (Dol Guldur, Mountains) • Misty Mountains (Foothills) • Nindalf • Northern Mirkwood
Wilderland (Northern, Long Marshes) • Woodland Realm (Hills)

---

The South:

Adornland • Dor-en-Ernil (Hills) • Drúwaith Iaur • Gondor (Andrast, Blackroot Vale, Lamedon (Hills), Lebennin (Mouths of Anduin), Lossarnach (Imloth Melui), Mouths of Entwash, Pelargir, Pelennor Fields, Pinnath Gelin, White Mountains (Foothills)) • Harondor • Ithilien (Hills, Wasteland)
Mordor (Eastern Desolation, Gorgoroth, Mordor Mountains, Morgulduin, Morgul Vale, Nan Ungol, Nurn (Marshes, Sea of Nurnen), Udûn) • Rohan (Woodlands, The Wold, Uruk Highlands) • Tolfalas

---

Harad:

Far Harad Bushland (Hills) • Far Harad Cloud Forest • Far Harad Grasslands (Arid, Arid Hills, Corsair Coasts, Forest) • Far Harad Jungle (Edge, Lake, Mountains, Taurethrim Clearing)
Far Harad Mangrove • Far Harad Swampland • Far Harad Volcano • Gulf of Harad (Gulf Forest)
Half-deserts • Harad Mountains • Harnennor • Kanuka Forest • Lostladen • Perdorogwaith
Southron Coasts (Harad Desert Riverbank, Near Harad Oasis, Southron Forests)
Taur-i-Thorogrim • The Great Desert (Hills, Red Desert) • Umbar (Forest, Hills)

---

Rhûn:

Dorwinion (Emyn Winion) • Last Desert • Mountains of the Wind (Foothills) • Red Mountains (Foothills) • Rhúdel (Eryn Garan, Eryn Rhúnaer, Hills, Steppe, Tol Rhúnaer) • Rhûn (Forest)

---

Forod:

Forodwaith (Coastline, Mountains, Glacier) • Northlands (Northern Forests) • Utumno

---

Belegaer:

The Sea (Beach, Island, Meneltarma)