"
They passed Tarlang's Neck and came into Lamedon; and the Shadow Host pressed behind and fear went on before them, until they came to Calembel upon Ciril, and the sun went down like blood behind Pinnath Gelin away in the West.
"

–The Passing of the Grey Company, The Return of the King

Lamedon is a series of valleys in the Ered Nimrais through which the Ringló and Ciril rivers flow south. It largely consists of scattered woodlands, hills and boulders. Lamedon is a populous region which is home to the Hillmen of Lamedon. During the War of the Ring its Lord was Angbor, whom Aragorn dubbed "the fearless".
Upon entering the fiefdom of Lamedon, you gain the achievement "Hills and Vales".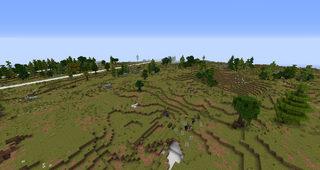 Sub-biomes
Edit
Lamedon Hills
Edit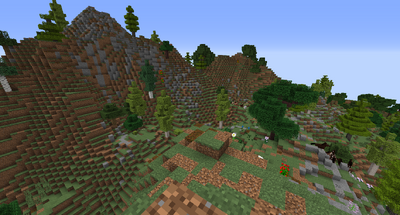 The Lamedon hills are a sub-biome of Lamedon that consists of hillier terrain than the rest of Lamedon. They are generated instead of the White Mountains foothills in Lamedon.
This Article/Section is Marked for Review!

The Biome Variants Section is currently missing information.
After you fix this article, please remove this template.
Plum Orchard - An orchard containing Plum trees.
Structures
Edit
All ores spawn as normal here though beneath the initial layer of earth Gondor Rock is found, this material can be useful in the crafting of Gondor Brick.
Vegetation
Edit
The grass in Lamedon is a browner shade than that of the rest of Gondor, similar to that of the Lone-lands. However, the terrain here often features reasonable patches of exposed dirt too. As Lamedon is a less fertile upland region Common Vegetation makes up the majority of the flora which is to be found. Although, as with the rest of Gondor, Athelas can spawn here rarely. The biome is also quite thickly forested and a variety of trees including Oak, Birch, Larch, Aspen and Beech are to be seen throughout it.
The Tolkien Gateway has an article on:
Community content is available under
CC-BY-SA
unless otherwise noted.