Raise a Floppa - The Loop
Play Sound
Lemon cake is a new cake added in the Public Beta 25 made of lemon, a food item found commonly in Near Harad and Far Harad. It functions like a vanilla cake or Dalish Pastry, being able to be placed like a block and eaten 6 times, each bite restoring 2 (

). It cannot be stacked, similar to the other cake-like foods.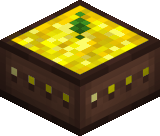 Obtaining
[
]
Lemon Cakes can be crafted on the normal (vanilla) crafting table with wheat, milk, sugar, and lemons in the pattern shown.
Usage
[
]
Like a normal cake, the Lemon Cake can be eaten once it is placed by right-clicking on it. It restores 2 (

) per slice for a total of six slices. Which makes in total 12 (


).
Food of Middle-earth
Breads:

Banana Bread •
Bread •
Corn Bread


Cram •

Lembas •

Maggoty Bread •

Olive Bread
Cakes:

Banana Cake •

Cake (The Lie) •

Lemon Cake
Pastry:

Apple Crumble •

Berry Pie •

Cherry Pie •
Dalish Pastry


Hobbit Pancake •

Marchpane •

Mushroom Pie •

Pumpkin Pie
Fruits:

Almond •

Apple •
Banana •
Berries •
Cherry •
Date •

Grapes

Lemon •

Lime •
Mango •
Melon •

Olives •
Orange •
Pear •
Plum •

Pomegranate
Meats:

Beef/Steak •

Camel Meat •

Chicken •

Gammon •

Kebab •
Lion Meat


Man-flesh •

Mutton •

Porkchop •

Rabbit Meat •

Rhino Meat

Rotten Flesh •

Suspicious Meat •
Venison •

Zebra Meat
Nuts:

Mallorn Nut •
Roast Chestnut
Soups:

Leek Soup •
Melon Soup •
Mushroom Stew •

Rabbit Stew •

Torog Stew
Vegetables:
Carrot •

Corn •
Leek •
Lettuce •

Morgul-shroom


Mushroom •

Potato •

Turnip •
Wheat •
Yam
Other:

Egg •

Fish •

Maple Syrup •

Raisins •
Salt •

Sugar Lump (removed)