This feature is present in:
Renewed
only
.
The Lossoth are the mysterious people that live in the frozen wastes of Forodwaith and the more inhabitable regions of Forochel that are found around the southern edges of the icebay of the same name.
This Article/Section is Marked for Review!

This article needs to be edited to comply with our wiki's standards.
Please fix its grammar and/or add more content.
After you fix this article, please remove this template.
Not much is known of the history of the Lossoth. They hate Orcs which led them to aid the last king of Arthedain, Arvedui, when he was fleeing the Witch-King of Angmar. They harboured him until a ship came from Cirdan to rescue him. The chief of the Lossoth counselled him to not board the ship, but he ignored them and the ship was lost with all hands.
Although there are currently no NPCs, once they are added they are expected to inhabit the Northern lands of Forochel and less commonly Forodwaith.
The Lossoth are somewhat isolated, only being friends with the Dúnedain that they once helped long ago. They are mortal enemies with all Orcish factions and don't approve of killing enemy civilians.
Ranks of the Lossoth:
Enemy (-)
Stranger (0)
Lossoth Guest (+10)
Lossoth Friend (+50)
Lossoth Kinsman/Kinswoman (+100)
Lossoth Hunter (+200)
Lossoth Headman/Headwoman (+500)
Lossoth Chieftain (+1000)
Great Snow-chief (+2000)
Inter-faction relations for Lossoth (LOSSOTH)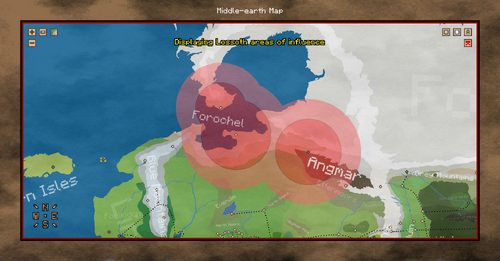 N/A
N/A
N/A
Currently there is only the Lossoth crafting monument
Community content is available under
CC-BY-SA
unless otherwise noted.