GTA: The Criminal Enterprises - The Loop
Play Sound
This Article/Section needs a new image!

new gif and screenshot including the Black Numenorean Mace needed
After you fix this article, please remove this template.

The Mace is a melee weapon, used by some Half-troll warriors and Southron warriors. It has increased knockback, normal reach, but its swing speed is only 65% when compared to a sword.
Half-troll Mace
[
]
It is one of the cheapest weapons in the mod (as it only uses flint and sticks, two resources that are really easy to get) if you can get the table to make it on. It deals 9.5 (

) damage and has 300 durability.
The Half-troll mace is crafted on the Half-troll crafting table using one stick and four flint. They can also be bought from Half-troll scavengers for 12-20 (


to

).
Umbaric Mace
[
]
This weapon is the Umbaric equivalent of the warhammer. It's crafted using the same pattern as the Half-troll mace, but it uses iron ingots instead of flint on an Umbaric crafting table. It deals 9.5 (

) damage and has 400 durability.

The charred Mallorn mace is an exclusive drop from the Mallorn Ent boss and can not be crafted. It deals an incredible 12 (


) damage each blow and has 1500 durability. It might be the perfect weapon for crude warmongers.

This mace can only be obtained in creative mode and can not be crafted. It works similarly to the Staff of Gandalf the White, dealing damage in a fireball to any "good" NPCs and animals, and also dealing area damage. As a melee weapon, it deals a mere 8 (

) damage, but has 1500 durability. Sauron used to wield it, but he has been removed from the mod since then.

This mace can only be found in loot chests in Harad pyramids and ancient Harad fortresses. It is a fairly good weapon, as it deals 10.5 (

) damage, but it only has 450 durability. It can be repaired with normal iron ingots.
Picture
[
]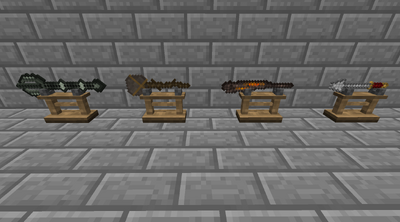 Melee:

Axes •

Battleaxes •
Daggers •

Hammers


Maces •

Mattocks •
Orc Skull Staffs •

Rolling Pins •

Swords
Polearms:

Battlestaves •
Halberds •

Lances •

Longspears


Pikes •

Spears •
Tridents •
Warscythes
Ranged:

Blowguns •

Bows •

Crossbows •

Slings
Throwing:

Conkers •
Fire-pots •
Plates •

Spears •
Termites •

Throwing Axes
Miscellaneous:
Balrog Whips •

Khamûl's Fire •

Mace of Sauron


Orc Bombs •

Staff of Gandalf the White

The Southrons of Near Harad

NPCs: Slave
Traders: Merchant
Items: Black Númenórean Armour • Bow • Equipment • Robes
Blocks: Basket • Brick • Chest • Crafting Table
Structures: Ancient Fortress • Obelisk • Pyramid

The Corsairs of Umbar
NPCs: Umbarians (Archer, Banner Bearer, Corsair, Soldier) • Gondorian Renegade
Traders: Bartender • Bazaar Traders • Captain (Umbar) • Farmer • Slaver
Items: Armour (Umbaric, Horse) • Equipment (Umbaric)
Blocks: Brick • Crafting Table
Structures: Camp • Hideout • Settlement


The Southrons of the Coasts

NPCs: Southrons (Archer, Banner Bearer, Champion, Warrior)
Traders: Bartender • Bazaar Traders • Farmer • Warlord
Items: Armour (Horse, Champion) • Equipment
Blocks: Crafting Table
Structures: Settlement


The Harnedhrim of Harnennor

NPCs: Harnedhrim (Archer, Banner Bearer, Farmhand, Warrior)
Traders: Bartender • Bazaar Traders • Farmer • Warlord
Items: Armour
Blocks: Crafting Table
Structures: Camp • Settlement • Watchtower


The Nomads of the Great Desert
NPCs: Nomads (Archer, Banner Bearer, Guard)
Traders: Bazaar Traders • Chieftain • Merchant
Items: Armour
Blocks: Crafting Table
Structures: Settlement


The Gulfings of Khopazul

NPCs: Gulfing (Archer, Banner Bearer, Warrior)
Traders: Bartender • Bazaar Traders • Farmer • Warlord
Items: Armour • Equipment
Blocks: Crafting Table
Structures: Settlement