Maple beer is an alcoholic drink made from wheat and maple syrup. It is fairly weak and only fractionally more alcoholic than ale.
Maple beer can be brewed by placing four wheat bundles and two bowls of maple syrup on top of a row of water buckets into a barrel. Alcoholicity is comprised of five potency levels: weak, light, moderate, strong, and potent. With each of these levels, the nausea effects of the maple beer is increased.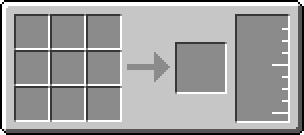 The effects of maple beer are alike to those of all other alcoholic beverages. This means that apart from partially filling up the player's hunger bar when drunk, the Nausea effect is inflicted upon the consumer. Both the partial filling of the hunger bar and the Nausea effect, as well as its duration, are increased with the drink's potency. Maple beer, however, is not particularly strong even when potent, and all effects are thus comparatively weak.
| Potency | Alcoholicity | Hunger Restored | Saturation |
| --- | --- | --- | --- |
| Weak | 1% | | 1.2 |
| Light | 2% | | 2.7 |
| Moderate | 4% | | 4.8 |
| Strong | 8% | | 7.5 |
| Potent | 12% | | 10.8 |
Non-alcoholic:

Apple Juice •
Berry Juices •

Chocolate •

Grape Juice


Lemonade •

Mango Juice •

Milk •

Orange Juice •

Pomegranate Juice •

Water
Alcoholic:

Ale •
Arak •

Banana Beer •

Cactus Liqueur •

Carrot Wine •
Cherry Liqueur


Cider •

Corn Liquor •

Dwarven Ale •

Lemon Liqueur •

Lime Liqueur •

Maple Beer

Mead •

Melon Liqueur •

Perry •
Plum Kvass •

Pomegranate Wine •

Red Wine


Rum •

Soured Milk •

Termite Tequila •

Vodka •

White Wine
Magical:

Athelas Brew •

Dwarven Tonic •

Jungle Remedy •

Miruvor


Morgul-draught •

Orc Draught •

Poison •
Taurethrim Cocoa •

Torog Draught


Ent-draughts: Elfsong • Fangorn's Beard • Huorn Leaf
Moonflower • Riverweed • Sunfruit • Tears of Yavanna