Marchpane or marzipan is an exotic sweet made of almonds and sugar. If you harvest a lot of almonds, this is a good way to preserve them over a longer period of time and to concentrate and increase their food content (see table below). Marchpane comes in three variants: Normal, chocolate and block.
Crafting
[
]
To prepare delicious marchpane, you've got to grind two almonds to really fine flour. Add a pinch of sugar and knead it to a very smooth mass on a Vanilla crafting table or in your 2x2 crafting grid.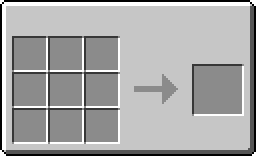 If you want to make a special treat, add some cocoa beans to cover the mass in chocolate.
For a big feast with your friends or for easier storage, you can prepare a block of marchpane. This can be placed on a table and provides 6 servings like other pastries.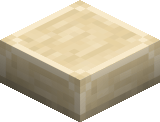 Obtaining
[
]
Aside from crafting, marchpane can be bought from various Bakers, such as Near Harad Bakers.
Food contents
[
]
For easy comparison, the raw material to produce one marchpane block = three normal marchpanes = six almonds are listed in the table below, with the food content, when eaten in the respective form.
| Items | Food content |
| --- | --- |
| 6 almonds | 6 x 2 () = 12 () |
| 3 normal | 3 x 6 () = 18 () |
| 3 chocolate | 3 x 8 () = 24 () |
| 1 block | 6 x 3 () = 18 () |
Food of Middle-earth
Breads:

Banana Bread •
Bread •
Corn Bread


Cram •

Lembas •

Maggoty Bread •

Olive Bread
Cakes:

Banana Cake •

Cake (The Lie) •

Lemon Cake
Pastry:

Apple Crumble •

Berry Pie •

Cherry Pie •
Dalish Pastry


Hobbit Pancake •

Marchpane •

Mushroom Pie •

Pumpkin Pie
Fruits:

Almond •

Apple •
Banana •
Berries •
Cherry •
Date •

Grapes

Lemon •

Lime •
Mango •
Melon •

Olives •
Orange •
Pear •
Plum •

Pomegranate
Meats:

Beef/Steak •

Camel Meat •

Chicken •

Gammon •

Kebab •
Lion Meat


Man-flesh •

Mutton •

Porkchop •

Rabbit Meat •

Rhino Meat

Rotten Flesh •

Suspicious Meat •
Venison •

Zebra Meat
Nuts:

Mallorn Nut •
Roast Chestnut
Soups:

Leek Soup •
Melon Soup •
Mushroom Stew •

Rabbit Stew •

Torog Stew
Vegetables:
Carrot •

Corn •
Leek •
Lettuce •

Morgul-shroom


Mushroom •

Potato •

Turnip •
Wheat •
Yam
Other:

Egg •

Fish •

Maple Syrup •

Raisins •
Salt •

Sugar Lump (removed)