This feature is present in:
Legacy
only
.
The mechanism is an item that allows the player to create an alternative to vanilla powered rails without needing redstone (which cannot be found in Middle-earth). It can be made by the Dwarvish and Orcish factions of Middle-earth (including the Half-trolls) on their respective crafting tables, but with slightly differing recipes.
Mechanisms can be crafted on various Dwarvish and Orkish crafting tables using two copper ingots, two flint and one of the respective faction's ingot. These recipes can be shown below:
Crafting recipes
Once crafted, the mechanism's only use is to be placed on to a rail block. Doing this will create a mechanised rail which will initially be turned 'on', as indicated by the smoke particles it gives off and the animation of the mechanism. Mechanised rails can be turned on or off by right-clicking on them. The mechanism can then be retrieved by either breaking or shift-right-clicking on the rail in question. The former drops both the rail and the mechanism while the latter drops only the mechanism (leaving the rail intact).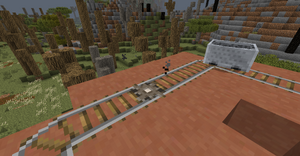 Community content is available under
CC-BY-SA
unless otherwise noted.